Marshmallow drop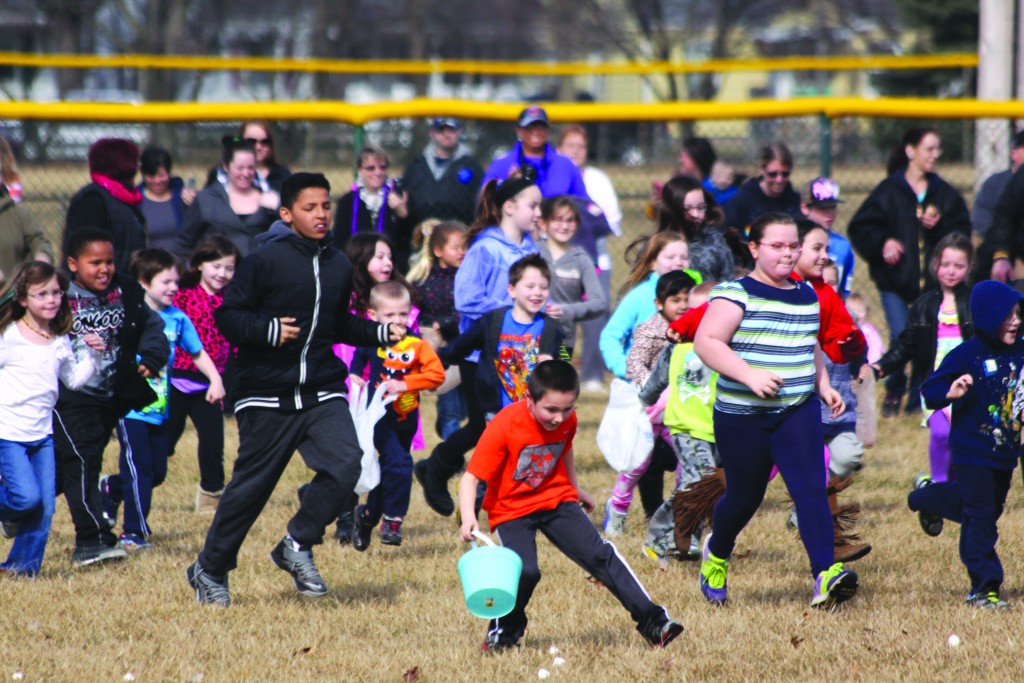 Wayne's annual Marshmallow Drop will be on Friday, March 25, and is free.  There will be three drops: 10:00 a.m. for children up to age 4; 10:15 a.m. for ages 5-7; 10:30 a.m. for ages 8-10.  The drop will be at Anderson Field in Attwood Park.  There will also be a Bunny Brunch at HYPE after the drop for a fee.  Call HYPE for more information. The drop is partially sponsored by CrossPointe Community Church.
Gone with the Wind
Join local Gone with the Wind expert, Kathleen Marcaccio, as she shares insights about this legendary novel and film.  Learn about author Margaret Mitchell, her real-life inspiration for Rhett Butler, and other intriguing background information.  The presentation will also include a treasure trove of GWTW memorabilia. This program is presented by the Friends of the Wayne Public Library and will be Wednesday, April 6, at 6:30 p.m. at the Wayne Public Library.  Please call the Adult Reference Desk, 734-721-7832, ext. 630, to register.
Used book sale
Do you love to read?  Do you love a bargain?  If so, head over to First United Methodist Church of Wayne-Westland, 3 Towne Square, Wayne on Saturday, March 12, from 9:00 a.m. – Noon. Hardcover books will be $1 each, while paperbacks and children's books will be 50 cents each. The sale will also be held after church on Sunday, March 13, from 11:00 a.m. – 12:30 p.m.
Class of 2029
Do you know a child who will be 5-years-old on or before September 1, 2016?  If so, tell them about Kindergarten Round-Up being held at 1:00 p.m. on March 22 at all K-4 elementary schools in Wayne-Westland.  Kindergarten Round-Up is for incoming kindergarten students and their families.  They will have a chance to meet the teachers and principals, tour the school and visit a kindergarten classroom.  Parents will be able to register their student, while the student gets a free t-shirt and backpack. Parents also have the option of doing most of the enrollment process online before attending the Kindergarten Round-Up by going to https://registration.wwcsd.net.
Historical Museum gift shop opens March 10th
The Wayne Historical Society has been busy preparing a brand-new gift shop that will open on Thursday, March 10th, to kick off their spring speaker series. The gift shop will sell museum t-shirts, Wayne history books, cross-stitch patterns, and more! Be sure to stop in on Thursday, March 10th, between the hours of 4:00 p.m. – 7:00 p.m. to check it out and stick around for the first program of the season starting at 7:30 p.m. For more information, about the Wayne Historical Museum please call (734) 722-0113 or visit the museum on Wednesdays from Noon – 3:00 p.m. and Thursdays from 4:00 p.m. – 7:00 p.m.
Main Street at Wayne
Library on March 15th
On Tuesday, March 15th, at 6:30 p.m. join Lindsey Wooten, Executive Director of Wayne Main Street, as she shares information about recent efforts to revitalize the City of Wayne's downtown area. Learn about Main Street's accomplishments to date and hear about its vision for the future. Ms. Wooten will also speak about her work at the Wayne Historical Museum. To register for this program, please call the Wayne Public Library Adult Reference Desk: (734) 721-7832, ext. 630.
Wayne Golden Hour Club
The Wayne Golden Hour Club is a social group that meets on the 2nd and 4th Thursday of the month at the Senior Services office at HYPE Recreation Center.  There is a potluck luncheon at 11:00 a.m. followed by cards, games and socializing. Anyone 50 years and older is welcome.
Sometimes travelers
The Sometimes Travelers at the Wayne Senior Center have a trip planned to visit Detroit's historic churches on Wednesday, March 16.  Stops include: Sweetest Heart of Mary, lunch at Andiamo Riverfront, Old St. Mary's Church, and Ste. Anne de Detroit Catholic Church with a final stop at La Gloria Bakery in Mexican Town.  Trip is $67 per person.  Call 734-721-7460 for more information. Anyone 30 years and older may join the travel group. Membership is $5 per year (July-June).  Day, overnight and extended trips are offered. Travel is in a luxurious motor coach.
Matter of balance program
The Senior Services Office is offering a free workshop that teaches seniors ages 60 and up who are concerned about falling ways to improve balance. Practical strategies to reduce the fear of falling, setting practical goals for increased activity, making environmental changes to reduce fall risks at home and practicing exercises to increase strength and balance will be taught. The Matter of Balance program will begin Tuesday, March 22, and goes for 8 weeks until May 10th.  Classes are each Tuesday 11:00 a.m. – 1:00 p.m. The class is free; pre-registration is required by calling 734-721-7460 before March 15.
2015 free tax services
If your annual household income is less than $54,000, you may be able to get your taxes done free through the Wayne Metropolitan Community Action Agency.  Services will be available at the Wayne Public Library on Wednesday, March 16, and March 23, 1:00 p.m. – 6:00 p.m.  Walk-ins are accepted, but an appointment would be preferable.  Call 734-284-6999 or 313-388-9799 for more information or to make an appointment.  You must bring social security cards for yourself and all claimed dependents and a valid picture ID.  Call to get the full list of additional items you will need to bring.
Health expo at Hype
HYPE Recreation Center-Western Wayne is still accepting vendors for their upcoming Healthy You Health Expo on April 2 sponsored by Wayne Senior Services and Beaumont. They are looking for anything health-related that relates to wellness-physical, social, occupational, environmental, intellectual, emotional or spiritual.  Vendors may sell items, but they also must have something to give away for free to attendees.  The public is invited to attend the Health Expo for free.  Beaumont will be doing health screenings, including blood pressure, cholesterol and glucose, providing nutrition and diabetes education and possibly more.   For further information, contact Irene at HYPE  734-721-7400.
Class of 1966 50th reunion
Join other classmates from the Wayne Memorial High School Class of 1966 on Saturday, May 14 for the 50th reunion celebration.  The reunion will take place at the Hellenic Cultural Center, 36375 Joy Rd, Westland from 5:00 p.m. – 11:00 p.m.  Dinner will be served at 6:00 p.m.  The cost is $40 if you register before April 16.  April 16 – May 1 the cost goes up to $45.  A cash bar will be available.  To make reservations, please go to www.waynehighalumni-.com and click on Additional Reunions.  If you are interested in attending a Golf Outing on Saturday, May 14, please contact Don Farmer at 734-968-4466.
JROTC team to compete in National Championship
After advancing through two phases of online competition, the Wayne Memorial High School JROTC Leadership Team will compete in person at the Championship event in Washington, DC.  The 2016 Army JROTC Leadership Bowl Championship will be held on the campus of The Catholic University of America, June 24-28.  The event is sponsored by the Army JROTC and is conducted by College Options Foundation.
The Wayne Memorial JROTC team earned top scores out of the 1,378 Army JROTC teams that competed from around the world.  They placed first in the Region of 7th Brigade (Michigan, Indiana, Ohio, Kentucky and Tennessee). The team is one of only 40 Army JROTC Leadership Bowl teams in the nation to advance to the Championship event in DC.  During the two fast-paced preliminary rounds, cadets were tested on their knowledge of current events, leadership values, and leadership skills.
All class reunion banquet
The Wayne Memorial High School All Class Reunion Banquet will be held on Friday, May 13 at the Wayne Tree Manor on Van Born in Wayne.  They will be honoring and launching the Class of 1966 Reunion celebration. Make your reservations at www.waynehighalumni.com.