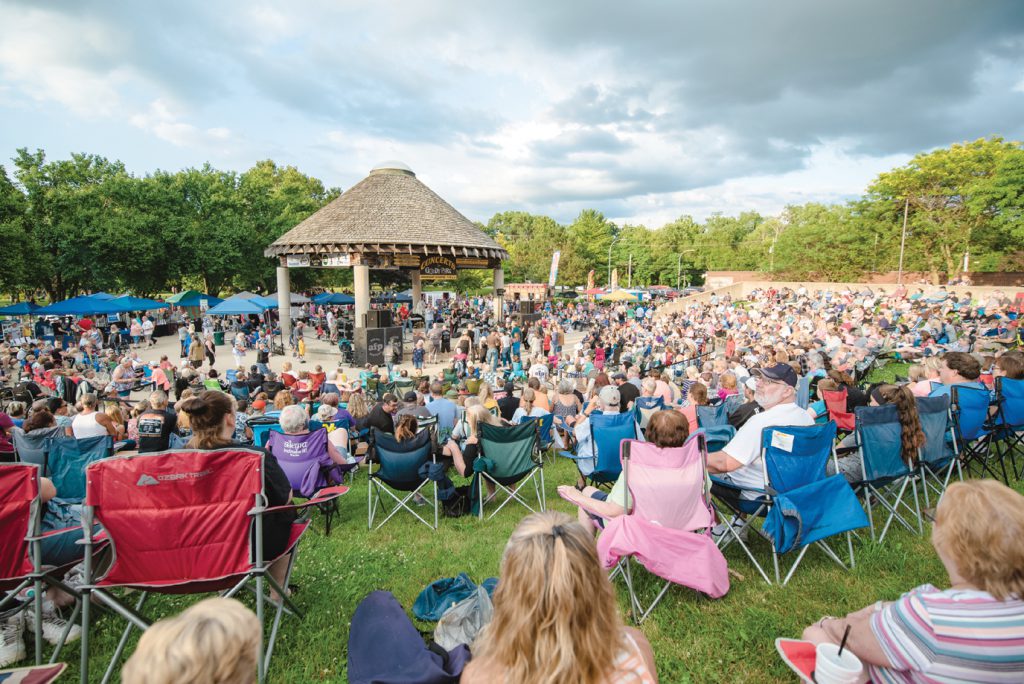 HYPE Tuesday walking group
Every Tuesday from 6:30-7:30 p.m. a free walking group for all ages will meet in the lobby of HYPE Athletics Center of Western Wayne (4635 Howe Rd.). All are welcome to attend. Amy, the leader, will meet you in the lobby.
Family fun day
Friday, August 9, on your calendar for Family Fun Day at HYPE Athletics Center of Western Wayne (4635 Howe Rd.). The free event is 10:00 a.m.-3:00 p.m. Wayne County Health Department and HYPE have teamed up this year to present this free community event. The Health Department will be offering free services: vaccinations, lead testing, hearing testing, vision testing, bike raffle and backpack with supplies. HYPE will be offering bounce houses, swimming and flu shots with CVS. There will also be food trucks available for you to purchase something to eat.
Downtown days
The 3rd annual Downtown Days will celebrate Wayne's 150th anniversary sesquicentennial with a flea market and community garage sales, food trucks, DIA drop-in workshop, Art-O-Motive car hood contest, Window on Wayne photo contest, art and live music on August 9, 11:00 a.m.-9:00 p.m. and August 10, 9:00 a.m.-9:00 p.m. The event will be held at the Veteran's Plaza, 34841 Veteran's Plaza, between the Wayne Public Library and the Wayne public parking garage. For more information, visit www.downtownwayne.org/downtowndays.
Big giant book sale
The Wayne Public Library, 3737 S. Wayne Rd, will be holding a used books bag sale Friday and Saturday, August 9-10, from Noon-4:00 p.m. It will be the largest book sale of the year. You can fill a big bag with books for just $2 or a GIANT bag for $5.
Behind the seen talk
Join the Wayne Public Library and the Detroit Institute of Arts as they present "DIA Behind the Seen Talk: The Essentials" on Wednesday, August 14, at 6:00 p.m. A volunteer from the DIA will speak about select DIA artworks to help you gain an appreciation of the diversity, quality, and world-class status of the museum's collection.
4th annual community walk
Healthy Wayne's 4th Annual Community Walk will be held Wednesday, August 14, at noon. The walk starting point will be from Pavilion #2 at Attwood Park, 33601 Annapolis St. Registration will take place beginning at 11:30 a.m. There will be giveaways, a Fitbit raffle and other prizes. All are welcome. Participants will be able to visit vendors from Beaumont Healthy Wayne, the Wayne Historical Society, National Kidney Foundation of Michigan, the Wayne Public Library and Oakstreet Health. In case of severe weather, you may call HYPE for more details at (734) 721-7400.
Rummage sale
The Norwayne Community Citizens Council and Warm Hearts will be hosting a rummage sale on Saturday, August 17, from 10:00 a.m.-3:00 p.m. at the Jefferson Barns Community Vitality Center. $2 per grocery-size bag, $2 each for larger items that cannot fit in a grocery bag, and $3 each for very large items (strollers, furniture, etc). There will be family events including crafts in the library, community resource information, school supplies (while supplies last), bake sale, snacks and drop-in kickball on the baseball fields from 11:00 a.m.-1:00 p.m. All proceeds will benefit the Norwayne Community Citizens Council community events.
Wellness walk and talk
Take steps to a healthier future! Learn about health and wellness from Beaumont health professionals, get answers to your questions and enjoy casual conversation during a 20-30 minute walk with the speaker at the next Wellness Walk and Talk on Friday, August 23, at 10:00 a.m. The US Surgeon General recognizes walking as one of the most important things you can do to support your health. Light refreshments will be provided. The event is free, but pre-registration is appreciated. Call the Westland Public Library adult services desk at (734) 326-6123. The Westland library is located at 6123 Central City Parkway. This program is brought to you by the Westland Public Library, Beaumont and Healthy Westland.
HYPE/fit builds speed and agility
If you want to invest and help build the future of your child's performance in competitive sports, register for HYPE/fit at HYPE Athletics Center of Western Wayne, 4635 Howe Rd. Training includes speed training, speed mechanics, form running, core training, endurance building, strength, agility, flexibility and balance. The co-ed class for ages 7 and older will be held on Tuesdays and Thursdays monthly. The first session will be September 3-26 from 7:15-8:30 p.m. 4-week sessions are $65. Call HYPE for more information (734) 721-7400.
Adult book club
No, it's not what you think. The Adult Book Club at the Wayne Public Library will be meeting on Wednesday, September 4, at 6:00 p.m. to discuss "Where'd You Go, Bernadette," a 2012 comedy novel written by Maria Semple. The plot revolves around an agoraphobic architect and mother named Bernadette Fox, who goes missing prior to a family trip to Antarctica. It is narrated by her 15-year-old daughter Bee Branch. A movie adaptation will be in theaters August 16!
Customize your backpack
Just in time for school, you can make a designer charm for your backpack with decorative beads, colorful string, and other materials that will be provided on Saturday, September 7, from 3:00-4:00 p.m. at the Wayne Public Library (3737 S. Wayne Rd). You do not have to bring your backpack as your charm will be on a clip. There will be music and snacks to welcome the new school year. Bring a friend or make a new one! Caregivers are asked to stay with any child under age 10. All school age kids are welcome!
The faygo book
The Faygo Book is the story of a pop, a people, and a place. Author Joe Grimm will share stories that will tickle the taste buds and memories of Detroiters and Faygo lovers everywhere. Learn how a family forged a bond of more than 100 years with a city and its residents and became the last company standing in Detroit's "pop alley." The Faygo Book is a Michigan Notable Book for 2019. There might be a "pop" quiz, and there will definitely be Faygo to sample! Join the author at the Wayne Public Library on Tuesday, September 10, 6:30-8:00 p.m.
Class of 1979 40-year reunion
The Wayne Memorial High School Class of 1979 40-year reunion will be held on Saturday, September 28, starting at 7:00 p.m. at the Suburban Collection Showplace in Novi. For more information and to purchase tickets, go to www.wmhsclassof79 or call Terence Duncan at (313) 205-7933.
Sears catalog kit homes
The Wayne Historical society will present the program "Sears Catalog Kit Homes" on Thursday, September 12, at 7:00 p.m. at the Wayne Historical Museum, 1 Towne Square. Guest speakers and Kit House aficionados Andrew and Wendy Mutch will show all the ins and outs of Sears Roebuck catalog houses. For many years around the turn of the century you could order an entire house from Sears, and it would be delivered on a railcar for you to build. Many homes in Michigan towns are kit houses or based on similar plans. Come to the presentation to learn more.
Drag queen bingo!
If you are a fan of drag queen bingo or are just curious what it is all about, you are invited to the Wayne/Westland Moose Lodge 835 for "The Real Drag Queens of Bingo" featuring Iona Trailer, Lady T Tempest and Mocha Pronto. The show will have you laughing off your chair. Pre-sale tickets are $20 ($25 at the door) and go on sale August 10 at the lodge, 38050 Michigan Ave., from Noon-5:00 p.m. This fantastic event is Saturday, September 21. There are limited tickets, so get them early. Doors open at 5:30 p.m. Show starts at 7:00 p.m. Drinks will be available. Event is only open to those age 21 and over; ID will be checked at the door.
Teen book club
The Teen Book Club at the Wayne Public Library will be meeting Tuesday, September 24, 3:30-4:30 p.m. The book will be "Every Heart a Doorway" by Seanan McGuire.
Nancy tumbled once, but now she's back. The things she's experienced… they change a person. The children under Miss West's care understand all too well. And each of them is seeking a way back to their own fantasy world. But Nancy's arrival marks a change at the Home. There's a darkness just around each corner, and when tragedy strikes, it's up to Nancy and her new-found schoolmates to get to the heart of the matter.
This book is a winner of the 2017 Hugo Award, the 2017 Alex Award, the 2017 Locus Award and the 2016 Nebula Award. For more information about the Teen Book Club, please call the library (734) 721-7832.
Police community meeting
The next police community meeting will be Thursday, September 26, at 7:00 p.m. at Wayne City Hall. Learn what is happening in Wayne and get your questions answered.
Book club for 4th, 5th and 6th graders
The Wayne Public Library hosts a Book Club for 4th, 5th and 6th graders. The next meeting will be Thursday, September 26, 4:00-5:00 p.m. Read "The True Story of Red Riding Hood" by Liesl Shirtiff and then come for the hour-long discussion and treats. Registration is required and begins Tuesday, August 6.
Beaumont plans to construct urgent care
Beaumont is planning to construct a 4500 square foot Urgent Care building at 34435 E. Michigan Ave, a lot next to Tim Horton's. The City Council approved the site plan at the July 16 council meeting. It is expected Beaumont will break ground in late summer.