By Sarah Shurge – For nearly 30 years, Veteran's Haven has been helping veterans in need within our community. But what happens when the building known for helping veterans, is in need itself?
The answer is this: the community comes together and donates their time, energy, and supplies to fix what needs to be fixed.
Veteran's Haven is a non-profit organization run on donations and volunteers with the purpose of helping homeless and needy veterans with food, shelter, clothing, job opportunities, and much more.
Veteran's Haven is located at 4924 South Wayne Rd. and has occupied the building for roughly 16 years. The roof was aged and the shingles were starting to wear.
Being a non-profit, they did not have the funds to get the roof replaced.
Vern Amos, Vice President of Veteran's Haven, knew someone at Kroll Construction and mentioned that they needed a new roof before the holiday and possibly getting it donated. The community was ready to come through for them.
Monday, June 13th, Kroll Construction, Wimsatt Building Materials, and Atlas Roofing donated all the material and labor to replace the roof of Veteran's Haven.
"They were terrific. They came in, did their job, and within 12 hours we had a new roof. It was fantastic," said Judy Berna, co-founder of Veteran's Haven since it was established in 1994. "It looks great and we don't have to worry about anything leaking with all the storms coming this summer."
Veteran's Haven did not have to pay for anything because Kroll Construction, Wimsatt Building Materials, and Atlas Roofing donated everything.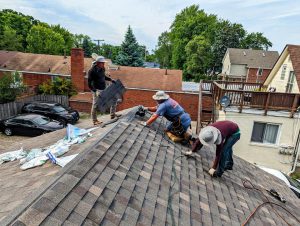 "We thanked them and thanked them. We can't thank them enough. They are terrific guys to put themselves out like this. It was a warm day that day and they worked so hard," said Berna. "We are so appreciative of it, and it feels good that people believe in us and our vets."
For more information about Kroll Construction, visit krollwindow-.com or contact Todd Kroll by email at tkroll@krollwindow.com or by phone at (734)422-4840.
Then the Rotary Club of Wayne decided to get involved too.
The Rotary Club of Wayne is an organization of individuals who live or work in Wayne and contribute their time, talents, and treasure to improve the quality of life in Wayne and around the world.
The Rotary Club of Wayne normally does three big events a year, but this year being their centennial year, they are doing a project a month. In celebration of their 100 year anniversary, they decided to sponsor the painting of the exterior of Veteran's Haven.
Saturday, June 25th, 15 people were on site painting the exterior of Veteran's Haven.
"To me, it was a magical thing," said Carol Bevard, President of the Rotary Club of Wayne. "I didn't know how many people would come. 14 other people came and they were all very good painters. It went very nicely and I was so thankful."
City Councilman Kevin Dowd, City Councilwomen Kelly Skiff, Wayne Mayor John Rhaesa, Lori Morrow, Patt Hartford, Ron Hayes, Bridget Kelly, Pat Rice, Matt Brindle, Stan Shelton, CrossPointe
Church Pastor Mick Devins, Eric Scott, Kathy Stellema, John VanStipdonk, and Carol Bevard all were involved with either painting, getting supplies donated, getting food donated, taking photos, doing building maintenance, or clean-up.
Linda Gable was responsible for getting the paint donated by Teknicolors Inc in Redford.
Judge Breeda O'Leary allowed three people from the 29th District Court Work Program to participate in the event as well: Drake, Chris, and Tenoy.
One person from the Work Program was a veteran from the United States Marine Corp and had served two tours in Iraq. They came to paint and ended up leaving with information from Veteran's Haven on how to find help and assistance. "I'm a veteran and I know about Veteran's Haven from being a veteran," said Bevard. Bevard served in the United States Navy from 1975-2005. She was active-duty for three years.
"I wanted to do something nice for them [Veteran's Haven] because they do so much for the community," said Bevard.
Veteran's Haven is open 9 a.m.-12 p.m. Monday-Friday. They are closed on holidays.
In 1999, Veteran's Haven partnered with Gleaners Community Food Bank.
With the partnership with Gleaners, Veteran's Haven is able to provide a food pantry day every Tuesday. The food bank is firstly for veterans and then people within the community can come after.
The Gleaners truck arrives every Tuesday anywhere from 7:30 a.m.-10 a.m., so volunteers are asked to show up around 8:30 a.m. on Tuesday if they wish to volunteer.
Veteran's Haven welcomes cash donations (which can be dropped off at their location), new-clothes donations (because of COVID, they ask for no used-clothes donations), food donation, or volunteers to help with the food bank on Tuesday mornings.
If you are interested in donating, volunteering, or looking for more information, you can contact Veteran's Haven by: email at veteranshavenorg@yahoo.com, phone at (734)728-0527, or find them on Facebook at Veteran's Haven.
The Rotary Club of Wayne is looking for more people to join. They meet every Tuesday at Noon in the Thomas Kelly Room in the Wayne Public Library. If you are interested or looking for more information, visit waynerotary.com, find them on Facebook at facebook.com/waynerotary, or contact them at waynerotary@gmail.com.