Rotary casino trip
Join the Wayne Rotary for a day of fun next month. On Saturday, January 14, they will be taking a bus trip to Firekeeper's Casino in Battle Creek, and they would like you to travel with them!  The bus will leave the 29th District Court parking lot on Sims St at 2:00 p.m. Cost is $35 per person. Each participant will receive $20 in slot play and $5 in food credits. You must be at least 21 years of age to travel. The bus will leave Firekeeper's at 9:00 p.m. for the return home to Wayne.  If you would like to make a reservation or get more information, contact Trish Hampton at (734) 890-6934.
DIA Inside/Out Program
The DIA Inside/Out Program, which brings reproductions of art to a city, will be coming to Wayne in 2017. Wayne Main Street applied to bring the program to Wayne.  More information will be available after the new year.
Santa Brunch
Enjoy brunch with Santa at HYPE Western Wayne Recreation Center on Saturday, December 17, at 10:45 a.m.  There will be arts and craft and pictures with Santa (for an additional cost).  Tickets are $8 per adult, $6 per child and free to children age 2 and under.  Tickets are limited to 225 people.
HYPE Café now open
The Hoops Café inside the old ice rink/new basketball courts at HYPE Western Wayne Recreation Center is now open! Hours are 3:00 p.m.-10:00 p.m. weekdays and Noon-8:00 p.m. on the weekends.
WMS has new director
Wayne Main Street announced that Maxwell Cameron will be the new Executive Director. Maxwell will replace Lindsey Dotson, who moved to Charlevoix for a new position. According to WMS Executive Board Vice-President Juan Bradford, "Max has extensive experience working with nonprofit organizations, and that experience really stood out during the interview process. WMS is still a relatively young organization, and I feel that Max's previous experience will take it to the next level." Maxwell will be starting in his new position December 12.
30 hours of Star Wars returns
The State Wayne Theater will be showing 30 continuous hours of Rogue One: A Star Wars Story on Thursday, December 15, starting at 7:00 p.m. and running through the final viewing time during the 30 hour timeframe of Friday, December 16, at 9:50 p.m.  In a time of conflict, a group of unlikely heroes band together to steal the plans to the Death Star, the Empire's ultimate weapon of destruction. This key event in the Star Wars timeline brings together ordinary people who choose to do extraordinary things, and in doing so, become part of something greater than themselves. Tickets are on sale now.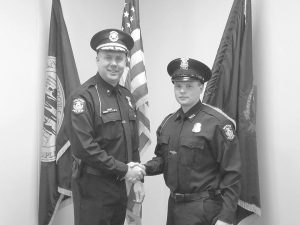 New police officer sworn in
The Wayne Police Department swore in Officer Michael Bolton as their newest police officer on November 23.
Healthy Wayne receives grant
Beaumont Community Health has been awarded a $35,000 grant from Michigan Department of Health and Human Services (MDHHS) for their pilot Rx for Health project. Patients at the Beaumont Westland clinic with chronic diseases and experiencing food insecurity will receive a physician prescription to eat more fruits and vegetables. Their family will receive free produce for four months in partnership with local grocery stores. They will also receive nutrition education, recipes, and health coaching and will be invited to participate in the Cooking Matters at the Store program (grocery store group tour led by a dietitian) and Cooking Matters 6-week workshops free of charge. Healthy Wayne is proud to be a recipient of this Health Innovation Grant received through the Oakwood Foundation.