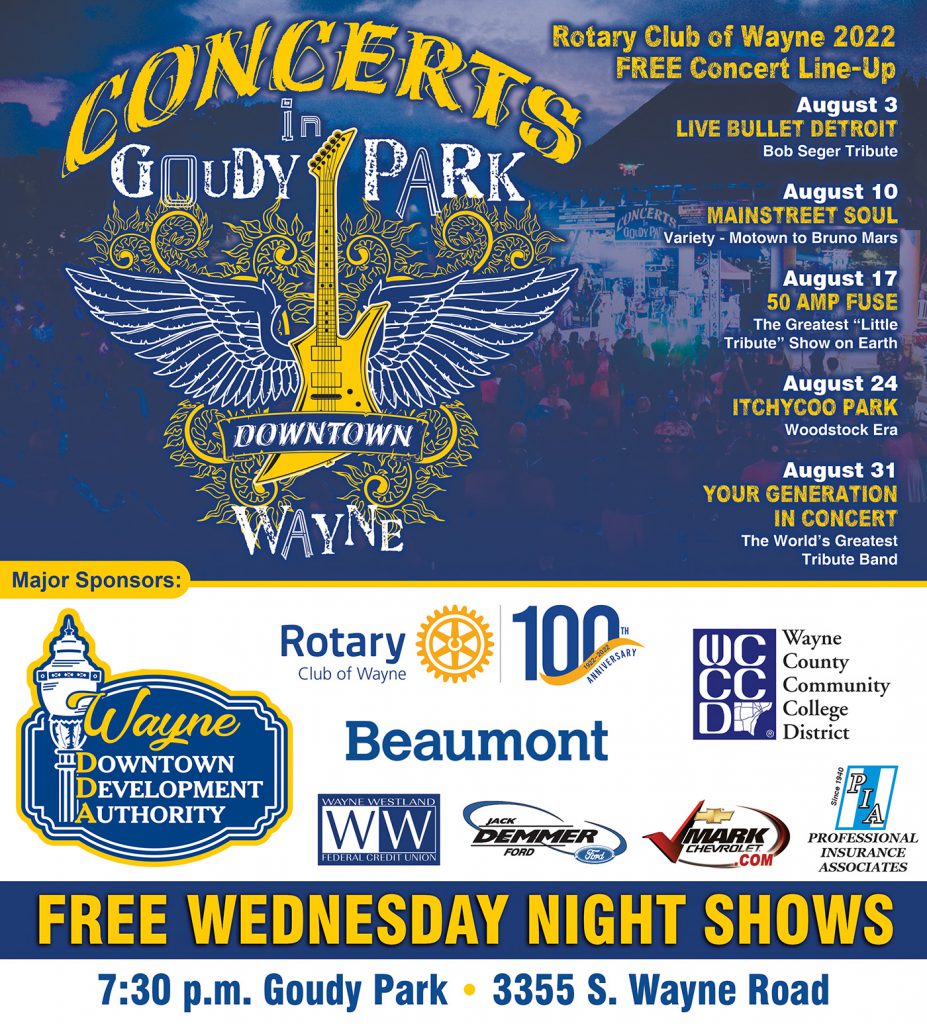 By Sarah Shurge – With the return of summer, comes one of the most anticipated events in downtown Wayne – free concerts in Goudy Park. Each show will be Wednesday night at 7:30 p.m. at Goudy Park, located at 3355 S. Wayne Rd.
The dates of the concerts are as followed: August 3rd is Live Bullet Detroit. August 10th is Mainstreet Soul. August 17th is Fifty Amp Fuse. August 24th is Itchycoo Park. And last but not least, August 31st is Your Generation in Concert.
August 3rd, Live Bullet Detroit will be performing a Bob Seger Tribute.
In July 2015, Live Bullet Detroit was formed with some of the area's top musicians. Lead vocalist, Kevin Evans, as well as the other members are dressed in clothing from the 70's to give a completely Bob Seger experience.
For more information about Live Bullet Detroit, visit livebulletdetroit-.com, call (734)781-5678, or find them on Facebook at facebook-.com/livebulletdetroit.
August 10th, Mainstreet Soul will perform a variety of motown to Bruno Mars.
Mainstreet Soul is a 10-piece dance and motown band with a unique sound. Since performing their first live show as a band in 2010, Mainstreet Soul has received a warm reception from the Detroit-area music scene. They have been nominated for Detroit Music Award in 2011, 2013, 2014, 2015, 2016 2017, 2018, and in 2020. They were a Detroit Music Award winner in 2016 for Best Urban Recording.
For more information about Mainstreet Soul, visit mainstreetsoul.com, reverbnation.com/mainstreetsoul, or find them on Facebook at facebook.com/mainstreetsoul.
August 17th, Fifty Amp Fuse will perform The Greatest "Little Tribute" Show on Earth.
Formed in 2004, Fifty Amp Fuse is an award-winning American Rock band. This high-energy tribute/cover band is under the direction of the founder Remy Lambert, and always leaves the crowd wanting more.
For more information about Fifty Amp Fuse, visit fiftyampfuse.com, call (313)529-5893, or find them on Facebook at facebook.com/fiftyampfuse.
August 24th, Itchycoo Park will be performing Woodstock Era.
The 6-piece band performs music from the 60's and beyond, featuring the Beatles, Stones, Kinks, Hollies, and so much more. The group was created by drummer Robert Lincoln Lewis. Lead vocalist Marlow Ray Morgan was the winner of the Dr. Pepper Vocal Competition.
For more information, visit itchycooparkmichigan.com, contact itchycoopark.scot@gmail.com, or find them on Facebook at facebook.com/ItchycooParkBand.
August 31st, Your Generation in Concert will perform The World's Greatest Tribute Band.
The 8-piece band transports the audience on a musical tour celebrating five decades of pop, rock, dance, and R&B hits. The group has shared stages with Lenny Kravitz, Flo Rida, Jason Derulo, The Billy Joel Band, Sheryl Crow, and more.
For more information about Your Generation in Concert, visit yourgenerationinconcert.com, or find them on Facebook by searching Your Generation in Concert, Twitter by searching @YourGeneration_ and Instagram by searching @yourgeneration_
Major sponsors of the events are: Rotary Club of Wayne, Wayne Downtown Development Authority, Wayne Westland Federal Credit Union, Beaumont, Jack Demmer Ford, Mark Chevrolet, Wayne County Community College District, and Professional Insurance Associates.
Be sure to come to Goudy Park on Wednesday nights and enjoy the shows!