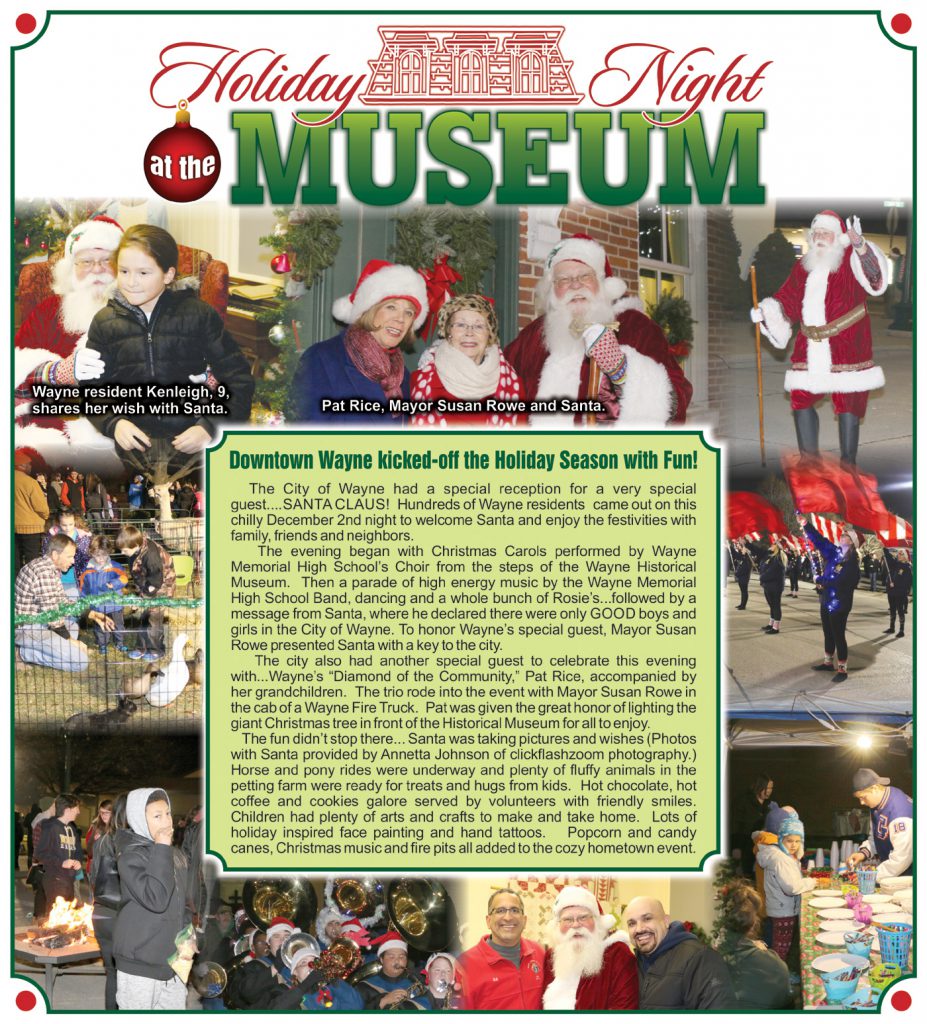 The City of Wayne had a special reception for a very special guest….SANTA CLAUS! Hundreds of Wayne residents came out on this chilly December 2nd night to welcome Santa and enjoy the festivities with family, friends and neighbors.
The evening began with Christmas Carols performed by Wayne Memorial High School's Choir from the steps of the Wayne Historical Museum. Then a parade of high energy music by the Wayne Memorial High School Band, dancing and a whole bunch of Rosie's…followed by a message from Santa, where he declared there were only GOOD boys and girls in the City of Wayne. To honor Wayne's special guest, Mayor Susan Rowe presented Santa with a key to the city.
The city also had another special guest to celebrate this evening with…Wayne's "Diamond of the Community," Pat Rice, accompanied by her grandchildren. The trio rode into the event with Mayor Susan Rowe in the cab of a Wayne Fire Truck. Pat was given the great honor of lighting the giant Christmas tree in front of the Historical Museum for all to enjoy.
The fun didn't stop there… Santa was taking pictures and wishes (Photos with Santa provided by Annetta Johnson of clickflashzoom photography.) Horse and pony rides were underway and plenty of fluffy animals in the petting farm were ready for treats and hugs from kids. Hot chocolate, hot coffee and cookies galore served by volunteers with friendly smiles. Children had plenty of arts and crafts to make and take home. Lots of holiday inspired face painting and hand tattoos. Popcorn and candy canes, Christmas music and fire pits all added to the cozy hometown event.