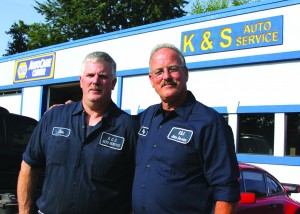 By Jenny Johnson –  Ray and Jim Kull of K&S Auto Service are always going the extra mile for their customers.  This month they will celebrate their 30th anniversary and they have a special way of recognizing it. They give back to the community by donating a 2006 Ford Taurus to a local Wayne family in need.
K&S Auto Service opened in Sept. 1984 on Wayne Road near Glenwood in Westland. In 1987 they moved to their current location in Wayne at the corner of Wayne Road and Annapolis. The location used to be a Standard gas station. The gas tanks were removed in the 1990s.
Since then they have been great business partners and dedicated to providing excellent service to the Wayne community. They are also members of NAPA Auto Care Center.
"We grew up right here in the neighborhood. It is kind of cool to own the neighborhood shop," Kull said. Ray and Jim are both Wayne Memorial High School graduates and have loved cars since high school. In addition to automotive repair they spend their free time racing cars.
K&S Auto Service has a lot of second and third generation customers.
"We have a good relationship with our customers and they have the confidence in us to keep coming in and seeing us," Kull said.
Giving Back
The Kull brothers plan to present the car to a Wayne family in the beginning of December. They are currently looking for nominations of Wayne families who have a great need for a vehicle.
"We are looking for a deserving family and want to say as part of our 30th anniversary we are dedicated to the Wayne community, " said Ray Kull.
"I am doing this to celebrate our 30th anniversary and to do something for our community and to honor my mom and dad. They would be real proud of us," Kull said. "My brother has worked with me all 30 years. We work together, play together and race together.  I told my wife I have one of the best jobs in the world because I am with my brother everyday."
If you know someone who could use a 2006 Ford Taurus please do the following:
In 100 words or less tell why a donation of a vehicle could help the family.
Include your name
Recipient family's name, address, email and phone number.
Email letter to:
KSCARGIVEAWAY@comcast.net
or mail them to:
K&S Auto Service, Inc.
4614 S. Wayne Road
Wayne, MI 48184
Submissions are due by Nov 15. The car will be given away in December. The recipient will have to be able to purchase insurance, registration and license plate.
K&S Auto Service also wants to remind you that it is not too early to get your vehicle ready for winter. The Farmers Almanac is predicting another cold and snowy winter. Make sure to get an oil change, check the anti-freeze, belts, hoses and wiper blades and tires.