By Carolyn Marnon – Love stories…there are plenty of them out there, but sometimes they are hard to find.  Luckily, 6 love stories have a Wayne connection.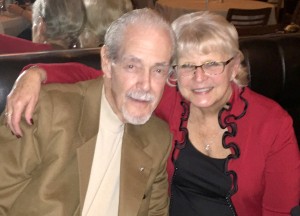 Claudia and Harold Rediske
Claudia and Harold Rediske met in the early 1970s.  Claudia worked for a dentist in Westland. The dentist happened to be friends with Harold Rediske.  Harold would come into the office and soon, Claudia and Harold took a liking to each other.  They went out for dinners, concerts, "normal stuff," as Claudia puts it.  He was already a funeral director in the family business at Uht Funeral Home, which he now owns.  He would take her to funeral director meetings for dates.
How did Harold propose?  Claudia says they just went to look at diamond rings and decided it was time to get married. It was a small wedding at the First Congregational Church in Wayne on March 23, 1976.  They went to the beach at Ft. Lauderdale, Florida the next day; Harold had meetings to attend. Next month, they will be celebrating their 40th anniversary.
The couple tries to get away several times a year to Florida.  They like to go on cruises and have fun travelling.  Harold has two children and they both share a dog.
The secret to a long marriage?  Claudia says it's important to give and take, be compassionate and understanding, and try not to get mad.
Jason and Kim Hood
Jason and Kim Hood met one week before Valentine's Day in 1991.  He was a senior at John Glenn High School while she was a sophomore there. He was weightlifting and she was in the gym.  They would keep looking at each other, and finally they were introduced.  Jason ended up proposing to her along the side of the road.  Getting ready to celebrate 25 years together,  they live in Wayne and have 7 children: Micheil, Kayla, Kendelle, McKinley, Kolby, Kamden and Keaton that range in age from 21 to 9.  The oldest, Micheil, is currently serving in Iraq.
Jason works at a steel mill in Dearborn while Kim is a stay-at-home mother.  "She's got the hardest job in the world," says Jason.  He thinks Kim is "everything and more." They've stuck together through the hardest of times.
The secret to their marriage?  Communicate and make time for each other.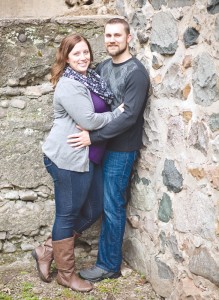 Adam Schindler and Amber Berish
It all started with okcupid, a free online dating site.  Adam was born and raised in Wayne. Amber had just moved to the area. They met online and chatted for a bit before meeting.  Their first date was at Ruby Tuesday in Canton on July 11th.  There was a 7-Eleven across the street, so he jokingly said they should go get free slurpees.  She agreed, and he knew she was the one for him.
It's the proposal that stands out in their relationship.  Adam has enjoyed disc golf for the past 12-13 years.  Disc golf is where you throw a specially made disc (similar to a Frisbee) into a wire basket. He was looking for a special way to propose to Amber.  As he was going through his social media accounts, he came upon an advertisement for custom made discs.  He could get one that said "Will you marry me?" and use it to play sometime.  He researched proposal ideas for disc golf, but all he came across were proposals to build disc golf courses.  He figured this would be a unique way to propose.
With the help of his 2 daughters, they set up a plan.  On September 5, 2015 they took Amber disc golfing at the Old Airport Disc Golf Course in AuGres, Michigan.  They were staying nearby for the weekend.  To Amber, it was just another outing.  Adam does videography. He had his daughter taking pictures and filming video, so this was nothing unusual to Amber.  Because it was so hot out and they didn't want to get too sweaty, they decided to skip the first half of the 18-hole course. They were on Hole 13 when Adam told Amber to hold on; he had a better disc he wanted her to try.  He dug into his bag, took out a disc and handed it to her.  It asked her to marry him.  The video of this moment is on YouTube and has had almost 6000 views.  You can view it by searching on YouTube.com for Disc Golf Proposal.
Why propose on Hole 13?  13 is Amber's lucky number.  She was born on Friday, the 13th.  Her sister got married on the 13th.  Her parents got married on the 13th. It's just been lucky 13 for her. When Adam was trying to decide how to do the proposal while disc golfing, it was his daughter who said "Daddy, do it on hole 13 because that's her lucky number."
The couple plan to get married on October 14, 2016.  Mini disc golf items will certainly be part of the décor.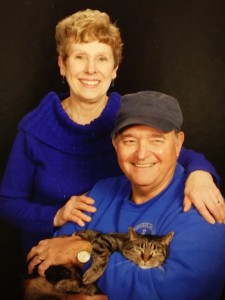 Georgine and Jim Jeziorowski
In 1959, Georgine married Leo Favazza, a musician barber. They lived in a 1-bedroom flat in Detroit.  Leo saw some ads for homes in Wayne for $5 down.  In 1962, they moved into a $9999 home.  They did things with their neighbors.  They had 5 children and then moved to a house on Harroun. They had more children.  In 1993, Leo got sick with liver cancer; within 7 weeks he was dead.  Their youngest child was 13 at the time; the other children were older and out of the house.  Georgine became sad.
She knew someone who was a clown named Holly Lula.  Holly Lula encouraged Georgine to enter a contest the Wayne library was having for clowns.  It required a written  25 word essay about why Georgine wanted to be a clown.  She won and had her first clown experience at the 1996 Wheelfest in Wayne. Her professional career as Jeanie Beanie began.  She was hired for lots of appearances.  In 1997, she went to Italy with a group from St. Mary's church choir.  While she was at the Trevi Fountain in Rome, she threw some coins over her shoulder, wishing to meet a mate.
Shortly after that, Georgine was at a training session at Angela Hospice where she wanted to be a clown. She noticed a gentleman while having coffee.  This man was Jim Jeziorowski.  Jim lived in Mt. Clemens and was at the training session because he wanted to work at the hospice. They went on a date; it lasted 12 hours.  They went to Toledo, saw the baseball hall of fame, went to the movie "Liar, Liar", The Lord's Barn in Monroe and talked and talked.
On June 30, 2001, they married.  Jim jokes that when Georgine made her wish at the Trevi Fountain, she used rusty coins and that's why she got him.  Georgine laughs.  "My whole life has changed because of her," he says.
Their secret to a good relationship?  He says it's because she is non-judgmental and always has a positive outlook.  She doesn't raise her voice.  They can talk about anything.  They'll celebrate their 15th anniversary in June.  "It's a true partnership that no one's above anyone else," Jim says. "I'm her ears, and she's my brain." Georgine laughs.  They've never been happier.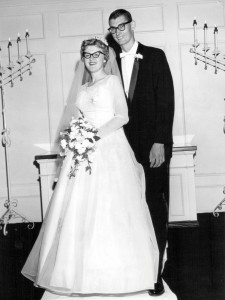 Bev and Jim Campbell
Bev and Jim Campbell went to Wayne Memorial High School together.  They met up at parties that mutual friends were having.  "I was an oddball person and so was he," says Bev.  She was a freshman; he was a senior.
Bev tells a story about one of their dates. They went on a double-date to the Wayne Drive-in with another couple who happened to smoke.  The coats were in the backseat of the car with the other couple.  They kept smelling something and discovered that Bev's coat was smoldering.  Jim's dad's new 1957 Pontiac now had a hole in it. Jim survived. Bev's mom had to fix Bev's coat because in those days, you didn't just go out and buy a new one. Bev recalls they "had a smokin' hot date."  Afterward, they still went to the movies a lot but used Jim's 1939 Ford with no heater in it.  They had to use lots of blankets to stay warm.
After Bev graduated in 1960 (Jim had graduated in 1957), they got engaged.  How did Jim propose?  "He just asked me," says Bev. They bought a ring at Shiffrin Willins which is where Wayne Family Dental now stands at Wayne Rd and Michigan Ave. They married in 1961 at the old First Congregational Church. They started out in a little apartment in Wayne and eventually bought a brand new house in Wayne where they got to pick the colors. They've lived in Wayne all 54 years they've been married.
The couple has 2 daughters, 4 grandchildren and 6 great-grandchildren.  They've travelled to Hawaii.  They have a camper and enjoy camping in Howell every summer.  In the winter, they play euchre every Saturday night.
The secret to their long marriage?  He lets her do what she wants.  Since he's retired and likes to keep busy, he also does cleaning and laundry.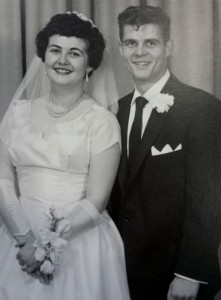 Raymond and Jackie Gagnon
In the late 1950s, early 1960s, Raymond Gagnon worked at the family gas station on the corner of Wayne Rd and Warren Rd where CarTunes now stands.  Jackie worked at a restaurant, Max's, across the street.  Ray came in for a tuna sandwich, thought Jackie was cute, and asked her out.  Six weeks later, they were married.
They got engaged around Thanksgiving.  She was waiting on customers when he walked in.  He said he wanted to see her in the kitchen.  He had her close her eyes and gave her the ring. At the time, she had a boyfriend who was also named Ray.  She wrote him a "Dear Ray" letter and has been with Ray Gagnon ever since.
The couple got married on New Year's Eve.  Ray had a buddy who was home from the Army and that was the only time they could have him at the wedding.  Jackie was able to find a dress in Dearborn in a week's time.
Although they've had some ups and downs, they've had a good life together.  Ray has been retired from Ford for 21 years.  They go on casino trips, to the movies, out to dinner and meet with friends every Thursday for dinner.  They lost their great-granddaughter, Alissa Jennings, in 2009 to cancer; she would have been 15 now.
Their secret to 59 years of marriage?  Pray a lot and give 50/50.  Although "Ray spoils me," says Jackie.