It was three years ago when a group of volunteers decided to throw a community celebration to recognize how far the Rouge River has come – not in miles, but in water quality and as a recreational resource.  A lot of hard work and effort has gone into cleaning up the long-neglected river, especially in the City of Wayne where you often see people fishing or even kayaking on the Rouge.
And so, Rouge-A-Palooza was born. Now in its third year, the one-day festival located at Goudy Park in downtown Wayne will take place from noon-10 p.m. on Saturday, October 10. The event, which is put on by the non-profit River Restorations, will feature live music, food trucks, a rubber duck race, a build your own boat race, youth activities, environmental education booths, paddling trips on the Rouge, and more.
One of the big highlights of the festival is the annual Logjam Classic Canoe Race, a three-mile canoe sprint that ends at Goudy Park. Winners will take home a cash prize, as well as trophies made of wood cut from an actual Rouge River logjam. Last year's winners, Rich Lauth and Mike Garon, finished in 27 minutes, 55 seconds. They beat 2013 champs Steve Landfair and Michael Parsons by about five minutes. Will you be this year's champ? Do you have what it takes? Contact Kurt Kuban at (734) 716-0783 to sign up.
In addition, Friends of the Rouge (www.therouge.org) will be hosting their annual group canoe/kayak trip through the Lower Rouge Parkway in Wayne. Canoe/kayak rentals will be available for the race and group trip, as well as throughout the festival. For more information, contact FOTR at (313) 792-9900. Contact Heavner Canoe & Kayak Rental at (248) 685-2379 to reserve a canoe.
ENVIRONMENTAL
EDUCATION
One of the goals of the event is to educate the public about the Rouge River and ways people can help continue the clean-up efforts. With that in mind, there will be a number of environmental and nature exhibits. Families will learn about the fish and animals that call the Rouge River home. Some of the groups that will be present include: Huron Clinton Metroparks Mobile Learning Center, National Park Service, Wayne County Parks, Friends of the Rouge, Michigan Audubon, U.S. Coast Guard and Wayne County Environmental Services Group.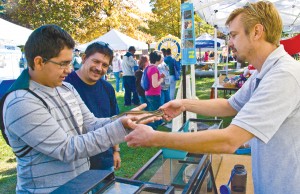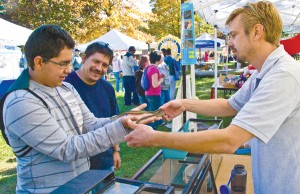 New this year will be the Huron-Clinton Metroparks Mobile Learning Center, which is a hands-on, interpretive educational experience, as well as the National Park Service, Michigan Audubon and the U.S. Coast Guard. Others, like the Friends of the Rouge, have been involved since the first Rouge-A-Palooza three years ago.
"Rouge-A-Palooza helps further the mission of Friends of the Rouge because it reconnects people to the Rouge River. No other community in the Rouge River watershed has worked this hard to open up the river for paddling or embraced the river in the way that the City of Wayne and its residents have done," stated Sally Petrella, a longtime FOTR staff member who organizes the group paddle trip.
MUSIC
For those with an appreciation of live music, the Rouge-A-Palooza line-up is expanded this year. Well-known George Bedard and the Kingpins are back. If you like rhythm and bluesy swing, surf, cheap garage thrill music, blues, rock and roll, and a group that is meticulously true to these genres, you'll love George Bedard and the Kingpins.
An exciting new addition this year is Chris Bathgate, an American indie folk singer-songwriter and musician. He is prominent in the Ann Arbor and Ypsilanti folk music scene in Michigan.
Also playing the festival for the first time will be Liquid Monk, a metro Detroit-based funk/fusion/jam band that will close the festival, taking the stage at 7:30 p.m.
The eclectic, rootsy line-up also includes Rouge-A-Palooza staples Corndaddy (Americana, roots), Troublesome Creek (bluegrass) and Tyrone Hamilton, a well-known local performer that will open the show at noon. In addition, fly-fishing folksinger Alan Cayne and the Huron River Flute Circle will perform on a second stage.
FOOD
You won't go hungry at Rouge-A-Palooza. Food truck fare will be available. The Mean Weenie (http://www.themeanweenie.com ) features gourmet hotdogs, while the award-winning Hickory BBQ & Grill (http://hickorybbq.net) whips up some of the best barbecue around. There will also be a beer garden area featuring a variety of beer and other beverages.
Many community groups are involved in the festival. Wayne Rotary will once again organize a build-your-own boat race for the kids. Wayne Main Street, an organization spearheading improvements to downtown Wayne, will raffle off two kayaks, host a rubber duck race and have fun duck-related activities available for the kids.
"Wayne Main Street is thrilled to be involved in this wonderful event because it celebrates one of the unique assets of our downtown – the Rouge River," said Executive Director Lindsey Wooten. "This year we've been more involved to do our best to make sure the event's success continues to grow. We believe in the cause and love being able to participate with our rubber duck race. This year, we are adding more duck themed children's activities for a day full of family fun."
There will also be several free inflatables for the kids, as well as face painting and many other activities.
CORNHOLE
New this year will be a cornhole tournament sponsored by Smitty Builders. Registration begins at 5:30 p.m. and the bags will start getting tossed at 6 p.m. Cost is $50 per team. There will be a 50-team cut-off. Cash prizes. To secure a spot in the tournament, call Nick Smith at (734) 657-5579.
"We think the event will be better than ever. We've added a lot of new features. We're really trying to get people to embrace the Rouge River. It is a wonderful recreational resource. We want more people to discover it," said Mathew Mulholland, of River Restorations, who grew up along the Rouge. "We hope the community will come out and support the event, have a great time, and learn about our river."
For more information, visit www.rougeapalooza.org or find Rouge-A-Palooza on Facebook.