By Carolyn Marnon – Stop, drop, and come shop with a cop makes a nice rhyme. At least shopping with a cop became a possibility on Tuesday, December 19, as students from three elementary school families were chosen to Shop with a Cop at Westland Target.
Educators from Roosevelt-McGrath, Hoover, and Taft Elementary Schools chose a family from each school for this special event. The students were chosen based on both their academic leadership and that they might need a little help this year.
Once assembled in the Target cafeteria, the kids enjoyed pizza and soft drinks before the big event. They didn't seem to realize the magnitude of what they were about to embark on.
After a group photo, three of Wayne's finest police officers grabbed a cart and a family and the shopping games began. The kids were told they each had $200 to spend on whatever they wanted. Carts seemed to magically be pulled towards the toy aisles at the back of the store as if something wonderful awaited them there.
The command and patrol unions used to do golf outings as fundraisers to sponsor the Shop with a Cop program. The program took a break over the last several years and has now returned with the intention to do Shop with a Cop every Christmas season. The Wayne Police Department is looking for ways to fundraise throughout the year to cover the costs of this event.
Eight year old Zahra found what she called a water hula hoop and proceeded to swivel her hips in the main aisle by electronics. After about 5 minutes in the cart, the hoop came out in exchange for a whale that was as big as she was. Zahra called it a giant killer whale. She now had ahold of her catch and wasn't letting it go.
Faith's eyes were wide as she took in all the toys. What would this 9 year old choose from all that surrounded her?
In another aisle, two of the officers were mesmerized by the Obi Wan Kenobi FX Lightsaber, retailing for $104.99. It goes to show there is a kid in each of us just waiting for the opportunity to appear.
Mothers had calculators out as kids were placing their carefully thought-out prizes in the carts.
Zach had his cart full when he found out he could get an XBoxOneS. It didn't take long at all for everything to come out of the cart to be replaced by the coveted XBox. But not before he gave it plenty of hugs. Eyes hovered over him to make sure he didn't drop the box.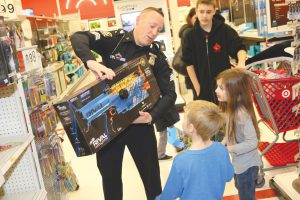 Zoe decided she wanted to redo her bedroom. She got a Frozen-themed bed set and a Frozen accent doll pillow. She also decided she wanted to make some slime. To top it all off, a large horse that she could actually sit on, although maybe a little carefully, topped off her cart. Okay, so the horse didn't make it in the cart. Zoe was too busy riding it.
Gabe told his Cop, "I told someone I was shopping with a cop!" "What did they say," he was asked. "They said, WHAT?"
After an hour of rambling up and down the toy aisle, the carts were filled, the kids were sated, photos were taken of each kid with his/her cop and their treasured finds, and it was time to check out in a checkout aisle reserved just for them.
Will this be a Christmas to remember? Only time will tell, but if the smiles and wide-eyed wonder of these children are any indication, it will.
All thanks to the gracious hearts of those who serve in the Wayne Police Department.