By Courtney Conover – Mayla Ham, 17, was getting her hair done when she received some of the best news of her life: Her coach called to inform her that she was one of five finalists in the running to receive the state's most prestigious basketball distinction: The 2023 Michigan Miss Basketball award.
"Oh, my gosh. I just felt so…happy!" recalls Ham, a member of the Wayne Memorial High School varsity girls basketball team. "I was so excited for myself because I felt like all the hard work I had put in [had paid off], and I got recognized for something that I've always wanted to be a part of."
And here's perhaps the best part: This wasn't the first time Ham had received the kind of recognition reserved for a top-tier athlete. Earlier this year, in January, Ham's coach had informed her that she had been named a 2023 McDonald's All American Nominee.
"I was excited about that as well!" Ham, a senior who graduates this spring, said. "I love to see my name among such great players."
Ham, who lives in Canton, is in phenomenal company. This year's class of McDonald's All American nominees follows in the footsteps of all-time legends such as Shaquille O'Neal, Candace Parker, and Kobe Bryant. Only 722 of the nation's high school basketball players received the honor this season.
And Ham is one of only four representing the great state of Michigan.
"Acquiring accolades like that is good, but it's even better when you have a kid who really, really embodies what you want out of a kid," Jarvis Mitchell, head coach of Wayne Memorial varsity girls basketball, told WXYZ Channel 7 back in March. "[Ham] comes to work every day, works hard, and is humble. She has gotten better every year."
That's an understatement.
Ham set the freshman record for rebounds with 18 in one game in 2019, led the Lady Zebras to a pair of final four appearances in 2021 and 2022, and was a three-time First Team All-Kensington Lakes Activities Association (KLAA) selection.
Ham, whose heart originally belonged to the sport of gymnastics, began playing basketball in elementary school—primarily because her friends were doing it.
The rest, as they say, is history, and Ham is now headed to Georgetown University. She's the first member of the graduating class of 2023 to sign with the Hoyas. And Georgetown head coach James Howard couldn't be happier. "Mayla has a very high basketball IQ and handles pressure very well. She is a shut down defensive player that fits very well into our defensive philosophy."
The Wayne Dispatch recently caught up with Ham to learn what drives her as a student-athlete.
Courtney Conover: How tall are you?
Mayla Ham: 5'8"
CC: How old were you when you played your first game?
MH: I was in third grade.
CC: What position do you currently play?
MH: I play a wing/shooting guard.
CC: Did you always play that position?
MH: I used to play forward because I was usually taller than everyone. But as I got older, everyone started getting taller than me. But my ball handling skills got better, and my shooting skills got better. That's when I transition to guard.
CC: Summarize this past basketball season—your final high school season—in one, two, or three words.
MH: That's hard. I would say together—that's the word I would use to describe our team. And that's because after the games we lost, we never got down on each other, we never put the blame on anyone else. We really tried to come together to figure out how we could fix the problem to be better for the next game. And that kept us together as a family.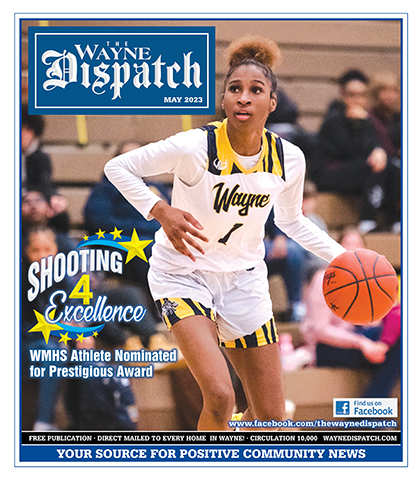 CC: What are three components of your training regimen that are non-negotiable?
MH: Eating—and I'm not picky, and I don't have a special diet. But I really like chicken wings. I also listen to music—I usually listen to old school R&B. My third is sleeping! Before every game I have to take a nap, especially after the school day.
CC: You walked right into my next question: How many hours of sleep do you get each night?
MH: I would say five…at most. I'm not a morning person—like, at all—but I can stay up late at nighttime and not be tired.
CC: You have a different responsibility than a student who just attends school every day and then goes home. It requires motivation, organization, and other attributes to juggle the demands of being a student athlete. What is the most challenging aspect of that?
MH: Having been at Wayne Memorial all four years, I guess I'm just used to it. It really hasn't been challenging. The schedule is well thought out: Go to school, practice, work out, and go home—and we actually have study hall before our practice. Then, we have the rest of the day to ourselves.
CC: Name three things about basketball that keep you coming back for more.
MH: The competitiveness, the work that you have to put in, and just how fun it is. I really love basketball.
CC: The act of competing athletically is arguably as much mental as it is physical. How do you prepare your mind for competition?
MH: Sometimes I like to be by myself before a game. Solitude. That's the main thing.
CC: What's your idea of an incredible meal? Name the beverage, appetizer, and dessert.
MH: Chicken & shrimp alfredo with a Dr. Pepper or strawberry lemonade…and strawberry cheesecake or carrot cake.
CC: To the contrary, what's a food that I couldn't pay you to eat?
MH: Brussel sprouts or cauliflower. You also couldn't pay me to eat spaghetti on the second day [leftovers].
CC: What an interesting reply! You'll probably find it quite unfortunate that my children will be served leftover spaghetti tonight. Moving on, what's your favorite movie or TV show?
MH: My favorite movie is Love & Basketball. My favorite TV show is SpongeBob.
CC: You had to know this question was coming: Who are your role models in the world of basketball?
MH: Kobe Bryant, and I really like Mikiah Herbert Harrigan.
CC: Being an athlete requires that you shake it off—you can't be successful without it. What experience do you credit with teaching you the importance of perseverance?
MH: Pretty much just letting go of the past and focusing on the future.
CC: How did you come to select Georgetown University as the institution to learn from and play for?
MH: Mainly it was the environment and the community that is in [Washington] D.C. It was everything you could imagine a college to be—the culture, the facilities, the city. It has everything I'd want in a place that I'd have to spend the next four years of my life at.
CC: Did Georgetown actively recruit you?
MH: They did. They actually recruited me when I played in an AAU [Amateur Athletic Union] tournament in California at the end of July [2022].
CC: That's awesome! Tell me more about your participation in AAU basketball.
MH: I've been involved in AAU since I was in the eighth grade, and last year was my final year because one can only play through junior year. I played for One Nation, which is Coach Jarvis' AAU organization. It's a 3 SSB [3 Stripes Select Basketball; a leading youth basketball platform] program, so it's sponsored by Adidas. It was a really fun experience, and I got really close with some of my teammates. It was also great to create relationships outside of the court.
CC: As you know, Wayne-Westland Community Schools recently introduced competitive sports at the elementary level, and basketball is among the sports offered. Name two things young athletes can do at their level that will prepare them for playing in middle school–and eventually–high school?
MH: I would say to just keep working hard every day—and don't take your foot off the gas. Don't get discouraged. There will be days when it is hard. Just keep pushing forward. You will look back and be glad you kept going.
CC: Tell us about your family.
MH: My whole family [has supported me]—my parents, my sister, my brother, my grandparents. My brother [Marvin Ham II] plays football at the University of Colorado—he's a linebacker there. He's someone I take a lot of advice from. He's been through everything I'm going through now—high school sports, the recruiting process, etc. My sister [Bri'Anah Hightower] is a child therapist now, but she also played basketball in high school. And my parents, who took me to my AAU tournaments and sponsored my fees.
CC: Where do you see yourself in 5 years, 10 years?
MH: I've been asked this question before, and I've never really had an answer because I'm just living in the moment, trying to enjoy everything that I can. I don't like to look too far into the future.
CC: Bonus question: If you could share any wisdom or lessons learned with your younger self—Young Mayla—what would you tell her?
MH: I'd tell her don't get discouraged, all the hard work that you put in will eventually pay off. You might not get everything you want, but it certainly will pay off. And you'll create a lot of relationships along the way.