By Courtney Conover – A doctor.
That's what Ali Sayed, owner of HYPE Athletics, wanted to be when he grew up.
"I wanted to be a doctor because I knew they made a lot of money," explains Sayed. "And I didn't have that when I was a kid."
Although Sayed attended school in West Dearborn, one would be mistaken to assume he was well off.
He wasn't.
The life Sayed came to know while residing with his family in East Dearborn differed greatly from the one he saw at school—these worlds weren't one and the same. Due to overcrowding, Sayed was bussed to a different middle school—one across town in West Dearborn, a middle-to-upper-middle class community that was markedly more white-collar.
"My neighborhood was predominantly lower income. I knew kids who shoveled snow in the winter to make a few dollars, cut some grass in the summer, and maybe delivered the newspaper. That's how I grew up," recalls Sayed. "Going to that school was like participating in the musical West Side Story. We just didn't click," recalls Sayed.
But that invaluable experience ended up being a blessing in disguise because it charted the course which led Sayed precisely where he is today: the owner of HYPE Athletics Community, a deeply rooted, non-profit community-based organization that partners with federal, state, and local agencies to provide services and programs.
"We serve families and improve the quality of life through fitness, education, and sports," says Sayed.
Sure, today HYPE Athletics bears a resemblance to a burgeoning fitness company due to its two thriving locations—one in Wayne and one in Dearborn Heights. But it didn't start out that way. Rather, it started quite simply with a three-on-three basketball tournament.
If a 19-year-old Sayed had learned anything during his time at Dearborn's Bryant Middle School, it was this: "[My classmates] became my teammates—and then we became friends because we were teammates. I realized that our differences were erased when we were on the field or on the court because we had one common goal…and that was to win," Sayed says emphatically. "It was one of those things where we would say, 'Hey, let's get together and [play]. Let's expose other people to what we were exposed to."
The bonding produced by camaraderie, inclusivity, sportsmanship, and teamwork—that's what inspired Sayed.
"That's why I started HYPE," Sayed says.
And so, that small yet respectable basketball tournament in 2001 led to training camps and basketball, soccer, and volleyball camps, which eventually blossomed into a movement spanning 12 cities and a total of 21 schools and recreation centers. By 2010, HYPE was hosting basketball camps with 400 kids, and the leagues possessed more than 700 kids.
"We built this relationship that allowed kids to develop both socially and physically," he says.
Even back then—amid the apparent focus on athletics—there was also an emphasis on overall health and wellness. In 2006, HYPE added a social service component, which provides tutoring, mentoring, counseling, life skills, substance abuse programs, and career development. It was a calling that Sayed couldn't defy. "A mom would come to me and say, 'Hey, Ali, I think my daughter or son is smoking cigarettes or pot; they're failing school…Can you please talk to them?'" Sayed recalls. "I was like an older brother to all these kids—I was only 23 years old at the time."
Sayed began putting together a life skills curriculum comprised of personal development research and articles, which was no small feat back in 2005—this was during the age of dial-up Internet, after all. He shared the information with HYPE staff, who then shared it with parents, youth, and anyone who needed it. "There was no Google, I printed everything I could find on substance abuse, etc.," Sayed says. "We adjusted and developed programming based on the needs of our community."
In 2019, HYPE Social Services received a major upgrade when the organization purchased a church in Lincoln Park that HYPE converted into an out-patient therapy and residential unit. The facility, which is slated to open this fall, will serve substance abuse and mental health patients that are referred from HYPE's S.A.F.E. Substance Abuse Program. S.A.F.E. has grown exponentially through the years and now offers group therapy, drug screening, in-school prevention, intervention services, and a Second Chance Program, which champions sobriety.
Meanwhile, HYPE continued to expand their athletic presence with the arrival of their first brick-and-mortar facility in Dearborn Heights in 2012. Sayed says that through much guidance, planning, and careful consideration, the building was constructed with the assistance of U.S. Department of Housing and Urban Development (HUD) and Neighborhood Stabilization Program (NSP) funds. The 25,000 square-foot building, located on Warren Road, would become HYPE's flagship location.
HYPE's arrival in the City of Wayne would come next.
In 2014, Wayne County Commissioner Mayor Al Haidous, who was serving as Wayne's mayor at the time, approached Sayed to inquire about consulting support regarding the city's recreational services. "[The city] was still losing a lot of money, and they were on the verge of closing [the community center] down. They were just underwater."
Sayed and Haidous discussed program expectations and budgetary items, and Sayed explained to Haidous why keeping the center open was imperative to Wayne's vitality as a city. "I warned them," Sayed remembers. "I shared the story about what happened in Detroit, what happens to the neighborhood—what happens to kids—when community centers close. Detroit experienced over 30 closures alone since 2001. [HYPE] is committed to establishing a model that works for the community first. The methods behind low-cost services are no secret: Reduce wasteful spending and focus on the objective."
Sayed then offered to manage the center—and Wayne agreed.
"It relieved them of all their liabilities and responsibility, Sayed explains. "We cut the grass, shoveled and plowed the snow, and managed and staffed everything for a small fee ($144,000 a year for five years)." That funding, which was ten percent of the city's annual budget, in turn helped support HYPE programs and services.
In mid-July of 2021, HYPE purchased the building outright.
In addition to locations in Dearborn Heights and Wayne, HYPE is on Belle Isle, too.
"We've been managing the fields now for about two years," says Sayed. "And it's doing very well."
HYPE's Belle Isle Athletic Complex features facilities for softball, football, basketball, handball, racquetball, and tennis. Cricket and sand volleyball are forthcoming.
But, back to the Wayne location for a moment. Because as the old saying goes, changes are a comin'.
"We're really excited to revamp the entire property," Sayed says. "The parking lot will be resurfaced, the pool will be repurposed, and we're upgrading all of the work-out equipment. We're injecting a lot of money and resources into this center, which will include the addition of senior services, which the City of Wayne had to suspend due to budgetary reasons."
Perhaps the most purposeful improvement patrons will recognize is that the fitness center, which is currently housed in the back of the building, will be relocated to the pool area.
"Patrons walking the track will soon be able to enjoy a sprawling view which overlooks the new and improved fitness area," Sayed says.
But, one thing that won't change, Sayed says, is HYPE's family-friendly environment. "We are different than Planet Fitness, Edge, and Lifetime. We offer more than just fitness."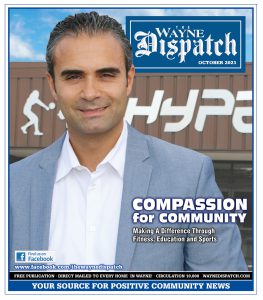 More than just fitness also means stepping up in a time of crisis.
Sayed often uses the word agile—the ability to think quickly—to characterize HYPE's approach to solving challenges as an organization, and a prime example of this was the action HYPE took despite their closure during the shutdown in 2020.
"We said, okay, people are home, they don't have access to food, they don't have access to various things," explains Sayed. "So, we had food drives [at HYPE in Wayne] every Saturday, which fed over 10,000 families. We distributed semi-trucks-full of fresh produce, milk, and even masks."
HYPE also converted their sites' parking lots into drive-thru COVID testing sites.
"We did these things because we're a service-based organization, and we have to figure out ways to continue to serve those in need," says Sayed. "And that's what we do."
At its core, HYPE's focus—as well as Sayed's—really hasn't changed throughout the years.
Sure, Sayed is no longer a single 19-year-old—he's now a husband and father of four girls. And HYPE—with its multiple facilities, array of programs, and unquantifiable reach—has come a long way since its first three-on-three basketball tournament twenty years ago.
But the purpose of both the organization and the man—the heart—remains the same.
Sayed still cites Popeye the Sailor Man as his favorite cartoon. And those classmates from Bryant Middle School Sayed competed with?
"Those guys are like my brothers," Sayed says with a chuckle. "We're still super-cool with each other." Although things change, in this case, much hasn't.
"To me, strengthening the infrastructure means strengthening the family, then the block, the neighborhood, then the school, the recreation center, the city, and so on," says Sayed. "It's all connected."