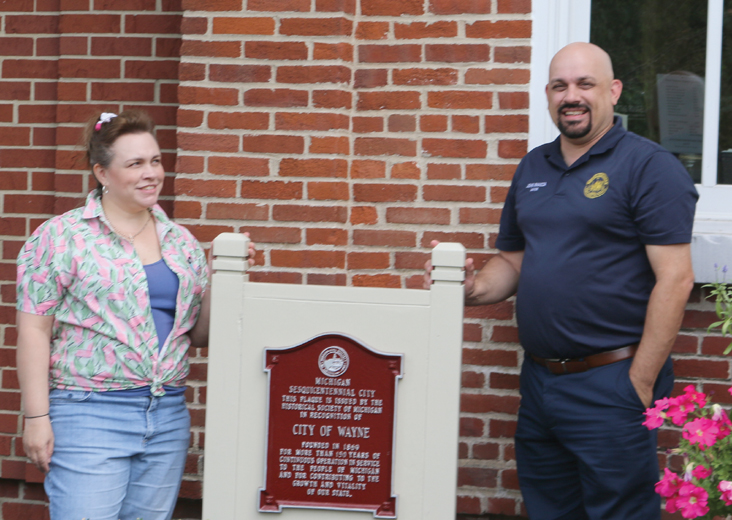 By Carolyn Marnon – In honor of the City of Wayne's Sesquicentennial (150 years old!) celebration this year, the City recently received three honors: a County of Wayne Resolution honoring the city for celebrating 150 years as a community signed by District 11 Wayne County Commissioner Al Haidous; a State of Michigan Special Tribute signed by 16th District State Representative Kevin Coleman, 7th District State Senator Dayna Polehanki, Lt. Governor Garlin Gilchrist II, and Governor Gretchen Whitmer; and a Congressional Record from the Hon. Rashida Tlaib of Michigan in the House of Representatives honoring Wayne's Sesquicentennial. These documents are currently on view at City Hall.
Some facts from these documents include:
Wayne was founded 150 years ago in 1869 as a village. This was 64 years after the Michigan Territory was created and 32 years after Michigan became the 26th state in the union.
Wayne was the site of the Sauk Trail and was visited by Native American and French fur traders.
Wayne shares its name with its home county.
Wayne was first settled by George M. Johnson who built a log cabin that became a popular stop for travelers heading to Chicago.
Wayne had a population of slightly more than 800 people when it became a "village."
Wayne was an active industrial site in the early 20th century. It experienced tremendous population growth around World War II and the Korean War which led to its incorporation into a home rule city in 1960.
Wayne currently has about 18,000 residents.