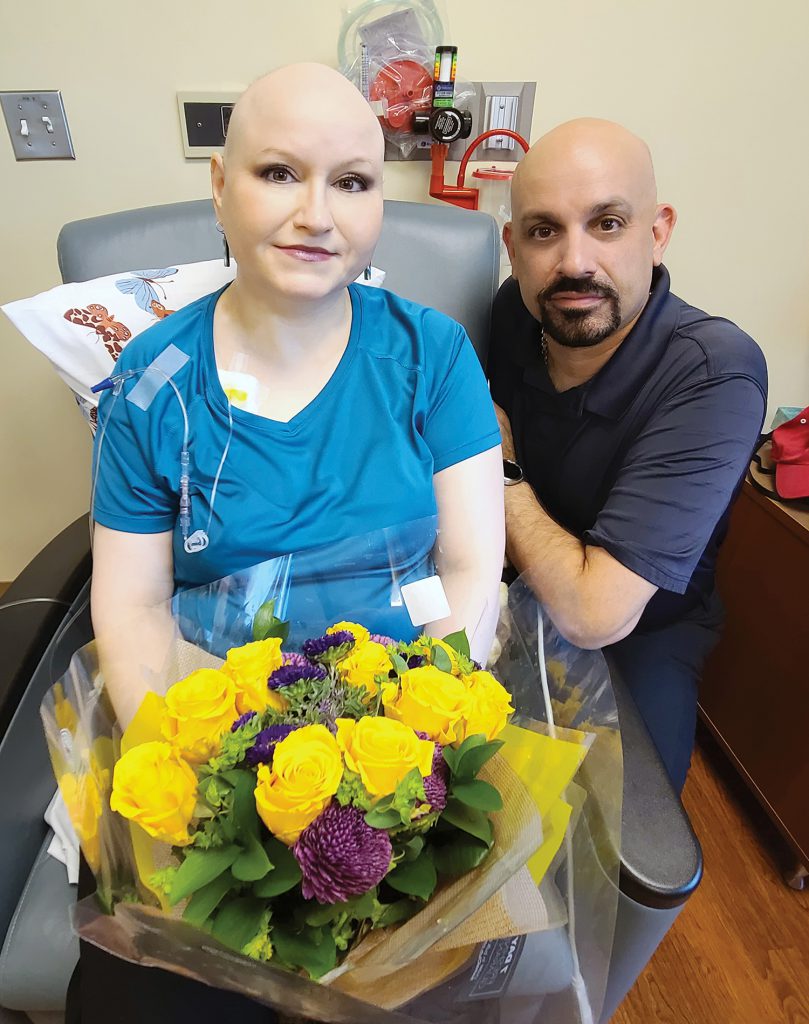 By Courtney Conover – Natalie McCurry Rhaesa, 50, is the baby of the McCurry family, but that's not her only distinguishing characteristic.
"My four siblings all have names that start with D—Donna, Donald, Jr. (who goes by Jim), Dianna, and Doug—and then there's me," says Rhaesa. "I was supposed to be Denise—that's the name my mother picked out for me, but my father named me after Natalie Wood, the actress."
The day that Rhaesa was interviewed for this profile arrived on the heels of her fifth chemotherapy treatment—a total of six have been scheduled for her.
To say that Rhaesa's life has been turned upside down since her cancer diagnosis this spring would be an understatement. But truth be told, she had been juggling quite a few balls in the air for a while now…
While Rhaesa's mother, Lois, was Christmas shopping at the mall in mid-December, she fell and broke her hip. Meanwhile, across town, Rhaesa and her husband, John, were in the process of trying to purchase a new hospital bed for Rhaesa's father, Donald, who had been ill and wheelchair-bound since 2019 due to kidney failure.
Rhaesa and her husband headed straight to the mall and followed the ambulance to the hospital where Rhaesa remained with her mother until her sister could relieve her. Ironically, Rhaesa and her husband were scheduled to receive their vaccination booster shots that very same evening. But Rhaesa did return to the hospital afterward to stay the night with her mother. Surgery was scheduled the next day.
"It was kind of a bad time because, now, mom was hospitalized and going to rehab, and my dad needs 24-hour care," she said. Rhaesa and her sisters helped their mother through her medical ordeal, while Rhaesa's brother-in-law stepped in to be the caregiver for their father. "It was such a huge relief that we had a family member to help our dad and stay with him 24/7," says Rhaesa. "I don't know what we would have done without him." Rhaesa's two brothers also took turns staying and helping out with their father.
While Lois remained in a rehabilitation center, Rhaesa and her siblings took turns bringing groceries and dinners to their father's house and visiting.
But things went from bad to worse: Donald's health declined even further—Rhaesa suspected her dad had a UTI and called for an ambulance and he was taken to the hospital. Shortly after her father left, Rhaesa started to feel a little under the weather, too. "After my dad was taken to the hospital, I got this dizzy spell," Rhaesa remembers. "And then, my throat was scratchy."
Although she didn't know it at the time, Rhaesa had contracted COVID. She believes she got it from visiting her mother, father-in-law and senior friend who were all in different rehab/nursing facilities.
Then, Lois tested positive for COVID, and then Donald. The virus tore through the family over a span of nearly 12 days, which presented the siblings with the precarious challenge of how to divvy up care for their parents. "Now that so many of us were sick, my brother-in-law continued to stay on 24/7 and now care for both of our parents since mom was on a walker and had limitations," recalls Rhaesa. "At this point my brother-in-law had already been at my parent's house for 24 consecutive days."
On a Sunday, January 30th, Donald was admitted into hospice. COVID was not making things easy on the family because only two visitors were allowed per day and there were five children plus his wife. "Each of us took turns staying with our dad at hospice, he was not alone for a single minute," says Rhaesa. Sensing that their father's demise was imminent, the siblings had begun the process of making funeral arrangements. "I had spent quite a bit of time with my dad on Monday and my mom was with me. It was a very special time I held dad's hand and fed him chocolate pudding. He wasn't talking at this point but I know he knew me he squeezed my hand a few times," Rhaesa remembers. "My sister had picked up my mom and I met them at the funeral home and we helped our mom make the arrangements." Then Rhaesa's sister took their mother to the hospice facility to visit their dad and to be there when they did Military Honors for Donald.
On February 1, 2022, Donald passed away at the age of 88.
"He passed away two hours after the arrangements were made," says Rhaesa. "My sister called me [to relay the news], and I could tell. I knew." Rhaesa was at home when she got the news and her husband drove her to the hospice. Because of COVID, Rhaesa had to view her father from an outside window standing in the snow with her siblings, in-laws, nieces and nephews.
Furthermore, in what can only be described as deeply sad and unfortunate timing, Rhaesa's father-in-law, John Allen Rhaesa, who had been battling Parkinson's, was taken off life support just two days later and passed at the age of 81. "We got a call early Thursday morning (February 3rd) from the hospital and they thought that the family should come up to the hospital. John left and I stayed home sleeping, tired from grieving the loss of my own father," says Rhaesa. "Then I got a call a few hours later, it was John telling me they took his dad off life support and he was gone."
Amid all of the above, Rhaesa had been enduring what she characterizes as "episodes."
"It was the week of Christmas when I first started having what I thought was an ovarian cyst rupture," Rhaesa recalls. She had experienced them over the past 15 years and had come to recognize the symptoms.
In fact, Rhaesa had consulted her family doctor in January because getting an appointment with her gynecologist seemed impossible. "I knew something wasn't right," she feared. "I asked my family doctor for a prescription for an abdominal ultrasound." Rhaesa underwent two ultrasounds shortly thereafter and requested that the results be sent to her gynecologist.
Concurrently, Rhaesa continued to prioritize the well-being of loved ones. She regularly assisted her mother and John was also helping his mother. Additionally, since 2016, she and her husband John had been the primary caregivers for an elderly friend, who still hadn't returned home after being hospitalized in October of 2021.
In short, Rhaesa's plate was full. Rhaesa and her husband buried both of their fathers the same week, her father on Monday, February 7th, and his father on Friday, February 11th. And the episodes were increasing in frequency, one of them occurring the night before her father's viewing.
"On St. Patrick's Day, I had another—a pretty bad one," says Rhaesa. "John and I had plans to go to US 12 to get our St. Patty's Day dinner…but I felt it coming on. It's like a big rubber band snapping inside, and it causes horrible pain and bloating, followed by a fever."
Again, Rhaesa called her gynecologist. Due to COVID, gynecologist's offices were so backed up, Rhaesa was given available appointment dates two months away.
On March 29, Rhaesa's condition worsened.
Recalls Rhaesa, "I felt sluggish and just kept laying down, and I had no appetite. But I was just thinking that an ovarian cyst had ruptured."
But a turning point happened a few days later on March 31.
Rhaesa and her husband had tickets to see contemporary Christian music singer Steven Curtis Chapman perform live at Plymouth's NorthRidge Church where they were meeting up with friends.
When Rhaesa entered the church, she was taken aback by an extreme—tearing—ache in her abdomen. She quickly realized that she couldn't stay at the performance. Rhaesa insisted John stay at the concert with their friends. "I called my brother who lived close to the church. I asked him if he could come and get me and take me to urgent care. Then by the time he arrived to pick me up, I already determined that I wanted to go straight to the main hospital" said Rhaesa. "My brother was trying to be careful driving, he could see I was in pain, I held my seatbelt out from my stomach the entire drive and I reclined my seat and braced my feet on the floorboard of his vehicle." Rhaesa and her brother picked up their mother and headed straight to the ER at St. Joe's Hospital.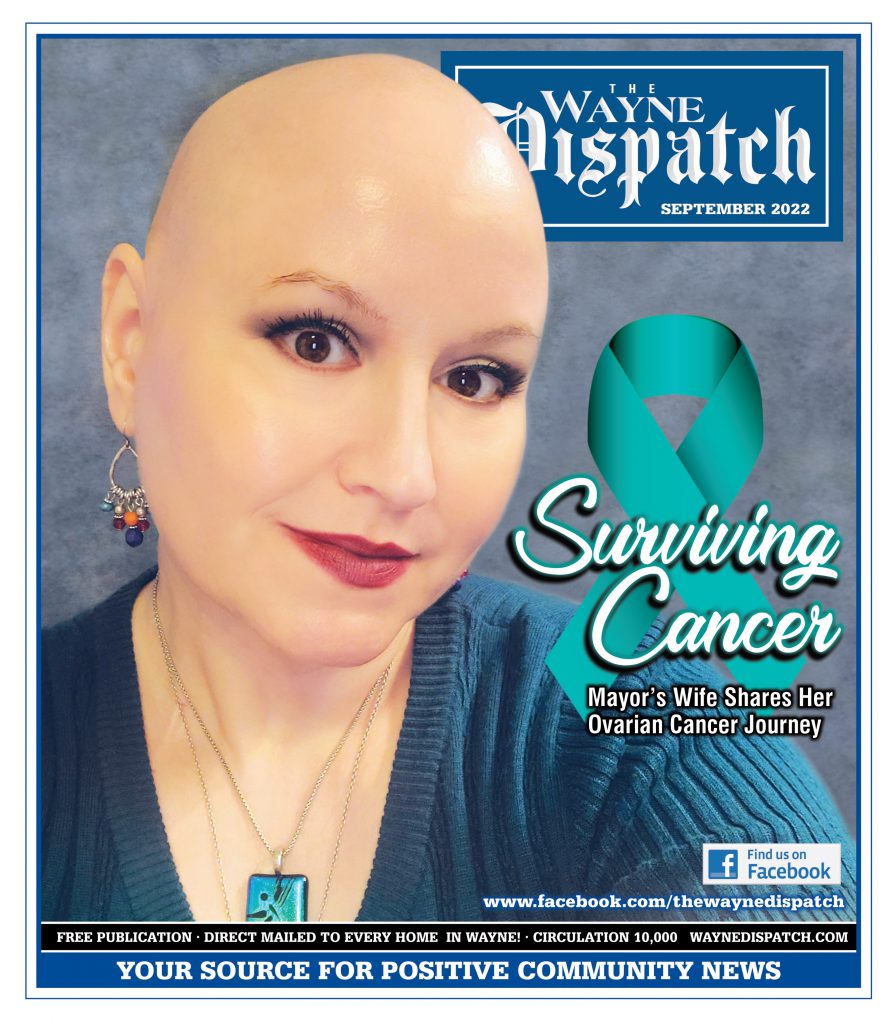 Once at the hospital, things moved quickly for Rhaesa. "I got an IV inserted, and they felt around my stomach—thinking that it was my appendix, they also scanned my bladder and did several other tests late into the night."
Two doctors had examined Rhaesa prior to an ultrasound, which revealed that an abscess had ruptured, and another ultrasound was completed as well. Finally, a CAT scan identified a mass that doctors suspected was cancerous.
Rhaesa was kept at the hospital for two nights and was given IV antibiotics and pain medication both days. "I went through 7 bags of IV antibiotics, they alternated between two antibiotics, one of which burned going in and the nurse put ice packs on my arm to help with the discomfort" says Rhaesa. "John arrived at the hospital to spend the night with me and my brother-in-law took my mother home. The next morning, I told John I could have my sister come stay with me so he could go home and feed the dog and take care of her." Rhaesa's sister came up and stayed with her and shortly after, Rhaesa underwent an MRI, which drastically altered the course the doctors had planned to take.
"The doctors wanted to be clear on where to insert the needle [to draw fluid from the mass], but once the doctor saw the MRI, they declined because they didn't want anything to spread," says Rhaesa. "They said that they'd have to remove the mass surgically—an open surgery that would also involve a radical hysterectomy as well as the removal of the appendix and omentum." The first step, doctors said, was to rid her body of the infection that was being caused by the abscess. Rhaesa then returned home for two weeks with antibiotics.
Unsurprisingly, the revelation that Rhaesa likely had ovarian cancer was shocking. "I had some tears in my eyes, but I wasn't sobbing," says Rhaesa. The doctor asked Rhaesa if she was okay? "It's a lot," she said. "My sister had spent the night and it was early, about 6 a.m. when the doctors revealed to me that they thought I might have cancer. My sister quickly came over to my side and held my hand," said Rhaesa. "It was a tough moment."
Rhaesa does, in fact, have a family history of cancer via her mother's side. "My mother's sister had breast cancer, and I later found out that someone with an aunt who has breast cancer is more likely to get ovarian cancer," she said. Rhaesa also learned that all four of her aunt's daughters had a hysterectomy by age 45.
But that isn't the total extent of Rhaesa's family history with regards to cancer. In fact, it hits even closer to home: Rhaesa's brother, Jim—who would accompany Rhaesa on her fifth chemotherapy treatment, was diagnosed with prostate cancer in late March. "He had his surgery May 25th and his cancer was contained and able to be completely removed, so no further treatment [was necessary]. We learned of my brother's cancer and his upcoming surgery less than 2 weeks before my diagnosis, who would have thought I would be having surgery before him?" she said.
Rhaesa was officially diagnosed with stage 2A ovarian cancer, which had spread from her right ovary to outside of her uterus. It wasn't until her first visit to the oncologist on April 6th (one week before surgery) that she learned the mass in her abdomen was the size of a football and that removing it would leave her with a 10" vertical scar.
Rhaesa had surgery on April 12, a blood transfusion on April 13 and returned home on April 15, and had her chemotherapy port inserted 13 days later on April 28—which also happened to be her fiftieth birthday.
Rhaesa, however, still found great reason to celebrate. Following her birthday dinner with family at Buca di Beppo, Rhaesa ended the night with an act that some might liken to looking her diagnosis in the face and grabbing it by the horns: She invited her mother's hairdresser to her home to promptly cut her hair into the shape of a short bob.
"I wanted my hair cut before my first chemotherapy appointment so that I could donate it," says Rhaesa, whose long, raven locks are somewhat of a signature for her. Rhaesa had already been donating her hair–12 to 14 inches worth—approximately every two years.
Rhaesa hopes that by sharing her experience she can ultimately help others, and when asked about her saving grace throughout her journey thus far, she doesn't hesitate with her reply.
"I feel that God has been with me every step of the way and he has put me at ease about everything. Even my family is amazed at how well I handled my diagnosis and my treatments, I just had a peace about all of it, plus I had my Dad as my guardian angel watching over me," she said.
"My husband John has done such a wonderful job helping me through all of this, cancer didn't just happen to me, it happened to him as well. I can't even imagine what he must have been going through when I was in surgery, not knowing if it was cancer and if so, what stage? Because of COVID, he was unable to have anyone with him in the waiting room, it was a long five hours," said Rhaesa. "On top of worrying about me, he still had our businesses to run, duties as Mayor to fulfill and countless meetings to attend."
"My mother has been amazing she cleaned my house and did my laundry for 6 weeks while I was recovering from surgery and she made me lots of mac and cheese, kept me company, made me laugh and she was my cheerleader."
"My family is so wonderful, each of my four siblings took time off work to go to a chemo treatment with me, we still had some laughs at least up until I fell asleep from the pre-chemo drugs," says Rhaesa. "I am very fortunate to have such a loving family, their support has meant everything to me."
Rhaesa recalls walking into the infusion center for her first chemo treatment and on the wall there was a sign that read "You Never Know How Strong You Are Until Being Strong Is The Only Choice You Have." She says it's kind of how she approached her diagnosis. "I just say to myself 'Just Do It and Get Through It' and then I move on to the next step in my treatment," says Rhaesa. "To have two cancer diagnoses in less than two months is interesting, sad, and hard to believe," remarks Rhaesa. "But it's also a relief that my brother and I can look forward to life without cancer."
Despite it all, Rhaesa believes brighter days are indeed ahead. She believes that God doesn't waste pain and that what she went through may benefit others. She would encourage you to be seen by a physician if you feel something isn't right. "Insist on getting bloodwork, ultrasounds or whatever tests necessary, nobody knows your body better than you, if something seems off, please go get checked."
Rhaesa completed her 6th and final chemotherapy treatment on August 16th. She will be having a CAT scan first week of September and see her oncologists for the next steps in her treatment. Prior to Rhaesa's surgery her Cancer Antigen number (CA-125) was at 703, normal range is between 0-35. After surgery her CA-125 was down to 69 and after completion of chemo her CA-125 is now at 9. The doctors are very pleased with the outcome of her surgery and chemo treatments and will continue to monitor Rhaesa for the next 5 years.
In hopes of helping others, Rhaesa donated her mass and reproductive organs to the Cancer Research Center at St. Joseph Mercy Hospital and will be getting genetic testing to help further their research.
September is Ovarian Cancer Awareness Month. According to the Center for Disease Control and Prevention (CDC), ovarian cancer is the second most common gynecologic cancer in the United States.