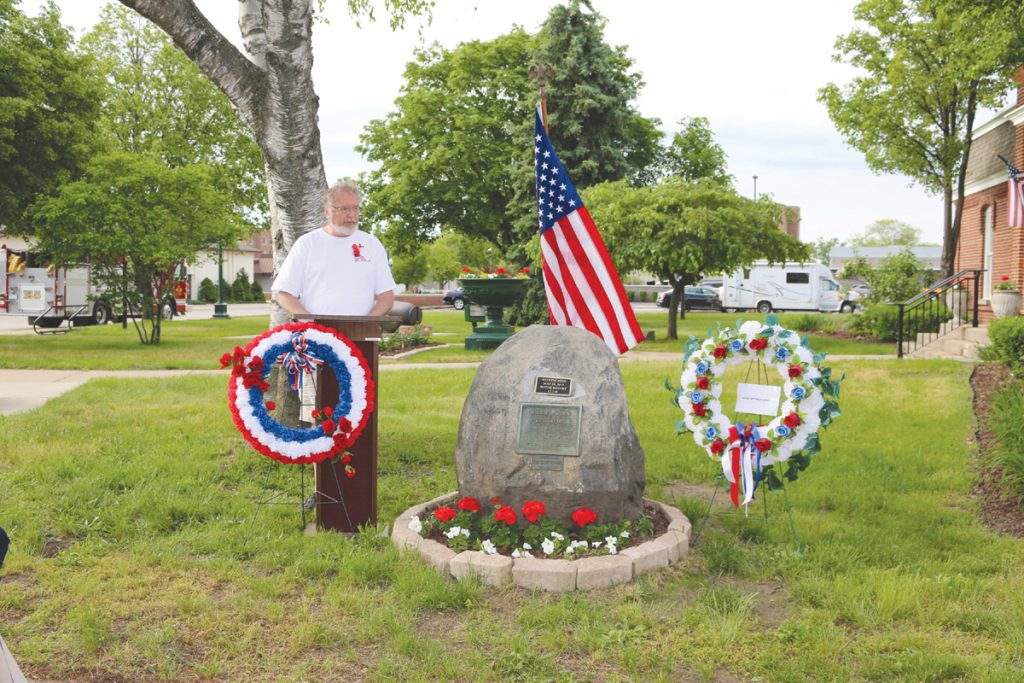 Concerts in the
park scheduled
The 2019 Concerts in the Park schedule has been released. The concert series, presented by the Wayne Rotary Club, is held at the amphitheatre in Goudy Park on Wednesday nights at 7:30 p.m.
July 17-Major Woody
(Rock, Dance, Alternative,
R & B, Motown)
July 24-Theo Gridiron
(Pure Detroit soul)
July 31-Live Bullet Detroit
(A Bob Seger Experience)
August 7-Rock Star
(80s Hair Band)
August 14-Steve King &
the Dittilies (Variety)
August 21-Power Play
(Rock)
August 28-Fifty Amp Fuse
(Greatest hits of all Time)
Major sponsors: Beaumont Hospital, Mark Chevrolet, Wayne Downtown Development Authority
Playscape build
volunteers being sought
Beaumont has ordered a new Playscape for Rotary Park II from Miracle Playscapes. Miracle makes great equipment and is the manufacturer the majority of playscapes in Wayne and our surrounding cities come from.
On Friday, June 28, the Wayne DPW (Department of Public Works) will be preparing the ground at the park with a Bobcat and an auger while volunteers unload the playscape and move components to the areas they will be installed at. Everyone will then get the posts dropped in preparation for assembly.
On Saturday, June 29, everything will be assembled. This will consist mainly of lots of lifting parts and bolting them together. This will be a collaborative effort between everyone participating.
The manufacturer recommends at least 16 participants to construct the particular model we'll be getting. Hours are not yet finalized, but it will likely be an all-day event both days. We just wanted to give everyone a heads up, so they could block these days out on their calendars should they want to participate. This event will be updated as more details are finalized.
Book signing event
Books on the Avenue, 35622 W. Michigan Ave, will be hosting a book signing on Saturday, June 8, 4:00-6:00 p.m. Come celebrate the release of The Silence of Silver and support your local authors! Join authors Bridget Leanne and Carl Joseph Cascone for a meet and greet and book signing. Copies will be available for sale. The Silence of Silver is a story about the strength and love of the Plata family while they deal with an accident that leaves their father and husband stuck within himself.
Police community meeting
There will be a Police Community Meeting on June 13 at 7:00 p.m. The meeting will be held at Wayne City Hall. Residents will receive information about crime trends and safety. Residents will also have the opportunity to ask questions.
A representative from Crime Stoppers of Michigan will be at the meeting to discuss their organization as well.
Knit and crochet night
The Wayne Public Library is starting a casual monthly knitting and crocheting night! Bring any of your knitting or crocheting supplies and enjoy a casual meet-up with fellow crafters. Knit and Crochet Nights run from 5:30-7:30 p.m., but you're free to drop in at any point during that time to get to know other attendees and to work on your projects. This is an adult program, but teens are welcome to join in as well! The library is located at 3737 S. Wayne Rd.
Family game night
The Wayne Public Library, 3737 S. Wayne Rd., will be hosting Family Game Night on June 5. The festivities start at 5:30 p.m. Try out a new game or challenge your family members to a classic! There will be a wide variety of board games—favorites like Monopoly, Connect 4, Parcheesi, and Clue—as well as some new games you might not have experienced yet! Drop in for a few minutes or stay for hours. All ages are welcome!
Charity car show
The Wayne Masonic Lodge, 37137 Palmer Rd, Westland, invites you to their 2019 Charity Car Show. All cars are welcome. The entrance fee is $15 which includes a goodie bag and a t-shirt. All proceeds go to benefit Rainbow Girls and Demolays. The Car Show is on Saturday, June 8 from 9:00 a.m.-3:00 p.m. There will be raffles, prizes, music, a food court and a live auction. For more information, call (734) 721-7950.
Hell from the Heavens
Come listen as author John Wukovits shares the story of WWII's greatest kamikaze attack. Nothing could have prepared the crew of the USS Laffey for the moment when the small ship was targeted by no fewer than twenty-two Japanese suicide aircraft for eighty minutes. But the Laffey somehow survived, and the gutted American warship limped from Okinawa's shore for home, where the ship and surviving crew would be feted as heroes. Mel Gibson has signed on to direct the film adaptation of this book, starring Mark Wahlberg. John will be at the Wayne Public Library on Tuesday, June 18, at 6:30 p.m.
Historical museum
events this summer
June 13 – A Historic Walk down Monroe Street
7:00 p.m. Presenter Tyler Moll will show pictures as we take a virtual walk down historic Monroe Street and back up Newberry street. There will be a free live walking tour with pictures June 20 and 27 at 11:00 a.m. Tour begins at the museum.
June 15 – Paint Pour
1:00-3:00 p.m. Join us at the museum for a fun painting event where you layer colors in a cup and pour them on a canvas to make fun and funky modern art. All paint, supplies and canvas provided. Tickets $30, more canvasses available for additional fee.
Firefighters charity BBQ
Join the Wayne Firefighters for their 3rd Annual Wayne Firefighters Charity BBQ on Saturday, June 22 11:00 a.m.-2:00 p.m. The event is held at the fire station, 3300 S. Wayne Rd. Cost is $5. Advanced tickets are not necessary. Firefighters will be serving up your choice of hamburger or hot dog, chips, drink and dessert. There will be a bounce house, face painting, ice cream and more! If you have questions, call Fire Administration (734) 722-1111.
Kite building
and decorating
Come to the Wayne Public Library, 3737 S. Wayne Rd, on Tuesday, July 2 from 1:00-2:00 p.m. for a kite building and decorating workshop for children ages 4-11. Take the kite home and enjoy hours of flying!
Family fun day
The Wayne Historical Museum will be hosting a Family Fun Day on Saturday, July 13, 10:00 a.m.-5:00 p.m. at the museum, 1 Towne Square. There will be children's crafts, games and activities, classic cars, museum tours, food and refreshments and entertainment by Harmony Town Barbershop Men's Chorus.
Space stories
Children of all ages and their families can come to the Wayne Public Library, 3737 S. Wayne Rd, on Tuesday, July 16, at 3:00 p.m. to listen to stories and sing songs about space, planets and the universe.
Rocket and bubble fun
The Wayne Public Library, 3737 S. Wayne Rd, will be hosting Rockets' Red Glare and a Universe of Bubbles on Saturday, June 29, at 3:00 p.m. Come celebrate the 4th on the Plaza by seeing how far your rocket can go and then filling the sky with bubbles. Snacks are provided and children of all ages are welcome.