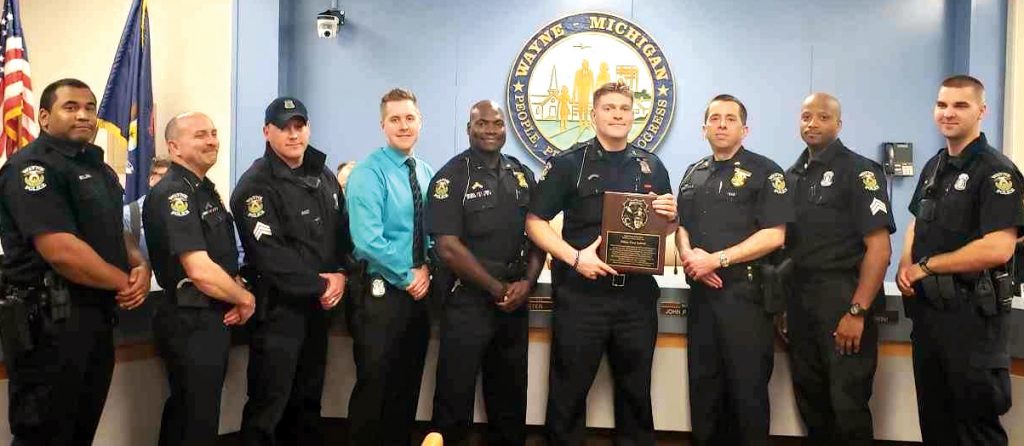 By Carolyn Marnon – Wayne Police Officer Chad Colwell was recently named Wayne's 2018 Police Officer of the Year. Officer Colwell was hired as police officer by the City of Wayne in December, 2015.
As a member of the Road Patrol, Officer Colwell consistently works hard without complaint. Highly motivated, he is well-respected inside and outside the department. He is looked up to by his peers and supervisors and is well-known in the department for his vast knowledge of criminal laws and relevant court cases.
Officer Colwell has taken a strong interest in training his fellow officers by becoming an emergency vehicle operations instructor and field training officer.
Officer Colwell was recognized for his quick thinking and bravery while responding to an armed robbery at a local drugstore. It had been determined that the suspect had fled on foot; Officer Colwell pursued the armed suspect on foot and safely apprehended him. The suspect was arrested; the gun used in the robbery was recovered.
Officer Colwell received resolutions from the City Council and Wayne County Commissioner Al Haidous. Police Chief Ryan Strong stated, "Officer Colwell is truly deserving of the title and honor of Wayne Police Department Police Officer of the Year."
Officer Colwell has also received a Meritorious Service Award, the highest award in the Wayne police department for the same incident mentioned above. He says he feels great about the awards. "Training and learning from the more senior officers" is what helped him get to this point in his career. "I feel appreciated."
Officers receive awards
At the June 4 City Council meeting, several awards were given by Chief Strong to members of the police department. Two Meritorious Service Awards were handed out. Officer Chad Colwell received one for his actions in the armed robbery at the local drugstore.
After a brutal homicide last year, Officer Michael Talmadge observed and was able to apprehend the suspect and help to keep the community safe as a result.
Officer Kyle Talmadge was given a Commendation Award for his actions after a brutal assault occurred. Two other officers also received Commendations. Officer Arndt apprehended a suspect in an incident where four people were injured during a brutal assault. Lt. Schmidtke was able to get a cold case involving a 2001 sexual assault closed.
Police department receives
community partner award
First Step, whose mission is "to eliminate both domestic and sexual violence and to provide comprehensive services to individuals and families impacted by these crimes," presented the Wayne Police Department with their Community Partner Award last month at the 2nd annual You Are the Light Gala. According to First Step staff, the award was to recognize "the Wayne Police Department and its leadership for their professionalism and for interacting with survivors with compassion and understanding." Police Chief Ryan Strong and Mayor John P. Rhaesa were on hand to receive the award.