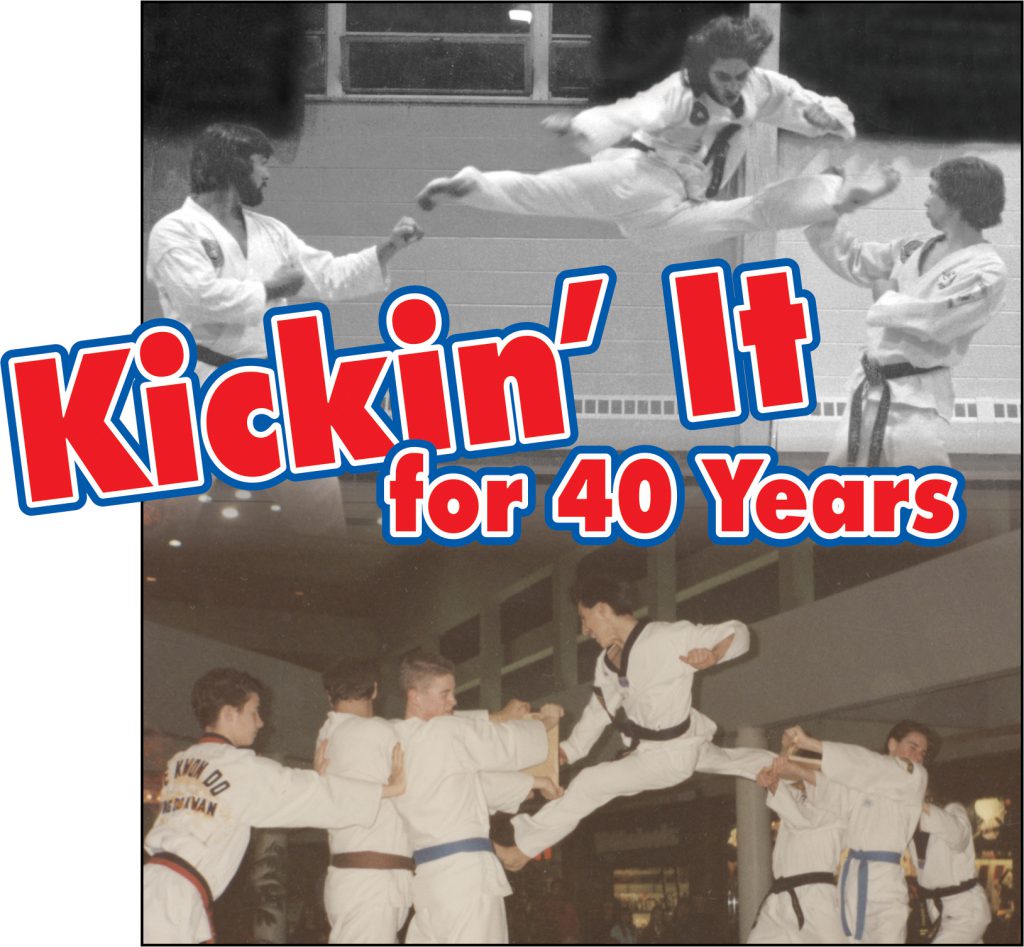 By Carolyn Marnon – Where have you been able to get your "kicks" in Wayne for the past 40 years? At Kicks, of course. This family business, owned by Ron and Christine Rose, has been producing national champions in Tae Kwon Do since 1977.
After 40 years in business, Kicks is now kicking out and spreading to Sterling Heights and Livonia. Ron Rose says former students have opened small satellite centers in other states under the auspices of Kicks, but this is the first time Kicks has actually expanded the business.
Expansion
Last fall, an Indian black belt student and Ron started talking informally about expanding the business to another site. Sterling Heights has a growing Indian community, and the student wanted to see a location there. Ron started looking around at places and this past January, Kicks of Sterling Heights, 33140 Ryan Rd, opened.
Also last fall, the owner of a karate studio in Livonia contacted Ron about buying him out. They came to an agreement, and Kicks 2 is now being readied for action. Kicks 2 is at 36123 Plymouth Rd. They expect to have their grand opening in mid-March.
Family Affair
The Kick's business is a family affair. Grandmaster Ron Rose will be teaching at all three locations. "I am an instructor. I love being on the floor working with students," he says. His son, Master Michael Rose, a 5th degree black belt, is the Head Instructor at Kicks in Wayne and will also teach at the Livonia location. Ron's wife, Professor Christine Rose, a 7th degree black belt, handles the bookwork and manages the business. "My job is to keep everyone in line," she laughs. Christine won a gold medal competing in Korea in 2002 in women's forms competition. The Rose's oldest son, Mark, a 3rd degree black belt, is not currently involved with the business; he is a pharmacy technician. However, the new Livonia studio is about five minutes from his home, so his father says Mark has plans to be an instructor there.
The Rose's have a third son, Eric Rose, who drowned while trying to save someone at Belleville Lake in August 2012. Eric taught at Kicks and started the Little Tiger program with kids ages 3-6. Some of those kids went on to test for black belts. There is also a tournament named for him-The Eric Rose Memorial Championship. The 6th annual event will be Saturday, May 19, at the Taylor Sportsplex in Taylor, Mi. Participants have come from Great Britain, Canada and Puerto Rico to compete. There is also an art scholarship that is given in honor of Eric that is given to an art student who is usually a student at Kicks. Eric had attended the Art Institute in Novi.
In his free time, Ron plays lead guitar in a classic rock and pop band, "Eric the Red." He and Christine have 4 grandchildren who range from 7 months to 19 years old.
History
Kicks started as Wayne Karate Studio in August 1977 and was located in a building next to Frank's Furniture and across from Northside Hardware on Wayne Rd in a small space that was about 15 x 20 feet. There were about 25 students in Grandmaster Ron Rose's first class. A few years later, the name was changed to Kicks Tae Kwan Do and Fitness Centers.
Kicks next moved to a larger location on W. Michigan Ave. by the old phone company and near where Warriors 3 Comics and Games is now. They were able to put in locker rooms and increase student attendance. When Kicks grew to about 75 students a year later, Grandmaster Rose decided to add instructors so he could add more programs.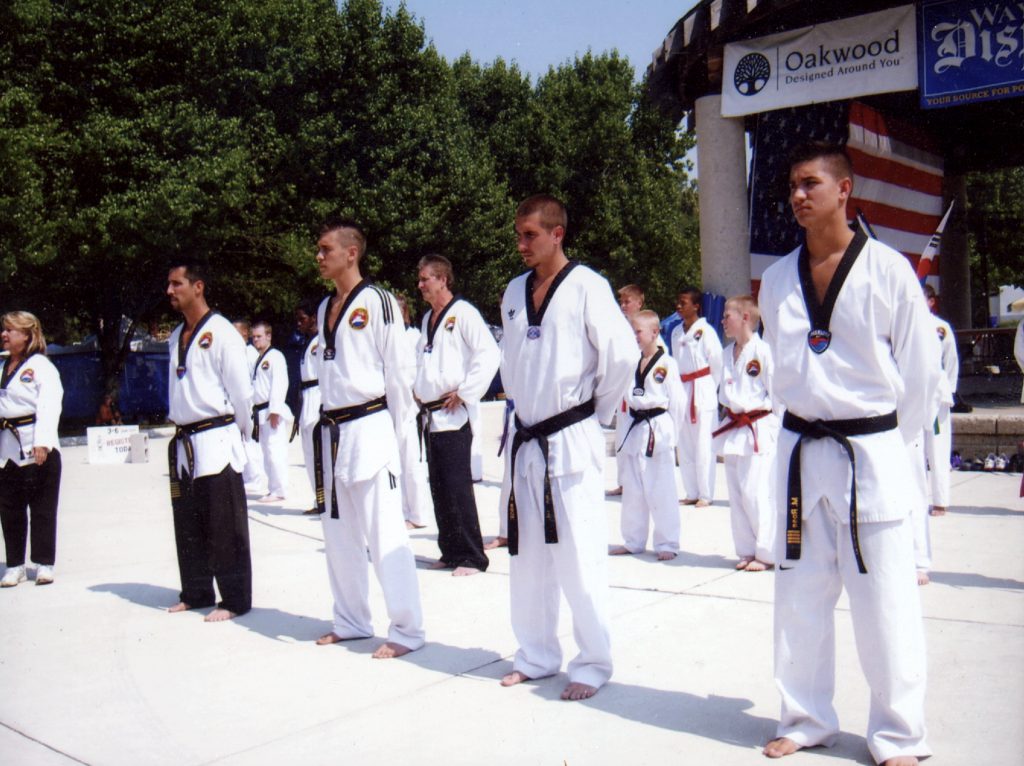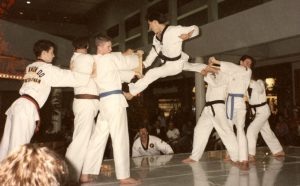 Ten years after opening, Grandmaster Rose and his wife, Christine, started a tournament team where students could compete in local, state and national competitions. Twelve members made up that first team of students dedicated to their training. It has grown to over 60 people who range in age from 5 to 45 years old.
The location of Kicks has changed a few other times over the years. They occupied a building on Wayne Rd and Sims where the parking lot of Wayne Towers is now. Kicks has been at its present location, 35004 Michigan Ave., Ste A, for 18 years.
Ron, a First Class International Referee for the sport, travels all over the world as a referee and trains referees. Kicks is the headquarters of Korean Tae Kwon Do Association of America. Tae Kwon Do keeps you healthy and young, says Ron. Kicks has taught students of all ages. Many come back with their own kids.
People do drop out of training, says Ron, but then they realize they miss it and come back. He also says it is good focus for kids with ADD, ADHD and other conditions where learning to focus can be a big help.
If the traditional sport of Tae Kwon Do doesn't interest you, but getting healthy does, Kicks offers Kick Fit, a work-out system that is designed to control weight and tone muscle. It involves punching, kicking, running, jumping, stepping and lifting your way to a healthier body.
What has been the best experience in the last 40 years of running Kicks? Ron says, "When we've had people come back after many years, that we taught as a kid, and said we've had a major impact on their life." He goes on, "Making a living doing something I love doing, and I know it's benefitting people in their lives." What about the expansion of Kicks? "Renovations, painting, computer systems, running the business, to me is work. Being on the floor is enjoyment." What has been the hardest experience? Kicks has had to persevere during bad economic times. Tae Kwon Do is a luxury, not a necessity, Ron commented.
The Roses don't see retirement anywhere in the future. They still enjoy traveling and meeting people all over the world and networking. "It's a real family atmosphere. There's a common bond there," says Ron. They get busier as they get older; it keeps life exciting.
Ron enjoys the diverse groups of people, all ages, religions and races, that come together in a real family atmosphere where everyone is respected. Tae Kwon Do gives people of all ages, especially kids, a place to put their energy to use in a positive atmosphere.
Kicks is not about fighting; it's about developing good character. "We're the first family of Tae Kwon Do," jokes Ron, in reference to another local family who is known as the first family of law in their TV commercials.