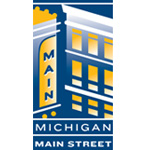 Wayne, MI— Governor Snyder announced today that Wayne has earned the state's coveted Main Street Select Level designation, which will give the city five years of intensive aid to revitalize the downtown. The Michigan State Housing Development Authority (MSHDA), tasked with making the decision, also selected Three Rivers and Grayling.
The Wayne Ripple Effect, the non-profit that spearheaded Wayne's campaign for the program, braved the snowy roads to Lansing last week to deliver their final presentation. The group's hard-work over the past months has now paid off.
"We are so fortunate to have such a dedicated group in our community," said Wayne Councilwoman Susan Rowe. "Their passion to enact positive change is inspiring."
Wayne was the only southeastern, Michigan community selected for a final presentation. Council President Pro-Time Jim Hawley recognized the great potential of Wayne's downtown as a potential factor for that. "And we lucky enough to have a driven group of residents who love Wayne and want to see it realize that potential," said Hawley.
Wayne, Three Rivers, and Graying join eighteen other communities at the Select and Master levels of Michigan's Main Street Program. "This program has been a driving force for revitalization in other downtowns," Councilman John Rhaesa. "I look forward to seeing what can be accomplished in our downtown."
The underlying premise of Main Street encourages community economic development in four areas:
Organization: Getting everyone working toward the same goal and assembling the resources to implement a Main Street revitalization program.
Promotion: Selling a positive image of the commercial district and encouraging people to live, work, shop, play and invest in the Main Street district.
Design: Getting the downtown into top shape, capitalizing on its best assets, such as historic buildings and pedestrian-oriented streets.
Economic restructuring: Strengthening a community's existing economic assets while expanding and diversifying its economic base.
"The Michigan Main Street program will help these three communities create opportunities for redevelopment, place-making and economic growth just as it has in downtowns throughout Michigan for the past 10 years," Snyder said. "Vibrant communities and downtowns are critical as we look to attract new investment, help local businesses grow and retain and attract the talent that is needed to reinvent Michigan."
"This is such great news for Wayne and we are ecstatic to learn that the City was chosen. I want to thank the Ripple Effect for all of their hard work and efforts over the past 3 years to make this possible," concluded Mayor Al Haidous.