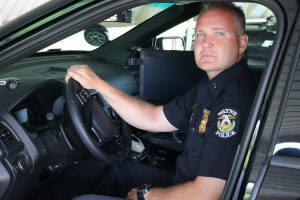 By Carolyn Marnon – When Lt. Rob Puckett was hired at the Wayne Police Department 21 years ago, there were 45 officers. Today, there are only 21 officers and the workload has not changed in the past 21 years. Although he loves his job and doesn't want to leave, Lt. Puckett, a former Wayne resident, will be retiring this month. He purchased time so he could retire with 25 years and one month on his record.
Lt. Puckett has lived most of his life in Wayne.  His mother still lives in the house he grew up in. He attended Taft, Franklin and Wayne Memorial schools. He thanks his parents every day for moving to Wayne. "Wayne has given me so much in my life."
The day Lt. Puckett retires will be one filled with honor for the father he lost to lung cancer on Mother's Day in 2015.  June 22, his chosen retirement date, is his father's birthday.  He says his dad was his greatest supporter and also a supporter of Wayne and the police department.
Lt. Puckett recalled how his father would fix lawn mowers and snow blowers for the officers. His Dad was proud that his son worked in the city where he lived.  His dad coached his baseball teams when he was younger and was his hunting buddy. Lt. Puckett's favorite memory of his dad was the last time they went hunting together.  They went on a hunting trip to Wisconsin; they knew it would be their last trip together.  When he was sick, his dad never left the house and it was hard for Lt. Puckett because "you'd think he (your dad) was the strongest man."
The wisdom his father passed on to him includes being a good person; treating others like you want to be treated; honesty, integrity and a great work ethic; and to be loyal to where you work.  Lt. Puckett has been very blessed that he has had his dream job for all these years.
Lt. Puckett met his wife when they were students at Franklin Middle School.  They married in November, 1994.  They have two children, a son and a daughter, who attend St. Mary's Catholic School. He studied law enforcement in college on his way to becoming a police officer in Wayne.  Because he lived and worked in Wayne, he wanted the community to see the other side of a police officer.  When he had to fill up his own car with gas, he used gas stations in Wayne.  Instead of using the gym at the police department, he bought a membership at the recreation center and used that so people could see him in the community. He tried to shop local whenever he could.
He would like to be able to work in some capacity of public safety. He used to work in the schools as a D.A.R.E. (Drug Abuse Resistance Education) officer for about six years and also as a resource officer.  He says meeting kids, "was so rewarding for me."
Wayne Police Chief Al Maciag says, "I've worked with Lt. Puckett my entire career and can say he truly cares about the city and the citizens he served. Lt. Puckett was born and raised in Wayne and after college returned to Wayne to become a police officer in the city that he loved. Everywhere you went in the city, people knew Lt. Puckett.  I guess you would say he is a hometown celebrity.
The impact he had on the city and the department will live on for years after his retirement.  I wish him nothing but the best in his retirement, and he will be missed."
When he retires on June 22, he will be presented with a gun that has the date he started with the police department and the date he retired: June 22, 2016.
What a wonderful way to honor the father whom he loved and who taught him so much.