By Darlene Hawley – Communication is an extremely important part of every individual's life.  We all must communicate with each other to maintain ties with family, friends and the world around us.  For many years, mail delivery served as a communication link between people who lived apart and did not see each other on a regular basis.  When our country was young, a system was developed in the colonies in which merchants, slaves and Native Americans would pass mail (letters and parcels) from one person to another until they reached their destination.  When the Constitution established the postmaster general position, the Founding Fathers were worried about how to get the new nation's increasing volume of mail delivered.  Passing mail from person to person soon gave way to designated mail carriers who traveled via horseback and stagecoach.  One short lived offshoot of the horse system was the Pony Express.  When gold was discovered in California in 1848, thousands of prospectors, investors and businessmen made their way west.  When California became a state in 1850 and her population surged,  a fast route to the Pacific was needed to link our country from East to West.  The Pony Express was founded in the late 1850s  by William Russell, Alexander Majors and William Waddell, businessmen already in the freighting business.  They held government contracts for delivering army supplies to the western frontier and had a similar idea for contracts with the U.S. Government for fast mail delivery.  They utilized a short route between St Joseph, Missouri to Sacramento, California, using mounted riders rather than stagecoaches.  The Pony Express was put together in the winter of 1860.  It had 120 riders, 184 stations, 400 horses and several hundred personnel.  The rider could not weigh more than 125 pounds, the mail bag weighed 20 pounds along with the 20 pounds of material carried by the horse  for a total of 165pounds on the horse's back.  The riders rode day and night and changed horses at the stations after riding for 75 to 100 miles at breakneck speed.  This technique allowed for the mail to be whisked across the continent in record time.  The movies made the life of a Pony Express rider look exciting and glamorous even though it was grueling work.  They earned about $100 a month at a time when the wage for an unskilled worker was between $15 and $30 a month.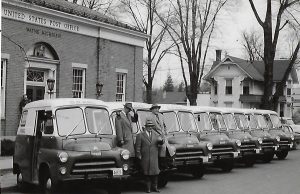 The Pony Express was able to deliver messages from the Atlantic to the Pacific in a record ten days but was a short lived program.  It was in operation only 19 months due to the telegraph invented by Samuel Morse.  His first telegraph message was delivered from Baltimore to Washington in 1844 and by 1866 Western Union completed laying the first transcontinental line to open communication across the country.  But mail delivery was still an important part of daily life.  Early mail was delivered by stagecoach, wagon, ships, train and eventually airplanes.  Villages, towns and cities had a U.S. Post Office in their community to handle incoming and outgoing mail.  In early Wayne, the "Post office" was located anywhere there was room. The Postmaster had the authority to move it wherever he deemed appropriate, which was usually his place of business.  Mail was picked up and sent from general stores, banks, shops and other public places.  The first rural carrier out of Wayne was Civil War veteran Harvey Heywood.    In 1893, the first Post Office building was built in Wayne.  John Cullen was Postmaster at the  time.  It was used until 1919 when it was moved to the Masonic Temple Building.
In 1938 a new Post Office was built on  Newberry Street at Park.  In 1964 it was enlarged and remodeled.  During the depression, artists from the Works Progress Administration were sent around the country to paint murals in post office lobbies.  Wayne's mural, which disappeared with the remodeling, was a pastoral scene with cows grazing behind a fence and a train with a steam locomotive pulling a train across the countryside.  In later years, huge moose and elk heads adorned the walls of the lobby.
This post office  building still stands today and is in use even though all mail is sent to the Westland  post office for processing.  A " For Sale" sign stands out front of the building. The US Postal System has had to downsize dramatically over the last few years as the competition from  iPhones, internet and email has drastically cut into its budget.  Technology today is changing the way we communicate with each other and the way  we do business.  Online banking, shopping, bill paying, business transactions and more is making mail delivery  almost obsolete.   The USPS  is planning major cuts, including Saturday mail delivery, to prevent projected billions of dollars lost over the next decade.  It is the first time in USPS history that a lack of mail has been cause for major concern.
While we still enjoy the convenience of having our own post office in downtown Wayne, one wonders what will happen to this seventy nine year old landmark in our community in the future. You don't have to look far to find one answer.  In downtown Plymouth, their beautiful old post office building was closed and a smaller, more modern one built across the street.  The large old building could not be justified with the great reduction of mail and package business.  The building was purchased by  Westborn Market of Dearborn and turned into a beautiful and unique high end grocery store.  If you haven't visited there, you are in for a treat.  It houses not only beautiful fruits and vegetables but a deli, fresh meat and seafood  counters, cheeses, a wonderful bakery, prepared foods including meats, casseroles, salads, vegetables and soups and so much more.  You can shop for ready made dinner items or foods to prepare at home.  You can purchase prepared foods by weight and eat your lunch or dinner on site.  They offer a sitting area with tables  at the front entrance where you can view the historical mural on the wall or read the history of the building.  If the weather is agreeable, you can eat outside on their patio. The basement is converted into a beer and wine shop and houses the kitchen and ovens where all of the food is prepared and cooked  or baked on site.  Huge glass windows allow shoppers to view the process.  All in all, a wonderful way to make good use of a beautiful historic building in a downtown community.  We hear about and see many other possibilities in surrounding communities for our old buildings. Wayne's Post Office is in a prime location for someone with a plan!  As technology  changes the way we live today, let's hope we can make it work in conjunction with our past!