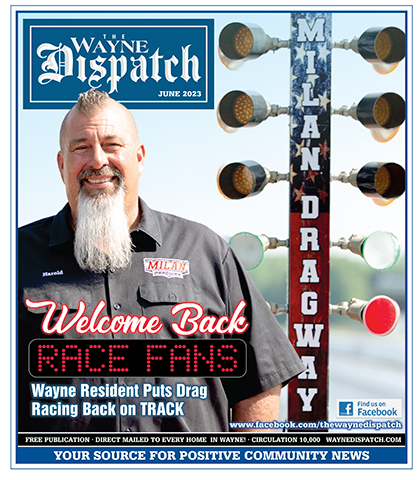 By Courtney Conover – There are no pretenses or putting on airs when it comes to Harold Bullock, 56, of Wayne.
Bullock unabashedly describes himself as just a regular blue-collar guy who has spent most of his life working as a mechanic. He's been married to his wife, Liz, for over 10 years, is the father of one daughter, and has also embraced the role of grandparent to his four grandchildren.
But to know Bullock is also to know what truly makes him tick.
Or, perhaps, here's a better way of putting it: What revs him up.
"The only reason I get up in the morning is to burn fuel," Bullock says emphatically. "That's all I do. That's all I've done since I was a little kid. Everything I've ever dealt with has had to have a motor in it—a car, a boat, a motorcycle."
Pair that mentality with a dragway that has played an integral part in the Midwest drag racing scene for decades, and you've got the makings of a beautiful new beginning.
Approximately 40 miles south of Bullock's home in Wayne sits Milan Dragway, a quarter-mile track that opened in 1964 on repurposed farmland in the City of Milan. But as digital drag racing magazine Dragzine, reported in April 2021, the future of the facility was in doubt after the track made a public statement confirming that it wouldn't open as scheduled for the 2021 season. The news came on the heels of the 2020 season, which had already been dealt a serious blow because of the pandemic. Dragways from coast to coast struggled to survive, some didn't open for the year, and others closed permanently.
Some feared that it was the end for Milan Dragway—and that may have been the case, if not for Bullock and his good friend of over 20 years, Perry Merlo, who has a background in concrete and asphalt contracting. Merlo, 63, has since become Bullock's business partner.
Bullock and Merlo purchased Milan Dragway in January 2022 after discovering that the dragway had been closed. The buy was a no-brainer for Bullock, who had been a fan of race cars—and Milan Dragway—since he was young.
Says Bullock, "Now, I get to be at the dragway every day and see the best of the best—the engineering and the people's imaginations on how they can put these cars together and go faster."
It's something that, for Bullock, doesn't get old. "It never stops," he adds. "No matter how fast you can get your race car to go, there's something you can do to make it go faster."
Welcome to The
New Milan Dragway
Located 35 miles west of Detroit, Milan Dragway is the only National Hot Rod Association (NHRA) sanctioned dragway in the State of Michigan.
"We tried to open April 1. Perry and I are new, so we're learning as we go," says Bullock. "We wanted to open as soon as we could."
While Michigan's inconsistent weather challenged the duo's first attempt at opening this year, the dragway's current season is now officially underway and will run through October 31. The dragway is open every week from Wednesday through Sunday. It's also available for rental on Mondays and Tuesdays for racers—or groups of racers—who are tuning their cars.
"So, we're really open seven days a week," says Bullock.
The "Big Three" (America's three largest motor vehicle manufacturers, General Motors, Ford Motor Company, and Chrysler Stellantis North America) as well as those in the autonomous driving car business also rent the track to test their vehicles.
"Motor Trend, the magazine, comes out here quite often to conduct testing for their articles," adds Bullock about the dragway which counts VP Racing Fuels, Liberty Gears, and Wayne Westland Federal Credit Union among its sponsors.
A Family-Friendly
Destination
Bullock vividly recalls the glory days of Milan Dragway, back in 2005 when the likes of 33,000 frequented the dragway. And while the track has not seen those numbers of late, Bullock continues to set his sights high.
The cost of admission at Milan Dragway varies depending on the event, but tickets range from $20 to $35. "Almost all spectator events are $20," says Bullock.
And Bullock maintains that there's something for everyone—of all ages—at Milan Dragway.
A newly installed playscape awaits wee patrons, and the dragway also boasts fully stocked concessions and an on-site store.
Additionally, the dragway is just the place for aspiring racers to get in on the action.
Milan Dragway is showcasing the skills of junior racers—some as young as six years old—who even wear helmets and fire suits. The dragway's novice track champion just turned 7, in fact, in May.
Another opportunity for youth and adolescents to race involves one of the dragway's largest sponsors, Washtenaw Community College. Formerly the High School Nationals, the Washtenaw Community College (WCC) Battle of the Schools now invites college students as well as high school students to hone their skills and demonstrate their acquired expertise on the dragway.
Says Bullock, "It's held twice a year and is open to all the high school kids and college students. We hosted it here recently and had a big crowd out here for it."
Bullock says that, back in the day, students would build vehicles in their school's automotive shop class, "but we don't live in those same times now." Today, Bullock says kids race their own cars—regular ones, cars that they drive every day.
And that's where bracket racing comes in.
Bracket racing is a form of drag racing that allows for a handicap between predicted elapsed time of the two cars over a standard distance. In other words, it evens up the playing field and allows racers with varying levels of skill and ability to have an equal shot at winning.
"It's like a bowling handicap," Bullock Explains. "If you bring your car to the dragway—the car you drive everyday—and you line it up and it goes down the track in, say, 15 seconds…and my car will go down the track in 14 seconds. Well, when we start off, you'll get a one-second head start at the starting line. That's a bracket race, and that's what the kids from the high schools do."
With bracket racing, knowing the time in which your car can complete the race is key. And if you do, you can race anything.
"You can race your mom's minivan," Bullock says matter-of-factly.
That said, one's reaction time is still extremely crucial: That's the time difference between when the light turns green and the car gets moving.
"If you sit there after the green light comes on," Bullock says, "But I leave the split second the green light comes on, I have the greater advantage. But if you move before the light, you're disqualified."
Behind the Scenes
and Under the Hood
While the term New York minute characterizes a brief span of time, even that is too long in the world of drag racing.
"Professional races are decided by one thousandth of a second," Bullock stresses. "That's how close these professional races are. They could do everything perfect and be one thousandth off…and lose."
True racing enthusiasts will be pleased to know that these are the kinds of racers who will be featured at Milan Dragway's Heads Up Race series, which is held on the first Friday of every month.
"There's no handicap, no bracket racing," explains Bullock. "These are the guys who spend all the money to make these cars go as fast as they can. And you'd be shocked at how much these cars cost."
Bullock goes on to say that it's not unusual for a new heads up racing car or a new Pro Mod vehicle to cost as much as a half million dollars.
"If you want to go fast, you have to be good—and you have to have the money to buy the parts," he says.
But money is not all that these racers invest to make their cars top-notch.
Drag racing also requires an unconventional form of currency—one of long hours, dedication, and the relentless pursuit of winning.
"Some of these cars come out of giant shops—with all kinds of money backing them up. But, for some of these guys, their race shop is in their garage behind their house," says Bullock.
Going All In
Bullock has learned through experience that owning and operating a dragway is far from a 9 to 5. It's not even a lifestyle. It becomes your life.
"When we purchased the dragway, I was sure it was going to take a lot of effort and time," says Bullock, who remains at the track year-round along with Merlo. "We work all winter to get ready for the next season."
But here's the silver lining: There's always something to look forward to.
The dragway's website, milandragway.com, is chock-full of this season's upcoming racing events, one of which is the Night of Fire on July 22, which will return after a several-year hiatus. The event will feature jet cars, fireworks, nitro-burning top-fuel cars, and more, all for a reasonably priced ticket.
Bullock will be prepared for a full house."These race fans are the most loyal people you will ever meet in your life," says Bullock, proudly, of Milan Dragway patrons.
The same can be said for the racers themselves.
"Our guys that come every week are from Toledo, they come from Mount Pleasant to race on Sunday. People come from a long way away to race here—and for our bigger races, we even get people from Florida and Texas," says Bullock, who counts his wife, Liz, and Merlo's wife, Pam Merlo, as consummate supporters of Milan Dragway.
"All four of us are a team and work here every day," says Bullock. "And I feel like the most fortunate person in the world."
Milan Dragway is located at 10860 Plank Rd, Milan, Michigan. Visit them online for schedules and additional information at www.milandragway.com.