By Jenny Johnson – Fresh Choice Food Center, a new grocery store, opened its doors at 8 a.m. on Jan. 19. It didn't take long for the parking lot to fill up and the grocery carts to be put to good use. The clean bright full service supermarket with easy to read signs and six checkouts has a produce and fresh meat section that features USDA choice meat and a deli counter that also serves cold salads and hot foods.
"One of the best deli counters you have ever seen," said Jerry Pattah, owner.
Pattah walked around and greeted customers and answered questions.
Store hours are 8 a.m. to 8 p.m. Sunday and 8 a.m. to 9 p.m. Monday through Saturday.
They have a recycling center for bottle returns, accept WIC and EBT, and their guest services offers stamps, Lotto tickets, free money orders, Western Union bill pay and even gift cards. There is also an ATM and a Coin Star machine.
It is a full service grocery store offering lotto, beer and wine and in the future will have a pharmacy.
They offer brand name groceries and a full line of Spartan items.
Tom from Nick's Coney Island was the first customer. He has known Jerry for a long time and likes the convenience of them being right across the parking lot from his restaurant.
"The prices look good," he said.
The staff was busy all day long with a store full of customers. They have a staff of about 40 and plan to hire about 20 more people.
"We are still hiring," Jerry said.
A weekly circular will be mailed out to nearby households with all of the sales and specials.
Kelly Bell of Wayne was shopping the meat department on the first morning.
"We stopped by after church yesterday and he let us in. It beats Kroger," Bell said. He was shopping for the items on sale.
Pattah has six supermarkets in the metro area.
He initially bought 11 Farmer Jacks when they went out of business- 9 Food Basics and 2 Farmer Jacks- but sold some of them.
"It's in my blood," he said. Pattah has been a butcher and produce manager.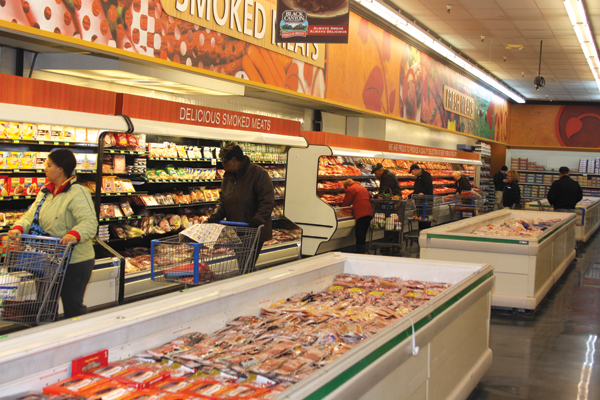 "I have been doing this for 44 years. Butcher, produce manager, jack of all trades."
Pattah said all of the renovations and improvements to the store are not complete. He is going to put in new interior and exterior lighting and two cart corrals in the parking lot. He has installed gas, heating because when he bought the building it had electric heat, which made for huge monthly bills.
, "Now it runs more efficient," he said.
Brian and Laura Olofson of Westland had a cart full of meat, water, eggs, bread and milk- all on special. They said they liked the store and will be back.
Jack Demmer Quick Lane
Jack Demmer Quick Lane is open for business and ready to serve all makes and models of vehicles.
City officials, chamber members and Demmer staff and family celebrated with a grand opening ceremony in mid-January.
The Quick Lane is located on Michigan Avenue and Newburgh across the street from Jack Demmer Ford. They are a full service facility that does tires, belts, brakes, hoses, check engine lights and oil changes on all makes and models of cars and trucks. They even have the capacity to do box trucks.
They have appointments and also walk-in service.
"We do everything," said manager Zach Levasseur. "This is a top notch facility."
"We get a ton of business from across the street," he said. "We did 100 set of tires in the first week."
They price match and offer free flat tire repair and free brake and alignment inspection. They have a state-of-the-art laser aligner for alignments.
Jack Demmer Quick Lane in Wayne is the biggest stand-alone Quick Lane in the country.  A lot of others are attached directly to the dealership.
This spring they will build a pole barn to store tires and also install a car wash bay.
Their hours of operation are 6:30 a.m. to 6 p.m. Monday through Friday and 8 a.m. to 3 p.m. on Saturday.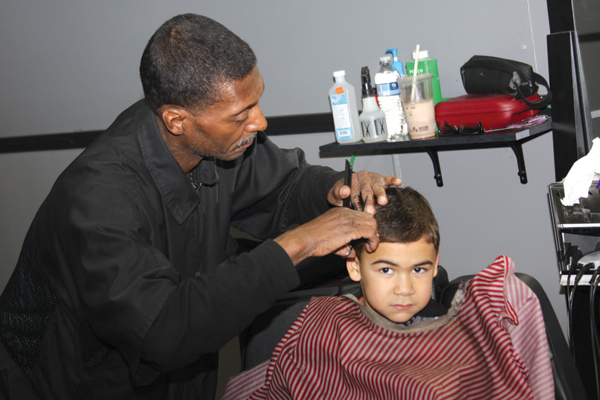 Gents on the Ave
They love their location in downtown Wayne. Gents on the Ave is a four-stool barbershop located on westbound Michigan Avenue next to the Chamber of Commerce. Keith Knight and Robert Fuller who have over 20 years experience as a barber own it.  They had a location in Romulus but decided to move to Wayne.
"It is a good location, good people and we love the historical location," Fuller said. Business has been steady. Most of their customers followed them from their previous location but they also have gotten some new clients.
"It is a family oriented barber shop. Our clientele is working class people," Fuller said.
Their hours are 12 – 7 p.m. Monday and 9 a.m. – 7:30 p.m. Tuesday through Saturday. They accept walk-ins and appointments.  They offer kids and adults haircuts, line-ups, razor lines, shaves and beard trims.
Mr. Keith's Designer Fragrance
Looking for a great designer scent at an affordable price? Check out Mr. Keith's Designer Fragrance a new store on westbound Michigan Avenue just east of Wayne Road.
Keith Knight, co-owner of Gents on the Ave just a few doors down, opened his new store in December. He first began selling the little bottles of roll-on designer oils out of the barbershop but then decided to open his own store.
"We did good," he said.
They offer men and women fragrances, lotions, soaps, Shea butter and more.
The fragrances are oils that are the same scents as some of the high end designer fragrances like Tom Ford, Creed, John Paul, Flight and Invictus for men and Flower Bomb, Moon Sparkle, Romance, Daisy and Gucci for women.
Keith and his wife, Shannon, custom blend lotions and body wash with a customer's favorite fragrance. All of their soaps and lotions are hypoallergenic and come unscented.
The scented oils are alcohol free and that is why the scent will last all day. They have $5, $10 and $20 bottles. If you spend $20 you get a free roll-on fragrance bottle.
Their hours are 11 a.m. – 7 p.m. Monday through Saturday.
"We have affordable prices and current designer fragrances," Shannon said.