Lindsey Wooten – The Wayne Main Street Design Committee announces the launch of the Wayne Main Street Façade Incentive Grant program. An information meeting for business and building owners who are located in the Main Street district will be held on Tuesday, February 17th, 6pm at the Wayne Fire Station.  Wayne Main Street's Executive Director, Lindsey Wooten, will present information about the grant program.
The grant program was created to encourage private investment in historic facades by providing financial incentives through the historically sensitive rehabilitation and dramatic improvement of facades in downtown Wayne, to encourage good design that will serve as quality examples, and to preserve the architectural character that is distinctive to Wayne.  By improving the appearance of the building facades, the program helps to improve the economic viability of the downtown.
The number of projects receiving grants in a fiscal year is based on program budget, with a new funding cycle beginning January 1.  Grants are awarded on a first-approved, first-funded basis.  In 2015, $10,000 is available for distribution.  Only projects that are located within the Wayne Main Street district are eligible.
Wayne Main Street Façade Incentive Grant Guidelines and applications are available at the Wayne Main Street office (35000 Sims Street) or can be downloaded from the website: www.downtownwayne.org.
If you would like further information, contact Wayne Main Street Executive Director, Lindsey Wooten at 734-629-6822 or visit during open office hours between 9:30 – 11:30 AM Monday through Friday.
Main Street Façade
Incentive Grant
Program Info Meeting
Admission is free.
Refreshments will be served.
Tuesday, February 17th – 6:00 PM
Wayne Fire Station
(3300 S. Wayne Rd.)
Building & Business Owners located in the Wayne Main Street District RSVP by calling (734) 629-6822 no later than February 10th.
Design Services
Wayne Main Street offers three Design Services each year provided by the Design Specialist at the Michigan Main Street Center. Last year members of the Design Committee received 4 applications from building/business owners and awarded the service to the owner of the building at 3023 S. Wayne Rd., US12 Bar & Grill, and Dairy Queen.
The design assistance provides important information and recommendations on exterior façade improvements that will improve the appearance and visibility of the building and business while also maintaining the historic integrity of the building and making it functional for the owner's current needs.
Pictured is the design for the building located at 3023 S. Wayne Road.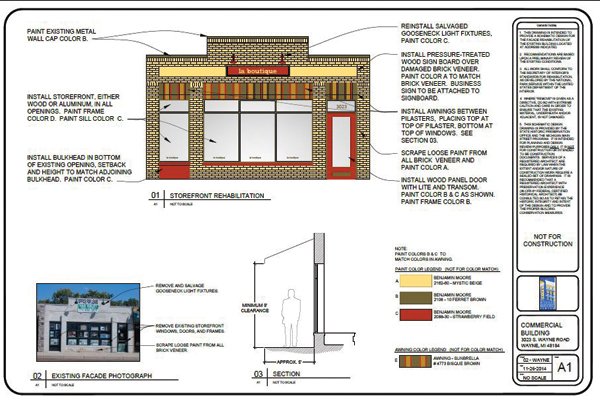 On January 22nd, Wayne Main Street hosted the first Partner Roundtable meeting at the Wayne Activity and Banquet Center. Attendees included over 25 representatives from civic organizations, clubs, nonprofit groups, churches, and city officials.
The meeting was intended to identify projects that impact the downtown and to open up discussion about future partnership opportunities amongst attendees. Another roundtable meeting has been scheduled for Thursday, June 18th at 6:00 PM. Event details to come.