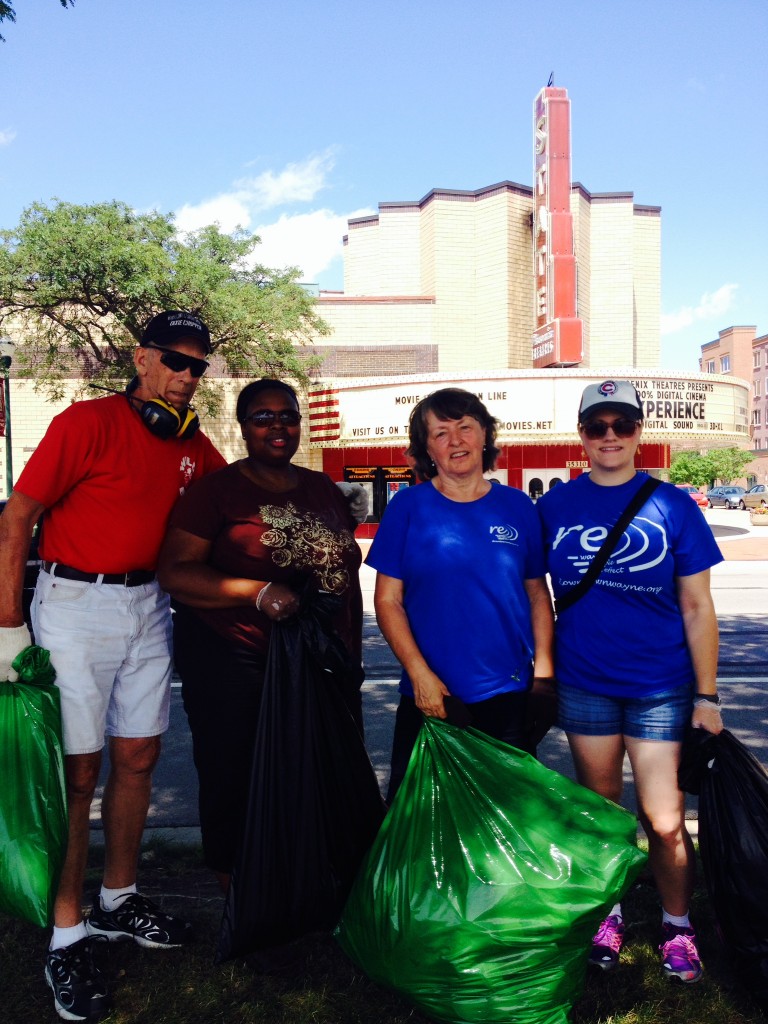 By Lindsey Wooten – July has been a month of tremendous progress for the Wayne Ripple Effect. Now that our hard-working volunteers have earned Wayne the status of being a "Michigan Main Street Community," it is time to continue working on accomplishing the one thing we all want to see: a downtown that is a vibrant destination for residents and visitors to gather, shop, work, and enjoy.
So far, Ripple Effect volunteers have created a successful downtown planter program that allows businesses or interested citizens the opportunity to adopt a planter. This entails purchasing and planting the flowers, and continual maintenance throughout the spring and summer including weeding and watering. This project has been a great success in many ways: not only does it get people directly involved with keeping Downtown Wayne beautiful; it has also saved our local small business owners money! In the past, the city billed business owners each year to cover the cost of the flowers planted. Now that volunteers have taken that cost on themselves, business owners are no longer receiving these bills. Anytime a small business can cut back on costs it is a good thing!
In addition to the flower planters, Ripple Effect has been responsible for the much-loved scarecrows that hang all over town each autumn, the spring clean-up, and most recently the post-Cruisin' US12 clean up. While these programs are going to continue, new ideas are currently in the works amongst our four committees who are determined to revitalize Downtown Wayne.
Wayne Ripple Effect's Promotions Committee is establishing a regular presence at the Wayne Famer's Market every week. Thanks to the generosity of both the Wayne Chamber of Commerce and Growing Hope, we are able to set up a tent and table each week to sell t-shirts and raffle tickets, pass out event calendars, and educate the community about what we are doing and how. We are also going to use the table as a means of promoting businesses that are located downtown to save business owners the money and time that would normally go into setting up a table at the market. We will also be helping Growing Hope with set-up and tear-down of the market in exchange for a donation towards Wayne Ripple Effect's downtown revitalization efforts.
If you are interested in helping Wayne Ripple Effect by volunteering at the Wayne Farmer's Market, please visit our online sign-up at: http://vols.pt/ve4mJZ. This website enables you to sign up for varying shifts and duties that fit into your schedule from the comfort of your own home!
All volunteers will receive adequate training and will never be on a shift alone. Please be sure to bring plenty of water and sunscreen!
Lastly, I continue to invite anyone who is interested in learning more about Wayne Ripple Effect's efforts to call (734) 629-6822 to schedule a personal meeting with me. I am interested in your ideas and answering any questions you may have! Thank you.