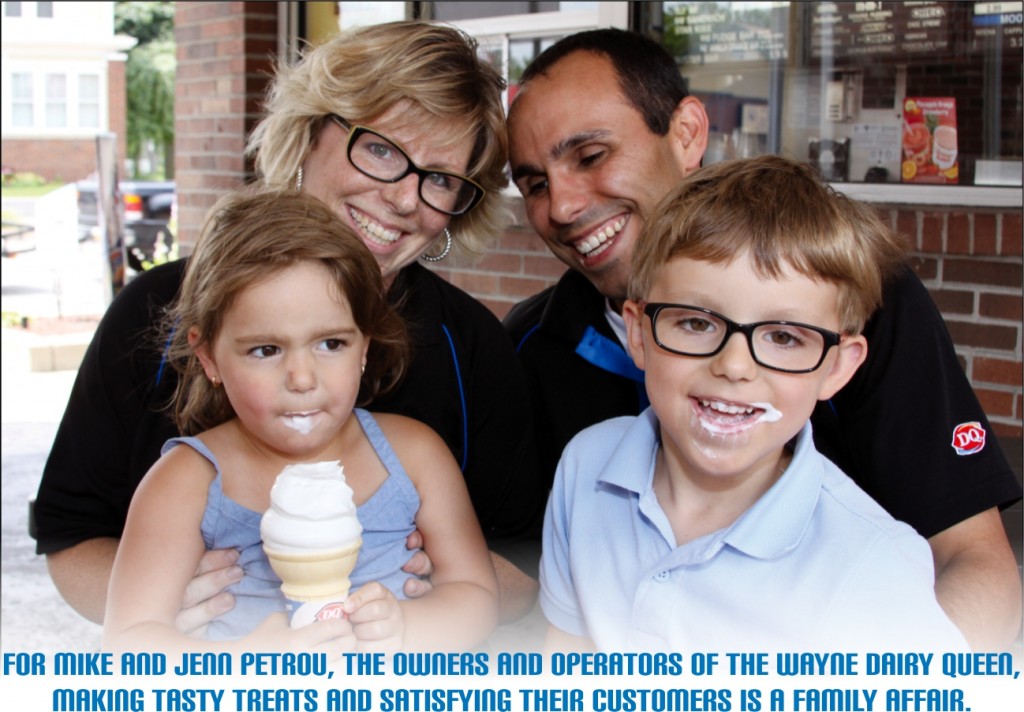 By Courtney Conover – If you want to know where Jenn Petrou's priorities lie, look no further than the front passenger seat of her minivan.
"[You'll find] the next Blizzard of the Month poster, an employee schedule, and some Sesame Street and Spider-Man DVDs," Jenn says.
That's because Petrou and her husband, Mike, wear two hats: Not only are they the parents of John, 5, and Emily, 3, but they are also the proud new owners of the Wayne Dairy Queen. Spend five seconds with the Petrous, and the importance they place upon family is evident.
Ironically, it was indeed family that led them to the Dairy Queen: Mike's parents, John and Anna Petrou, have operated the Wayne Dairy Queen for the past 30 years, having purchased it back in the eighties after making good on a goal to one day work for themselves. And when they recently considered selling the business, Jenn sensed a tremendous opportunity.
"It was always on Jenn's radar for sure," says Mike, who spent many hours behind the counter during his teenage years. "And she'd bring it up every time my parents mentioned retirement. She and I both have a passion for managing people and customer service."
In the meantime, Jenn, a Food Industry Management major at Michigan State who spent seven years as a sales manager at Enterprise Rent-A-Car and three years as a banking center manager at Bank of America, and Mike, who earned his MBA at Wayne State University and went on to spend the last 12 years at Enterprise Rent-A-Car, had always wanted to work together in some capacity.
And then something happened.
Perhaps it was serendipity, or maybe it was luck; but whatever you call it, the timing was spot on.
"Last September, Mike's dad told him he was going to try and sell the DQ again…so we made an offer," remembers Jenn. "Everything happens for a reason and the fact that that conversation with Mike's dad occurred during the exact time in our lives when we were in a position to buy and then run our own business…it was meant to be."
From the get-go, Jenn and Mike Petrou put their own stamp on the establishment by implementing changes that are as tangible as they are tasty. With the addition of an oven – something the Wayne DQ never had before, they introduced DQ Bakes on May 1, which includes a bevy of hot baked goods, including cookies, apple tarts, and brownies. Patrons may also order cakes online for the first time ever at DQcakes.com. (Simply type in the zip code 48184, and you'll now see Wayne, MI, as an order option.)
Additionally, the Wayne DQ is extending their season and will now be open from February 1 through December 1.
But the Petrous haven't stopped there.
"We just did the glass block windows, removed the bars, and we're currently undergoing a renovation that will include an updated DQ logo, signage, new paint, etc.  It's most definitely in line with the beautification of Wayne," says Jenn excitedly.
Philanthropically speaking, the Petrous have remained just as active in the community, having participated in Wayne's Adopt-A-Planter Program, among other causes. The DQ is also a huge supporter of the Children Miracle Network, which increases funds and awareness for local children's hospitals. On July 30, the Wayne DQ will donate one dollar for every blizzard sold that day in celebration of Miracle Treat Day.
All of the above supports one mission.
"We don't have to be the biggest," says Jenn, "But we have to be the best."
And the Petrous have assembled the right staff to do so. Having inherited six employees, the Petrous also hired seven more since April. But their tiniest helpers can barely reach the counter.
Says Jenn, "Our kids helped with the large school groups we hosted in May and June by passing out ice creams and napkins."
In fact, being the parents of small children has only perfected the Petrou's approach to serving even the youngest of customers: The Petrous have those fun candy eyes they put on the kids' cones and cups; they offer the mini Blizzard, which is a great portion for small kids; and, most importantly, they aren't stingy with their napkins.
"Speaking from personal experience, we understand that one napkin may not be enough," says Jenn with a laugh.
But if there's one thing Jenn and Mike want their customers to know, it's that they live and work by the same philosophy that has driven Mike's parents for years.
"We know the term "under new ownership" can feel cold sometimes," says Jenn, "And it may leave a community feeling unsettled.  But we are all in, and we're here to give you the best service, the best ice cream, and the best experience we possibly can. Every customer, every time."
And if you need a second napkin – or third – they won't hesitate to give you that, too.