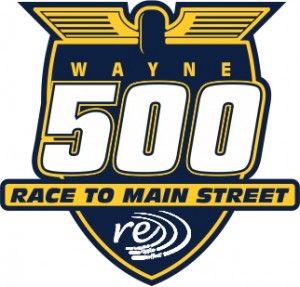 The race has begun. The Wayne Ripple Effect sponsoring Wayne 500- Race to Main Street. From now until Nov. 15 they are trying to raise $50,000 for Downtown Wayne. They are asking 500 supporters of the downtown revitalization to each pledge $100.
The money will be used to pay for a Main Street manager. This is the next step in the process of Michigan Main Street Program. Wayne is working on an application to advance to the select level. As a Main Street community the city will receive more than $200,000 in services and five years of support for the revitalization of Downtown Wayne. Services would include design, economic restructuring, promotion and organization.
Wayne is currently one of 22 Associate Level Main Street communities. Three will be chosen to advance to Select Level. A dedicated group of volunteers has been working for three years to meet all of the criteria for the Select Level except one. They now have to demonstrate the ability to fund the program.
Main Street requires a minimum budget of $75,000. The Wayne Ripple Effect has raised $7,000 through fundraisers; received $10,000 from the Downtown Development Authority; and received a match of $10,000 from the Wayne Rotary Club. They hope Wayne 500 will help them raise the other $50,000 to help pay the wages of a Main Street manager and to provide for other operational costs.
The select level is a five-year commitment.The success of the Main Street program would provide a downtown with sidewalk cafes, year-round events and festivals, and walkable downtown streets filled with shops and restaurants.
"I'm excited about the possibilities the Main Street program brings to Wayne. A vibrant downtown is ultimately a win not only for the businesses but also for the residents. I believe one of the best things we can do as residents to raise our property values is support the Main Street program," said Cindy Schofield, Wayne Ripple Effect member.
Main Street is a national program with 2000 communities and has spurred $49 billion in reinvestment in commercial districts.  In 2012 in Michigan every dollar spent in support of a participating community,  $60 in new investment occurred.
Michigan Main Street has helped their communities generate more than $100 million in private and public investments in the past 10 years. The program has seen 661 net new or expanded businesses; 995 net new jobs; and 663 façade rehabilitations. All of these communities have been in small downtowns comparable to Wayne.
The top 12 goals for a revitalized downtown Wayne are a destination restaurant; fun activities like Cruisin' US12 and Rouge-a-Palooza; white lights; a canoe launch; a coffee shop; residential development; outdoor music concerts; public art; benches downtown; Christmas décor; bike racks; and a Main Street manager who will work full time to coordinate hundreds of hours of volunteer labor.
The Wayne Ripple Effect has been making positive changes in the downtown area for the past three years. They started the Scarecrow Michigan Avenue Show, Downtown Clean Up Days, Flower planting and supported events like Cruisn' US12, Dynamite Park Nature Park, Wayne Rotary Parade and the Farmers Market. The Wayne Ripple Effect is proud to announce the Wayne-Westland Federal Credit Union has donated $5000 to Wayne 500.
The Wayne Ripple Effect is asking the community to help Win it for Wayne. To make a donation, please visit www.wayne500.com.
Why Wayne 500?
The Wayne 500 originates in a historical moment of Wayne Pride when Ray Harroun, from Wayne won the very first Indy 500 race in 1911. After that, Harroun started his own automobile company right here in Wayne, Michigan. You may be familiar with "Harroun Street" in the bungalow subdivision on the south side of the railroad tracks that is named in his honor.