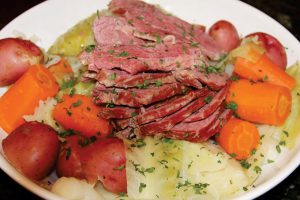 By Carolyn Marnon – Wearing green shirts and leprechaun costumes on St. Patrick's Day are traditions that started in the 17th century, when people wore green ribbons and shamrocks on March 17 to honor Saint Patrick, Ireland's patron saint. Pinching people who didn't wear green reminded them that leprechauns could sneak up on them at any time. Don't let the leprechauns sneak up on you as you enjoy these St. Patrick's activities around Wayne this month.
US 12 Bar and Grill
34824 Michigan Avenue
(734) 722-3170
Start your day March 17 at 10:00 a.m. with 25¢ green beer. Every hour, the price goes up progressively by 25¢. Enjoy Corned Beef and Cabbage made by Mona Gocaj, the mother of US 12. Other dishes include Irish Stew and Shepherd's Pie. Irish Car Bombs (Guinness and Bailey's in a shot) will also be available. There will be a DJ and a surprise afternoon and evening visit by a bagpiper. No cover charge.
Karma Coffee and Kitchen
35634 Michigan Avenue
(734) 589-0304
Soup of the Day for St. Patrick's on March 17 will be Irish beef stew. The special of the day will be Shepherd's Pie. Karma also has other specials planned for March including a selection of mini pies, full-size pies and pie slices available all day on PI Day, March 14. You can also preorder pies. There will be a Vincent Price-inspired 4-course dinner on March 24. Tickets are $30 per person or $60 for a couple. Call for more information.
The Avenue
American Bistro
3632 Elizabeth, Wayne
(734) 895-7300
The Avenue typically does an annual All Things Irish St. Patrick's Day Bash. Call for more information.
Benders Bar and Grill
34830 Michigan Avenue
(734) 858-7090
Bender's is planning a St. Patty's Day Parade Party Bus on Sunday, March 11, from 10:00 a.m.-5:00 p.m. Cost is $40 and will include a t-shirt. A $50 ticket will get you a St. Patty's Day hoodie. Call for more information.