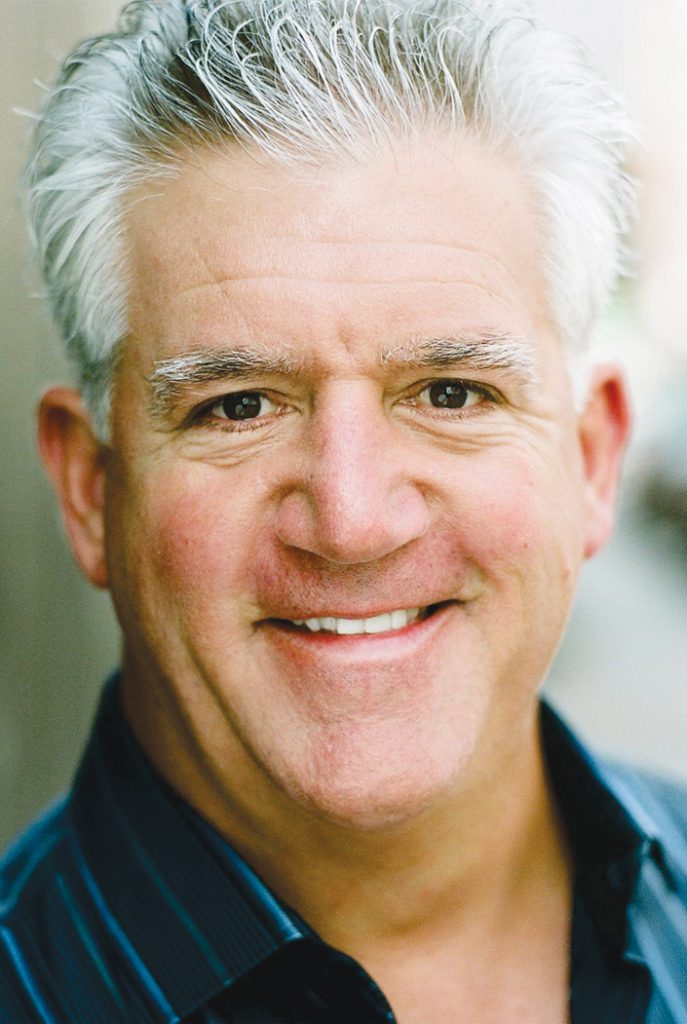 By Carolyn Marnon – "I'm still reeling from the amazing weekend that I got," said Tony Award-winning actor and Westland native and Wayne Memorial High School alumni Gregory Jbara (Greg to his friends) after a whirlwind weekend Sept. 27-29 that had him flying into Detroit and attending a Wayne Memorial football game on Friday night, being honored at a sign unveiling ceremony at Westland City Hall, a luncheon, his 40th high school reunion on Saturday, and then a 4-hour luncheon with the Lebanese American Chamber of Commerce and a 3-hour lunch with Armando Delicato (former Media Specialist at WMHS) and his wife on Sunday before flying to New York Sunday, night so he'd be available for work Monday morning in his role as NYPD Deputy Commissioner of Public Information Garrett Moore on CBS's hit Blue Bloods, now in its 10th season. Greg said it was a love-filled weekend bouncing from event to event, and once back in New York, he was back to the regular grind again.
September 28 was Greg's 58th birthday. He spent it amidst family and friends at Westland City Hall where he was honored with the unveiling of a sign bearing his name and Westland as his hometown that will be placed, at his request, at northbound Merriman Rd. at the border of Westland and Romulus. Greg told organizers of the sign event the location was a no brainer. "Growing up, that drive down Merriman to Detroit Metro always represented the excitement of seeing the world. Now when the world comes to Michigan, I get to show off the hometown to which I owe all my success in life. An unimaginable honor. "Another sign will be placed by Westland City Hall. Before the ceremony, Greg stood at the entrance to City Hall and greeted each guest who came through the doors, spending time with them and posing for photographs. He did not want to leave the event until he had a chance to talk to every person who wanted to talk to him.
Back in New York in his hotel room Greg talked about the horrible case of laryngitis he developed over the weekend. He said he'd been nonstop talking since his plane landed in Detroit at 2pm the previous Friday. He spent seven hours at the class reunion catching up with everyone on Saturday night. It isn't hard to believe because Greg likes to talk. He said he had two scenes to shoot on Monday where he had to speak eloquently, and he was so grateful that his voice had recovered by then.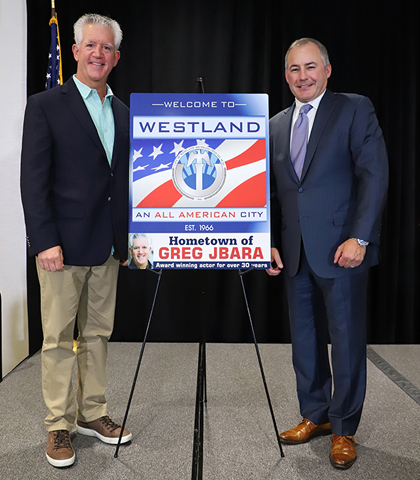 When asked for an overview of what his day was like when shooting Blue Bloods, Greg harkened back to Sunday evening. His plane landed at LaGuardia at 8:00 p.m. He used the Uber app for the first time. The fast drive "home" is to the Marriott-owned New York EDITION where CBS provides him with accommodations as part of his contract when he is filming. "It's a standard of living I could never afford for myself," he says. Research shows that a standard room starts at over $600 per night.
His ritual is an organic salad, quinoa sushi and a Fuji water before getting 8 hours of sleep before the next day's call time. An hour before he is picked up by a studio car, he gets up and puts on his Great Lakes Brewery work-shirt that he uses as his makeup shirt. The driver, Damon, will pick up Robert Clohessy who plays Lt. Sid Gormley before picking up Greg. They are taken to the soundstage in Greenpoint, a neighborhood of Brooklyn where they hop into the hair and makeup chairs where they are transformed "into pinnacles of police television." Abigail Hawke, who plays Det. Abigail Baker, arrives before Greg and Bob, but they all arrive before the show's star with whom they have most of their scenes, Tom Selleck.
Once Tom arrives, they all step onto the sound stage to rehearse with all the actors in the scene, the director, several executive producers and the script supervisor. Greg says "There's no point in memorizing any of my lines" because over the five previous days, he's already been given 3 different scripts and once on set, he receives "sides" that are pages that include scenes that are being shot that day that are already different than the script he got 24 hours earlier.
Greg says Tom has a legal pad of notes and is always writing because he is working non-stop filming the scenes that include the family dinner, the commissioner's office as well as clandestine conversations. "He's not sitting around; his time is efficiently managed." Greg says the first 30 minutes of rehearsal will be spent discussing the words on the "sides." The cast members will share additional ideas for the scene. They will then run the scene 2-3 times to do camera blocking while department heads (costume, lighting, etc) look on. Tape marking will be done to mark their spots as they move through the scene. Once they are done and go to put on their costumes, stand-ins will take their places on set so the lighting and camera moves can be worked out.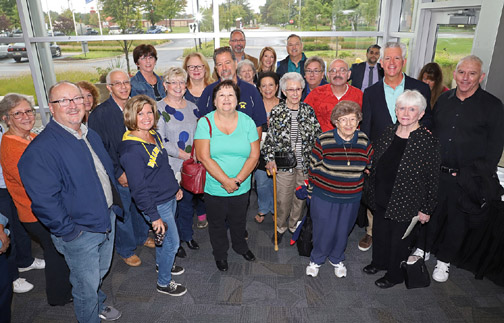 Memorizing 5 pages of dialogue in 30 minutes while putting on his suit in his dressing room is no problem for Greg. He says a different part of the brain is used for TV vs. doing a show on stage. All he needs is his short-term memory and "gratefully I've got my senility," he laughs.
A five-page scene takes about 2 ½-3 hours to shoot because of all the camera angles. Imagine putting 40 crew members and 3 cameras around the cast while the walls slide out.
Having started at 8:50 a.m., Greg is wrapping up one scene in the commissioner's office and one scene of a press conference in the conference room at 3:15 p.m. Greg says the director on this particular episode, Dave Barrett, likes to try new things and that day it was a boom crane-a telescoping crane device a camera sits on to allow it to go from the ground to flying 30 feet in the air. Greg says he thinks it got some good shots of the press conference as it flew over the heads of everyone in the room.
Greg travels with about 10 pounds of dry goods and supplements in his suitcase that he brings with him to New York from his home in Los Angeles. These "vital" dietary supplements have helped him with his weight loss this past year. Having said that, Greg says his driver will drop him off at Whole Foods so he can buy fresh foods. He brings his own meals to the set since he is doing "clean" eating with organic food. He has many different teas that he uses inside a water bottle. He also praises Dr. Smood restaurants, "the best prepared to-go organic food store" with ten locations all over Manhattan. One is near his hotel where he enjoys vegetarian chili, a tuna wrap and roasted dandelion root tea.
Because Tom likes shooting early in the day and most of Greg's scenes are with Tom, he is grateful he is back in his hotel well before 5:00 p.m. He has time to eat, watch movies and Facetime with his wife and sons back in LA before getting a good night's sleep.
By choice, Greg is not given top billing with the other regular cast members. Under the AFTRA union contract, if you are a series regular, you must make yourself a resident of the production's home-base. Greg keeps his residency in California.
Each episode of Blue Bloods takes 8 working days, Monday-Friday. Greg says Tom will shoot for 8 straight days over a span of two episodes: working the last 4 days of an episode and then the first 4 days of the next episode, before he heads back to LA for a break.
The Blue Bloods role is the third job Tom Selleck has given Greg. They met 22 years ago shooting the 1997 film "In & Out." Greg says they were around each other enough that at the end, Tom told him he was funny and talented and promised him they'd be working together again. "Magnum PI just told me I was a good actor and wanted to work with me!" says Greg. The second job was a guest appearance on an episode of the 1998 comedy series The Closer that starred Tom.
Time passed as Greg was in the Broadway play, Billy Elliot the Musical, for which he won a Tony Award for Best Featured Actor in 2009. He heard about a hot new cop drama coming to New York starring Tom Selleck. Greg auditioned for three different characters without Tom in the room. He says he thought the magic was gone. At the end of the first season of Blue Bloods, Greg's agent called him to say Tom wanted him for a recurring role. "I'm hearing choirs of angels, and I'm thinking 'He still loves me.'" He is grateful for the opportunity to ride the coattails of the international star power of Tom Selleck.
The new signs had been sitting at City Hall for several years prior to the ceremony. Greg's schedule (he's contractually obligated to Blue Bloods from July 4-early April) had made it hard to coordinate anything with the City. Because of the 40th high school reunion he was attending, they were able to get the event to take place that same weekend.
Greg says he just wanted to be one of the gang on that Saturday. "I wanted to be Greg Jbara from Wayne Memorial High School and talk about the good old days. What I do for a living happens to be on international television on Friday night. People have cured illnesses, saved lives, designed some amazing technologies we all take for granted today, lived self-lessly helping the infirm, battled and survived cancer on their own, showed up (to the reunion) knowing they might not be there for the next one.
These are all the people who really must be celebrated for being heroes raised in Westland, Michigan. I just happen to be publicly known for doing this thing I have loved doing my entire life. I feel it's unfair and wrong. I wanted to share that day with everyone in the city.
Greg is quick to praise those in his life who helped his career trajectory at a young age. Armando Delicato was a media specialist at WMHS. Also instrumental were Richard Alder, Greg's 10th grade music instrumental director who was then followed by Larry Pye. Other "powerful, beautiful role models" were Adrienne Meyer (WMHS drama teacher who would come to productions at Marshall Middle School to see the kids who were coming up in the drama system), Barb Eberling and Dottie Schuler (WMHS vocal music teacher). "You cannot put into words all the influence these people have had in my life." He also mentioned the history teacher who would jump on the desks and made him excited about history, and Mr. Brooks who "was the voice of Wayne Memorial High School. He had the greatest voice." As Greg was speaking, he got a text ping from Paul J. Brown. Paul is the real DCPI in the NYPD, the character Greg plays in Blue Bloods. He showed Greg around the NYPD and how the role really is. "That is kooky, the timing of that" says Greg about the ping. No list of influencers would be complete without Terry Duncan, Greg's childhood friend. "We were Mutt and Jeff. We were Jerry Lewis and Dean Martin. We were Laurel and Hardy. My youth coincides with Terry's. There but for the grace of Terry Duncan go I."
As the interview concludes, Greg enthuses, "I'm spoiled on this job. Truly spoiled. I could talk about myself and the world forever."