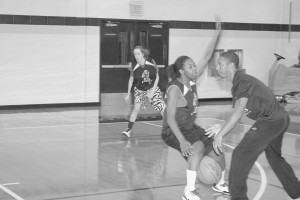 By Dave Merchant – The Lady Zebras basketball team is off to one of the best starts ever according to team officials.  The girls are starting to play tough against league opponents as well as tough non-league opponents.
The team is currently 3-2 taking their first loss to Northville before holiday break by one point and losing to Dewitt over the break.
Jarvis Mitchell is in his second year coaching the Wayne varsity girls' and is a former college superstar and even played in the NBA. He enjoys his job very much and is a very passionate and dedicated coach.
"The difference between this year and last year's team is like night and day," Mitchell said. "The hardest thing is to get the kids to want to be part of the team. Now this year I can get them to play the way I want them to play."
He said it has been difficult to get them to play all year round in AAU and other leagues.
"I don't want to police participation," he said. "On our bench kids have a role they have to learn to be better players."
The loss against Northville was a fatal mistake he said. The team was up most of the game and they made a mistake late that cost them the win.
He said the team is going to mature and get better.
"I don't want a cupcake schedule," he said. "In the loss to Dewitt we saw we had a lot to overcome."
Mitchell said the team is led by sophomore point guard Camree' Clegg who is a transfer from Detroit Country Day. "Cam is the floor general on the court, she truly is the extension of the coach," he said. "She can do everything; she already has four Division 1 offers with tons of interest. She is a very smart and savvy point guard who works as hard as anybody I've ever coached. She's an exciting player to watch."
Jeanae Terry according to Mitchell has raw natural ability; she can play either the point or shooting guard.  She's only a freshman, so she's going to make some freshman mistakes, but she's going to be really, really good. She is already making immediate impact on this team.
Another key player is Amara Chikwe a junior who transferred from Ann Arbor Huron, Amara is a Six- Footer wing or stretch four that can rebound and run the floor very well. He said teams can't leave her open on the three-point line or they might be surprised.
Freshman Lichail James and senior Haley Scott round out the starting five players for this year's squad. The other players on the roster are senior Jekeya Brown, junior Adrianna Gonzales and Jayah Hicks.
Mitchell said the team has goals and expectations and he can't wait for them to go as far as possible.
In the past he coached an AAU girls' team where five out of the six players earned scholarships to play ball in Division 1. The other girl went to a Division 2 school.