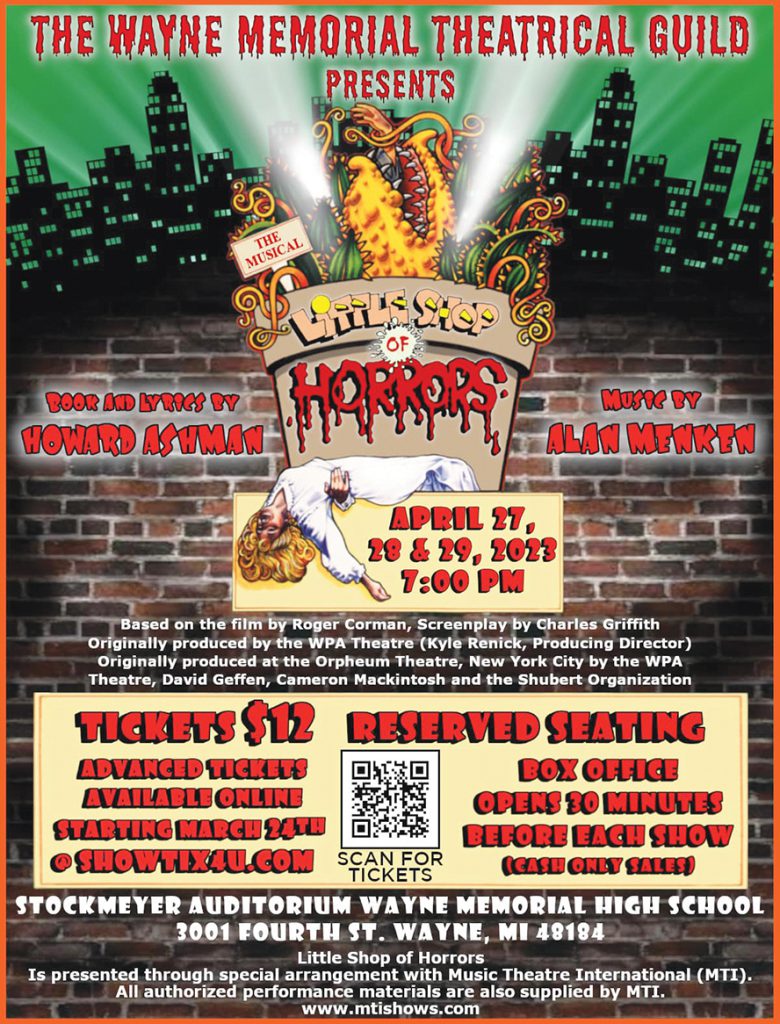 By Sarah Shurge – Join the Wayne Memorial Theatre Department in the production of Little Shop of Horrors.
Little Shop of Horrors is a story about a floral assistant, Seymour Krelborn, that discovers a new breed of plant. He names the plant "Audrey II", after his coworker crush. Krelborn learns this plant is a carnivore that wants to feed on human blood and is intent on reaching global domination. Throughout the show, Krelborn is forced to make some tough choices.
This tongue-in-cheek comedy is one of the longest-running Off-Broadway shows that has been produced worldwide.
"This will be our first musical since COVID," said Katie Sullivan, production director. "We were three weeks away from the show opening when we went into lockdown. I'm really excited for this to be our first one back."
Sullivan joined the Wayne Memorial team in 2004 and has been teaching drama at Wayne for almost 20 years.
"We hold auditions that are open to the entire student body. Any student is welcome to audition," said Sullivan. "Many students who are involved this year have not done theater before, so this will be a new experience for a lot of people involved in the production."
Between cast and crew, there are around 25 students that are involved in the Little Shop of Horrors production.
Little Shop of Horrors will be performed on Thursday, April 27th, Friday, April 28th, and Saturday, April 29th, at 7 p.m. at Stockmeyer Auditorium.
Tickets are $12 a seat. You can purchase tickets online up until 24-hours before each showing. To purchase tickets online, visit: https://www.showtix4u.com/event-details/73005
Tickets can also be purchased in the box office in the theater 30 minutes before each showing.
Little Shop of Horrors is presented through special arrangement with Music Theatre International (MTI). All authorized performance materials are supplied by MTI.
Little Shop of Horrors is based on the film by Roger Corman, Screenplay by Charles Griffith. Originally produced by the WPA Theatre (Kyle Renick, Producing Director). Originally produced at the Orpheum Theatre, New York City by WPA Theatre, David Geffen, Cameron Mackintosh, and Shubert Organization. Book and lyrics by Howard Ashman. Music by Alan Menken
"It's a phenomenal show and a phenomenal group of students that are working with us. We have an incredible directorial team," said Sullivan. "We also work with a live orchestra. We'll have a pit orchestra during the performance."
If you have any questions about Little Shop of Horrors, you can contact Sullivan by email at sullivank@wwcsd.net or by phone at (734)419-2253.