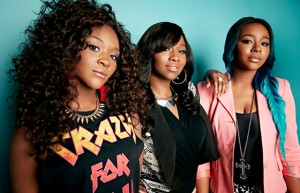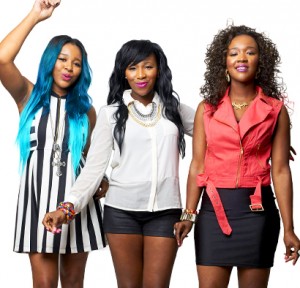 It's not easy to get a compliment from Simon Cowell. But that is exactly what happened to RoXxy Montana the trio of singing sisters from Wayne. This summer Tenija, 22, Tiara, 21, and Temperance, 20, Moton traveled to Colorado to audition for Season 3 of "The X Factor".
They first sang One Night Only from the Dream Girls soundtrack. The judges were not initially impressed but gave them a second chance. The group sang an a cappella gospel song I Know I've Been Changed by LaShun Pace and Cowell told them they were the best group they have had on "The X Factor".
"It's been a long time since we've had a girl group who absolutely sings their faces off," said judge and former Destiny's Child member Kelly Rowland.
"It wasn't just the yes' it was what they said," the group said in their X Factor interview immediately after their audition.
The girls first auditioned for Season 2 of The X Factor in 2012 but didn't make it past Boot Camp.
This time they made it through auditions with four yes votes from judges Simon Cowell, Kelly Rowland, Demi Lovato and Paulina Rubio. They also survived the four- chair challenge.
RoXxy Montana was the last group to audition during the four- chair challenge. All four chairs had already been filled and their performance wowed the judges enough to bump another group.
After they sang Michael Jackson's "Man in the Mirror" Cowell said, ""I was really impressed. We could make you incredible because you have the talent. You really do."
That performance secured their spot as one of the four groups. Cowell will be their mentor during the competition.
Perfect harmony
Where do they get their singing talent?
"God (LOL) no my parents are both musically inclined so from both sides but mainly my dad's," said Tiara.
As a group they sing mostly R&B and pop. But they each have distinct personal tastes in music, which helps contribute to their sound.
On the RoXxy Montana Facebook page Tiara says, ""I believe we embody all genres. Vocally each one of our voices brings a totally different element.
If it's not my hard country-ish twang or Tenija's R&B/pop tone and riffs, it's Temperance's deep, soft, raspy tone."
Among Tiara's favorite artists are Tim McGraw, Faith Hill and Michael Jackson. Tenija favors neo-soul and gospel artists like India Arie and Kim Burrell. Youngest sister Temperance like rock, indie and pop. She likes to listen to Prince, Cage and Tina Turner.
Dreams come true
The sisters, now known to millions as RoXxy Montana, have been singing together since elementary school.
They have been performing "for over 10 years now! It's crazy," said Tenija.
In an interview online for "The X Factor" when asked what the advantage and disadvantage of being a family group is the girls answered,  "The advantage is that we know each other," said Temperance.
"The disadvantage is that we know each other," said Tiara.
They have lived in Wayne for 12 years and attended Wayne Memorial High School.
"We all went to Wayne but due to us moving to New York City to pursue music we graduated from home school," said Tiara.
The girls are currently living in Los Angeles and keeping very busy with "The X Factor" schedule.
"Early early mornings and super late nights, and lots of rehearsing and interviews," Tenija said.
"It's amazing. Seriously like make up, hair, pictures. It's just the ultimate Hollywood experience not to mention hanging with Simon Cowell at his home," said Temperance.
While they are pursuing their dreams in LA they keep in touch with their parents, Teresa and Jeffrey Moton, at their home in Wayne, via Skype. Their parents are pastors and the girls grew up singing in the church.
"(We've performed at) clubs, church, charities and festivals," said Tiara.
The trio is hoping their future includes  "going on a world tour and having a #1 album worldwide," Tenija said.
RoXxy Montana made it to the top 16 and performed on the Oct. 29 live show. Sadly, Simon did not choose them to advance to the Top 12 and they were eliminated at the end of the show.
The X Factor
The X Factor is an award winning international singing competition show. Judges Simon Cowell, Demi Lovato, Kelly Rowland and Paulina Rubio hold auditions in select cities nationwide. They are looking for singing talent 12 years and older- both solo artists and groups.  Judges are looking for vocal ability, charisma and stage presence. Contestants audition in front of the judges and a live studio audience.
If contestants survive the first round of auditions they are divided into four categories- Boys, Girls, Over 25s and Groups. RoXxy Montana was in the Groups category with Alex & Sierra, Restless Road and Sweet Suspense. Each category is mentored by one of the judges. Simon Cowell is mentoring the groups.
Each week the contestants will perform live and America will get the chance to vote for their favorites. Artists who have competed on "The X Factor" have sold more than 100 million records worldwide, including 110 #1 songs and 270 Top 10 records. The show airs in 91 countries.
The X Factor airs Wednesdays and Thursdays on Fox.