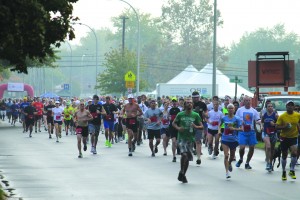 By Jenny Johnson
The annual Red October Run sponsored by Oakwood Hospital was a success this year. A total of 1,333 runners and walkers of all ages participated in the four different races including the 10K run, 5K run, 5K walk and the 1 Mile Jr. October race.
"We had a great turnout, and there were a number of course records set this year," said Cynthia Cook, community benefits coordinator for Oakwood Healthcare. She organizes the event every year.
The race, which begins at Oakwood Annapolis Hospital and winds through the nearby Wayne neighborhood, is designed to promote health and fitness to families and to attract runners and walkers of all ages and abilities.
The youngest 5K run finisher was 6-year-old Kenna Farmer of Canton, while the oldest was 81-year-old Michigan running legend Harrison Hensley of Pinckney. Hensley is the founder and director of the popular Run Thru Hell event and he's run about 80 races so far this year.  The youngest 10K finisher was 13-year-old Nicole Gadon of Canton. The oldest was 74 Virendra Mehta from Wayne, who finished the race in 1:18:00.
The top finishers were:
In the Men's 10K run, Colby Lowe of Southlake, TX, set a course record with a time of 31:20, which is a pace of 5:03/mile.
For the women's 10K run, Stephanie Smith of Detroit also set a course record with a final time of 38:57, good for a 6:17/mile pace.
Eric Loveland, of Dundee, set a course record in the Men's 5K with a 16:17 finish, a pace of 5:15 minutes/mile.
Kimberly Peterson of Farmington Hills was the top female finisher in the 5K run with a time of 16:17.
Rick and Shelly Huber of Montrose, MI, were the top finishers in the men's and women's 5K walk, respectively. Rick's 28:06 finish was also a course record. Shelly came in at 34:02.
For complete race results, visit www.oakwood.org/redoctoberrun.