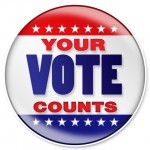 By Jenny Johnson – Registered voters in the City of Wayne will have a lot to consider on the November ballot.
Voters throughout the State of Michigan will vote for Governor, Secretary of State, Attorney General, State Senator and State Representative.
At the federal level they will choose a United States Senator and Representative in Congress in the 13th District.
All residents of Wayne County will elect a new Wayne County Executive and Mayor Al Haidous is running unopposed for Wayne County Commissioner in the 11th District. He will resign his seat as mayor after the election.
The Wayne-Westland Community School District has three open seats for trustee. Candidates include incumbents Carol Middel and Shawna Walker and Tom Froreich and Melandie Yvonne Hines.
Incumbent Trav Griffin and Adams S. Adamski (formerly Mario Fundarski) are running for a partial School Board Term ending Dec. 31. 2016.
Wayne residents will also have three city  proposals to consider.
Proposal #1
This would amend the City Charter and divide the city into six, single-member districts for the election of City Council members. Districts 1, 2, and 3 would go into effect in the Primary and General elections 2015 and district 4, 5 and 6 would go into effect in the Primary and General Elections in 2017.
Candidates will have to live in the district in which they represent at the time of their election or appointment and throughout their tenure. Voters would choose only one person  to represent them on the council.
Proposal #2
This would amend the City Charter to provide that no one can be eligible for re-election as a Council Member or Mayor if he or she has already served a total of 16 years or more in the position of council, mayor or a combination of service.
Proposal #3
This proposal is asking voters for a five- year extension to the one-mill tax that will currently end in 2015. The funds are dedicated to supporting police and fire services. It was originally approved by voters in 2010.
To view a complete sample ballot visit, www.ci.wayne.mi.us.
Absentee ballots are available at the City Clerk's Office, 3355 S. Wayne Road from 10 a.m. to 4:30 p.m. Monday through Thursday.
Polls will be open on Nov. 4 from 7 a.m. to 8 p.m. on Election Day.
Voting precincts are:
Precinct 1
Wayne Senior Activity Center
Precinct 2
Wayne Senior Activity Center
Address: 35000 Sims Ave.
Precinct 4
Taft-Galloway Elementary School
School Address: 4035 Gloria (North of Forest)
Precinct 5
Taft-Galloway Elementary School
Precinct 6
Hoover School
School Address: 5400 Fourth (South of Annapolis)
Precinct 7
Hoover School
Precinct 8
Roosevelt-McGrath
Elementary School
School Address: 36075 Currier  (off of Williams, W. of Wayne Road)
Note: Precinct 3 has been consolidated with Precinct 2 and has been eliminated as a precinct number.