By Lindsey Wooten – It's that time of year again! The downtown Wayne Scarecrow design contest is upon us, and it's time to get building! Each group or individual that enters will design and build a scarecrow using a pre-made frame and lots of imagination. Be creative! Your scarecrow can reflect your mission, your organization, your business, or your family's imagination and artistic talents. Registration is $20 for a new frame, or you can re-use your frame from last year for a $15 registration fee. This will ensure a reserved lamp post, a placard, and entry into the contest. The winning scarecrows will be featured on next year's registration form and its creators will be awarded a small prize and bragging rights! Help us decorate our downtown for the month of October and have fun while doing it!
IMPORTANT DATES:
September 23rd – Deadline to Sign Up
September 26th – Drop-off at State Wayne Theater between 9:00 – 11:00 a.m.
October 14th – 3:00 – 7:00 p.m. – Scarecrow Reception and Contest Judging at Goudy Park – bonfire, cider and donuts provided!
November 1st – Take down. IF YOU WISH TO KEEP YOUR SCARECROW AFTER EVENT, please pick up by 1:00 PM on November 1st!
To register, please visit our website at: http://downtownwayne.org/-volunteer-2/scarecrows/ or come visit us at the Wayne Farmer's Market in Goudy Park on Wednesdays from 3-7pm. If you have questions give us a call at (734) 629-6822!
Evening with Friends
Friends of Community Living Services is holdings its annual "Evening with Friends" gala on Thursday, September 17th, at Livonia's Laurel Manor.  This event, which is attended by almost a thousand people, is a fundraiser for people with intellectual and developmental disabilities. Friends of CLS is a non-profit organization, separate from Community Living Services which has made the City of Wayne its home for more than 20 years.  Celebrity co-hosts, Fox 2 News reporter Roop Raj and WJR News Anchor Marie Osborne, will host the night's festivities.  The evening includes dinner, entertainment, business expo, gift basket raffle and a video awards ceremony.  All fundraising dollars go toward pursuing personal and professional goals such as starting a small business, getting connected to the community through memberships, paying for college classes and much more. Tickets are $50 and all donations can be made online at: http://www.comlivserv.com/index.php/en/friends/evening-with-friends-tickets.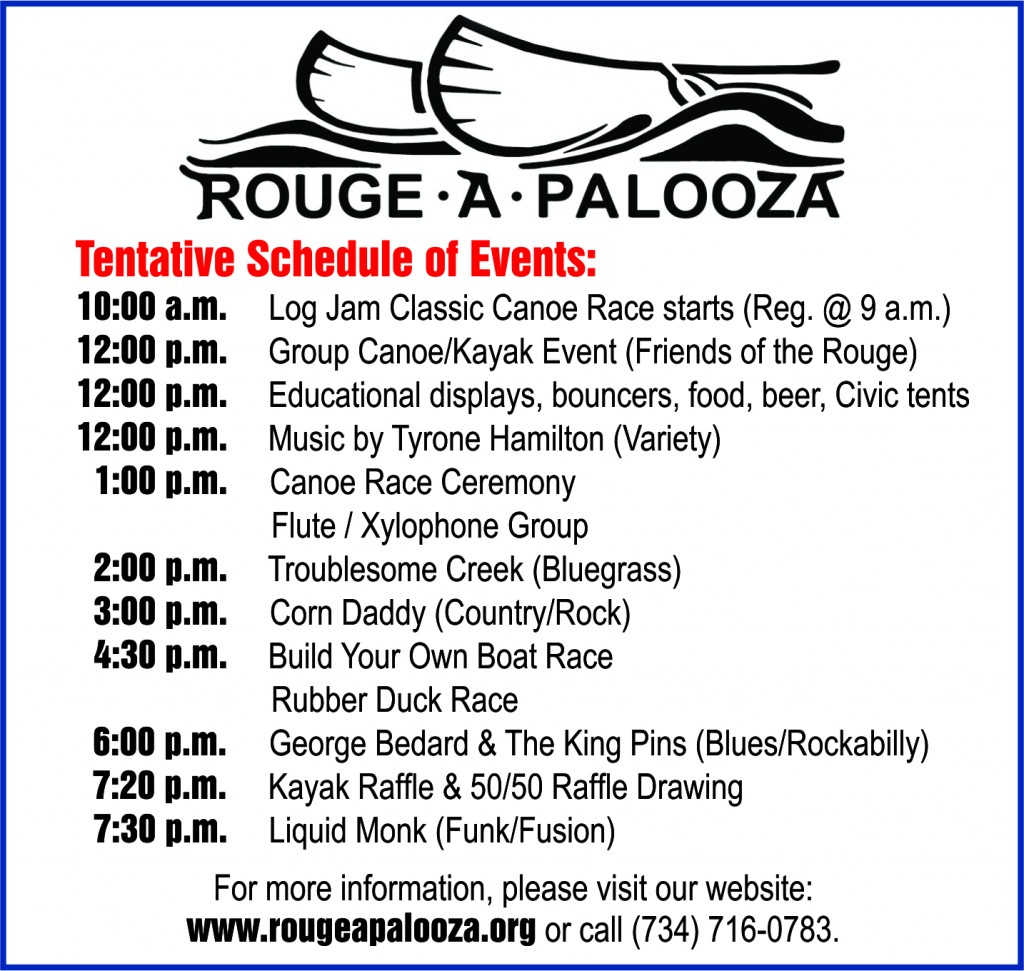 Rouge-A-Palooza Festival Oct. 10th in Goudy Park
River Restorations Inc., Wayne Main Street, Wayne Rotary Club and other Rouge River supporters are planning the 3rd annual Rouge-A-Palooza festival on Saturday, October 10, 2015, in Goudy Park in Downtown Wayne.
The purpose of this event is to raise awareness of the abundant recreational opportunities the Rouge River offers to the residents of the City of Wayne and surrounding communities. The event kicks off with the Log Jam Classic Canoe Race and the rest of the day features live music, educational displays, great food, games, raffles, a cornhole tournament, and more! Visit www.rougeapalooza.org for more information!