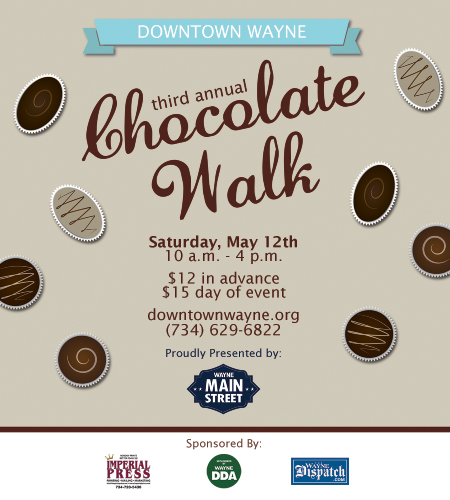 Organizers are planning for this year's event to be significantly larger than last year's Chocolate Walk.
Wayne Main Street's Third Annual Chocolate Walk will take place in downtown Wayne on Saturday, May 12, from 10:00 a.m.-4:00 p.m. Tickets for last year's Chocolate Walk completely sold out. Wayne Main Street anticipates a sold-out event once again this year with more than 150 people expected to attend and 12 downtown businesses committed to participating.
Wayne's Chocolate Walk will begin at the Wayne Historical Museum located at 1 Town Square. Each participant will be provided an empty chocolate box and a map of participating businesses. Participants will then be invited to explore the historic downtown and pick up their individual chocolates at the participating businesses. "This event is important to our downtown. It encourages community members and folks from surrounding communities to shop and explore downtown Wayne's unique offerings," says Cindy Schofield, Board Member for Wayne Main Street.
Tickets to this event are $12 if purchased in advance and $15 at registration (if available) and can be purchased at downtownwayne.org. Proceeds from this event benefit Wayne Main Street's programs and services. The event is being sponsored by Wayne's Downtown Development Authority.