By Carolyn Marnon – The Wayne Rotary has coordinated this summer's Concerts in the Park series. Councilman John Rhaesa, the new President of the club, has been busy booking the bands and getting sponsors for this annual event. All concerts are at the amphitheater at Goudy Park. Mark the dates on your calendar so you will be ready to come on out!
July 14 – Steve King and the Dittilies
This is a special show held in conjunction with Wayne's Downtown Days.
According to their website, www.skdittilie.com, "Steve King and the Dittilies: "America's favorite rock 'n' roll band and variety show. Showcasing hit songs from the 1930's through the present. Traditionally an 'oldies' band, the Dittilies' repertoire focuses about 30 years in the past, spiced with current topical comedy and delivered with world-class sizzle. Since the 1970's, the Dittilies have performed on stage, television and radio in international venues for family clients to Fortune 500 sponsors."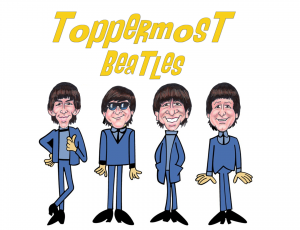 July 26 – Toppermost Beatles Tribute
Toppermost is Michigan's most POPULAR Beatles Tribute band year after year with more than three times as many shows in Michigan than any other Beatles Tribute. Why? Simply because they recreate that energy and youthfulness of the Beatles better than the others. They are a consistent group of members so fans get to know them and can expect to see the same guys each show. The other groups rotate in different members.
"We don't just stand at the microphone, we dance around and joke with each other just like the Lads did. Toppermost also contains the only John and Paul that can actually scream out songs accurately such as Oh Darling, I'm Down, Twist and Shout, Bad Boy and more! Our shows are spontaneous, infectious, funny and great for all ages! We are also sincere Beatles fans and have apprenticed the Beatles our entire lives." Visit their website at www.toppermost.info to see videos of the band.
August 2-War Machine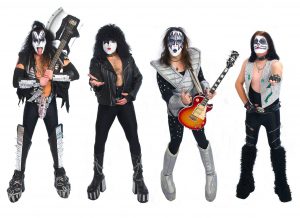 According to their website, "War Machine is a full costume and make-up, musical tribute to 1970's rock legends KISS. We feature all the energy, smoking guitars, fire breathing, and great music of the original band." Based out of Detroit, Michigan, the band has been performing nationally for over 17 years. War Machine has performed all across America and Canada at Official Kiss conventions and Expo's.
"Our typical show can be up to 2 ½ hours in length and contains hit songs from the span of KISS' 40 year career. The show features a giant KISS illuminated sign, light up staircases, smoking guitar solo, rocket launcher guitar, fire breathing, special effects with fake blood, drum solo and bass guitar solos. We can offer limited pyro technic effects for venues which can support it. The band is not only limited to performing KISS songs. We are often requested to perform classic rock music by artists who have toured/worked with KISS over the years. We also enjoy performing songs that the females in the audience can dance too, and are often rewarded with great crowd participation."
"War Machine enjoys meeting their fans, and we are family and children friendly. We always do a 'meet and greet' and try to stay long enough so each and every person gets a photo with us in costume. We have FREE 11 x 17 posters and glow in the dark guitar picks for the children as well as adults (big kids) who would like to take something home to remember the show. Our shows DO NOT contain profanity." Website is www.kisstribute1.com
August 9 – Kung Fu Diesel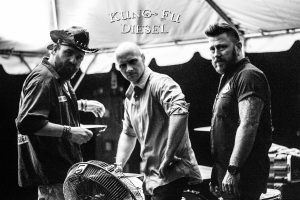 According to www.eghradio.com, "Kung Fu Diesel is 3 piece, 3 chord American Rock & Roll band born out of the swamps of Jackson, MI USA." These 3 childhood friends grew up, formed a band, and moved to New Orleans to get a music education by playing on any stage that would let them. The time they spent on the bayou allowed them to get some valuable stage time and develop a unique sound. Using their influences of Rock & Roll, Outlaw Country, Punk, and R&B they began writing songs.
"Shortly after returning to Michigan, they crossed paths with Ted Nugent and began opening shows for him. Ted had this to say about Kung Fu Diesel. "Here's a combo of workin' hard playin' hard all American sh*tkickers who "get it". From the proud swamps of Jackson County, Michigan always celebrating 40 years of Motown, the Kung Fu Dieselites deliver the guts and soul of a better place. Real grinding, heart and soul R&B rockout songs for the partydogs who don't puke. Kung Fu Diesel are my sonic bombastic BloodBrothers. These guys are authentic." Quite an endorsement.
They have also opened shows for some of the biggest names in country and rock. These bands include: Foreigner, 10,000 Maniacs, Ted Nugent, Jackyl, The Pretenders, B52s, Ratt, Nazereth, Charlie Daniels, Martina McBride, Lynyrd Skynyrd, and Weird Al Yankovich to name a few."
Click on the link for this band, www.magicbusband.com, and you are transported back in time. "The Late Sixties, Psychedelic Music, Peace and Love. Do you remember the Woodstock era? It was a period of musical and creative energy that has never been equaled before or since! If you are too young to remember that magical time, you can now be transported back there instantly with the one and only "Magic Bus."
"Come and take a psychedelic ride with us. Let Magic Bus re-create the atmosphere for you! Their incredible musical abilities and authentic look will transcend the modern and jet you back to the Haight-Ashbury District of San Francisco in 1967. It was a time of true Rock and Roll as it was meant to be!"
August 23 – Your Generation in Concert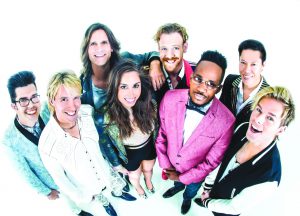 Coming back for their 3rd summer performance in Wayne, "Your Generation in Concert™ is a live multimedia spectacular celebrating 5 decades of pop, rock, dance and R&B hits. Simply put, this 8-piece band is the world's finest tribute show.
"YGIC transports the audience on a musical tour through the soundtrack of their lives with outstanding musicianship and remarkable vocals. YGIC is an international favorite for corporations, festivals, concerts, private events, and the celebrity set. The group has shared stages with Lenny Kravitz, Flo Rida, Jason Derulo, The Billy Joel Band, Sheryl Crow, and more. YGIC's live production is scalable from the highly popular full-band version, to adding choreographed dancers, choir, and an orchestra for larger productions. YGIC also offers an unplugged version of the show.
"YGIC was created by orchestra and choir contractor Steve Trudell. Highly respected in the music industry, Trudell contracts globally for musical tours including, Trans-Siberian Orchestra, Josh Groban, Michael Buble', Billy Joel, Idina Menzel, Disturbed, Cage The Elephant, Il Volo, Dave Chappelle, David Foster, and others. Today, Trudell continues to manage and produce YGIC, working closely with a group of very creative and talented people including Musical Director Brian Lord, and Marketing Director Amanda McDonough.
"Your Generation in Concert™ is timeless and intergenerational, playing music as diverse as it's audience." Visit their website at www.yourgenerationinconcert.com.
August 30 – Dirty Deeds Extreme AC DC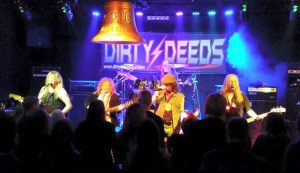 This band was assembled by former members of several popular AC/DC tribute bands. They bring the ultimate AC/DC tribute show to new heights with their music and stage show.
The "DIRTY DEEDS" concert experience is truly extreme; featuring "two" high energy shows complete with exciting stage props and non stop action! The first show is a dedication to the Bon Scott era and the second show is a tribute to the Brian Johnson era!
The Concerts in the Park series is sponsored by Mark Chevrolet Wayne Michigan, Wayne Westland Federal Credit Union and Independent Carpet One Floor & Home and more.