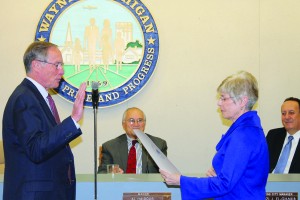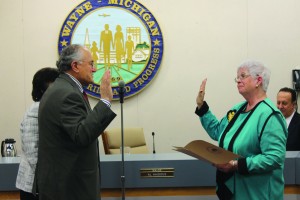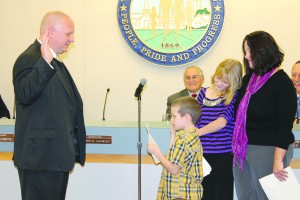 By Jenny Johnson
Councilman Jim Hawley, fresh off his first re-election victory, was chosen as Mayor Pro Tem.
Councilman Albert Damitio nominated him for the position.
"Because he has served very well on the council and has served for many years in the City of Wayne and it would be a pleasure to have him as mayor pro tem.  It will take a lot of direction to weather the storm and right the ship in the City of Wayne," Damitio said.
Hawley was elected by a 6-0 vote.
"Thank you. This is a surprise and greatly appreciated. I will work with you through these difficult times," he said. "I promise I will do everything possible to make Wayne a better place."
Mayor Al Haidous and Councilman Jim Henley were also re elected and Susan Rowe was elected to council.
Henley thanked his family and the community for electing him to serve another four years. "I look forward to the opportunity," he said.
"Thank you to all of the citizens who took the time to talk with me when I came to your door over the past five months," said Rowe. "As a community we have to get back to basics of safe, clean neighborhoods or we will not be able to move forward."
Mayor Haidous thanked the voters for re-electing him as mayor.
"It is a great honor to be able to serve in that capacity," he said. "But good leadership is for tough times. We are facing a decline in revenue and rise in expenditure. I believe we have a great team and a great community always supporting the local government. Having a safe and clean city is priority number one.  We need to work together."
Public Act 345, which would have provided a separate fund for police and fire pensions, was also on the ballot and failed. City council now has to decide how to offset a projected $2 million deficit for the 2014-15 budget.