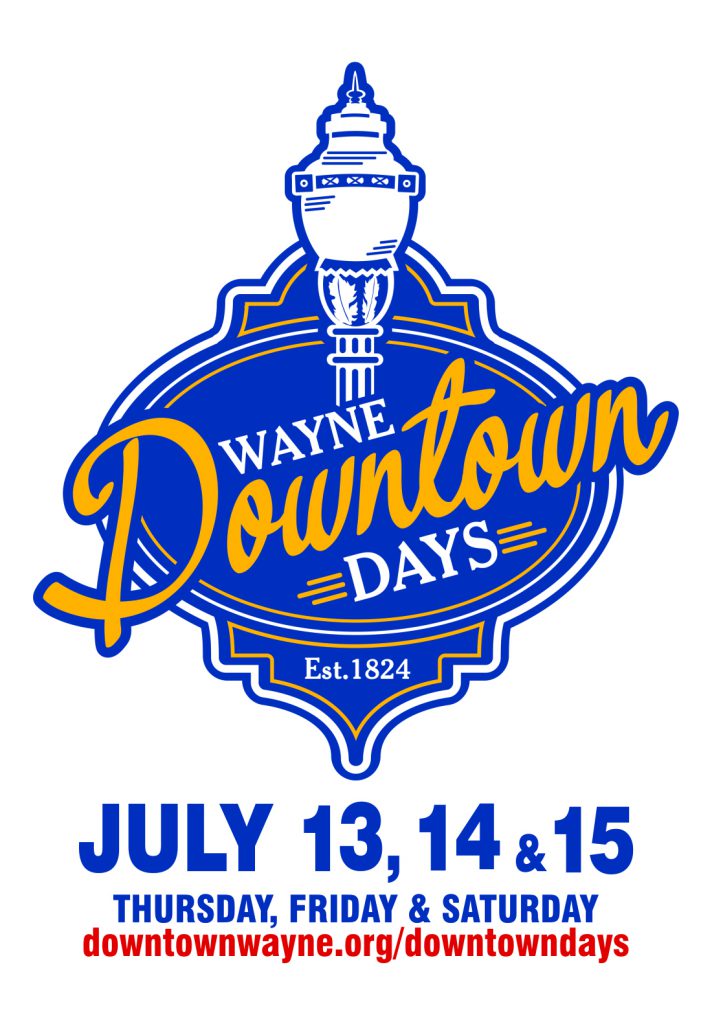 Downtown Wayne will host the first annual Downtown Days event July 13th thru the 15th. The event will feature a slate of activities and promotions meant to draw people into downtown Wayne. While Downtown Days may be new, the event is an expansion of the Sidewalk Sales activities that has taken place in Wayne for over a decade.
Downtown Days will consists of three components.  Family-Friendly Activities, Entertainment, and Sidewalk & Vendor Sales. This event is an unprecedented collaboration between Wayne's civic organizations and the downtown business community.  Kim White-Jenkins, co-owner of Helium Studio comments "Wayne has a number of cool retail establishments, a historic downtown, and beautiful green spaces.  This event will give people a reason to explore all that Wayne has to offer as well as showcase our downtown as a destination. We would love to make our downtown your downtown!"
Some of the events and activities that will be featured in this year's event include:
Thursday, July 13th
• Sidewalk Sales begin on Thursday, July 13th, through Saturday, July 15th
• 5-8 p.m. – Knights of Columbus Lounge (3144 S Wayne Rd, Wayne MI 48184) Evening Tea Event with Victoria's Tea
Friday, July 14th
• 8 p.m. – The Wayne Rotary Club presents a Free Concert in Goudy Park with Steve King and the Dittilies
• DIA Inside I Out Scavenger Hunt (throughout downtown)Saturday, July 15th
• 10 a.m. – 12 p.m. – Hot Cakes and Hot Cars breakfast will be at Harry J. Will Funeral Home (34567 Michigan Ave.)
• 10 a.m. – 4 p.m. – Flea Market at Helium Studio (3127 S. Wayne Rd. Wayne MI 48184) Featuring local pickers, recyclers/upcyclers, artists and makers.
• 11 a.m. – 4 p.m. – DIA Drop in Art Workshop at the Knights of Columbus
• Shuttle service throughout the day will also be offered on Saturday, July 15th to help participants get around town.
• 11 a.m. -4 p.m. – Antique & Collectables Show & Sale at the Notre Dame Lounge (3144 S Wayne Rd Wayne, Michigan).
• 11 a.m. – Gate Way Classic Car Show (2945 S. Wayne Rd. Wayne MI 48184).
• Icon Computers (35858 W Michigan Ave) will host the Just Hearse'n Around Car Club with their Casketeria BBQ grill.
• Northside Hardware (2912 S Wayne Rd) will be continuing their tradition of offering sidewalk promotions and .25 cent hot dogs and pop throughout the weekend.
The event is being held the same weekend as the US-12 cruise, which is scheduled to take place on Saturday, July 14th, beginning at 12-noon, with entertainment scheduled on the US-12 American Bar & Grill patio (34824 W Michigan Ave, Wayne, MI 48184) throughout the day.
John Rhaesa, Councilman for the City of Wayne, says "It's great to see our downtown business community, and community organizations working together to build an event that will help bring people into the downtown.  I am excited to be involved in the planning of this year's activities".
For more information regarding all activities, please visit downtownwayne.org/downtowndays.