By Carolyn Marnon – The Rediske family aspire to pass along the traditions of providing outstanding service to the community.   Continually striving to offer the most complete and compassionate funeral care and after care possible, the Rediskes treat others in the way they would want to be treated.  Recently the business was handed down to Harold L. Rediske II (Howie), son of Harold Rediske, Jr.
Uht Funeral Home, located on Glenwood in Westland, had its beginnings in the 1800s in Huron Township (now known as New Boston).  Mantous Uht's grandfather and father were cabinetmakers. As many cabinetmakers did in those days, they also built and provided coffins for families that experienced a death within their family.
In 1925, Mr. Uht came to the Village of Wayne and purchased an existing funeral home from Web Morton. The building was near the corner of Wayne Rd. and Main St. Mr. Uht operated the business until the 1940s when he then took on Harold Kennedy as a partner. The business was known as the Uht Kennedy Funeral Home until late 1951 when their partnership terminated.
On March 1, 1952, a new association was formed with Harold Rediske, Sr. and continued until the death of Mr. Uht in January 1961. The funeral home remained in its location at Wayne and Main (near to where the current Wayne Public Library is) with remodels and major additions being done.  In 1965, the City of Wayne purchased the building and property in order to begin their Urban Renewal Program. The new Uht Funeral Home was built in the City of Westland, at the corner of Glenwood and Harvey St. and was moved into in March of 1967. Uht Funeral Home is still located there. The Rediske family still maintains ownership.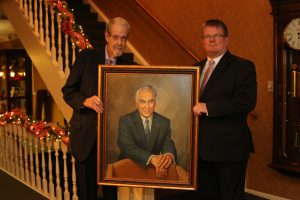 The Rediskes
Harold Rediske, Sr. purchased the business in 1952 and spent nine years as a funeral director.  Harold Rediske, Jr. grew up in the business and remembers living in the old building by the library which had a residence the family lived in.   Harold Jr. married to Claudia, who has also spent many years as a stylist for the funeral home.  Harold Jr. still comes in to do some of the day to day operations of the business.  He opens the mail and does what they call "roadwork" – he gets doctors to sign off on the paperwork.
Harold L. Rediske, II (Howie)  remembers working at the business as a kid.  He would tell people where to park their cars in the lot for the processional. He says he was so small he had to look up to see in the car windows.  One day, there were three services held. That was a lot for one day. When it was all over, he was taken over to Wild Bill's where he got to pick out a mini bike.
Howie did a few other things outside the funeral business including completing  one enlistment with the US Army where he was deployed to Bosnia as a licensed aircraft mechanic.    He returned to the family business in 1996 to complete his schooling and graduated from Wayne State University School of Mortuary Science in 1997 and received his license.   Howie  has now been working in the family business for 20 years.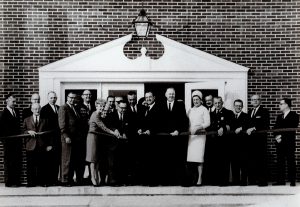 Howie has gone through the chairs of the Michigan Funeral Director's Association (MFDA) District 2 twice and served on the MFDA grievance and ethics committee. He belongs to the Wayne Rotary where he has served on many committees and projects.  He is also a proud life member of the Veteran's of Foreign Wars (VFW) and has served as a trustee for two terms at his local post.  Currently Howie takes over the day to day operations and oversees a staff of 5 licensed funeral directors and 4 support staff.
Howie is married to Gayle Rediske and has a daughter, Mackenzie. They currently live in Brownstown after having lived in Wayne for 18 years.
Uht is a business that has remained a positive force in the Wayne community.  They are heavily involved with many organizations and sponsor several community events.  They're sensitive to the needs of individuals whose families are in crisis and offer discounted services in those situations.  There is never a charge for infant services, for first responders killed in the line of duty, or for active duty military members.
When asked about what traditions have carried on at the funeral home through his time, Howie (son) responded "grey hair and wrinkles" while laughing.
To become a funeral director, you need to get licensed by the State of Michigan through a four-year program. This includes 2 years of pre-requisites, 1 year as an apprentice and then 1 year studying mortuary science. This is a tradition father and son shared as they both attended Wayne State University.
Grandpa's day was very "cookie cutter."  People would have a choice from a couple vaults, about five caskets and about five memorial folders. What made a service special was the song. There wasn't anything individualized back then.
Ten years ago with dad Harold, the showroom held about 30 different full caskets that could be considered. There was no order to the room. It used to be overwhelming to walk in to the showroom and walk through a maze of caskets.
Under Howie, the showroom now has partial caskets on the walls along with displays of accessory pieces like corners and crosses that can be added to the caskets.  Families have more options than ever before. There are boxes and urns for cremains. There are protection features for vaults.  Now you can have personalized photos on the memorial folder covers.
These days, son Howie says they will have requests for unusual items to be brought in: items like jet skis, motorcycles and even the family pet.  Howie says as long as it fits in the door and doesn't tear up the carpet, he will fit it in to the service.
In grandpa Harold's day, it wasn't unusual to have a funeral at a house. Back in the old days, farmhouses in New Boston and Romulus were big and the doorways were bigger.  For 2-3 days, the remains could be at a house or the funeral home. Dad Harold says it's been about 30 years since they have done a home funeral.
Changes in the business
There are about 60% more cremations now with son than there was with grandpa.  Grandpa probably had less than 5% of cremations.
In grandpa Harold's day, there might be 150-175 funerals per year. Now with Howie, there are about 275 per year.
During grandpa Harold's time, he had a plane which he would use to fly remains from Willow Run to Kentucky or Pennsylvania back in the 1970s. At that time, Kentucky and Tennessee didn't have major airports.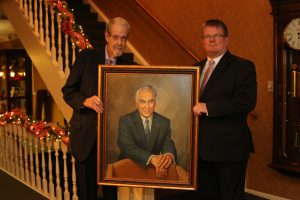 During dad Harold's time, he had an ambulance service. He might go to the football game or other event in town with the ambulance. If something happened to someone, the ambulance either went to the hospital or to the funeral home.
Back in the 1980s-90s, preplanning became a popular thing to do.  However, there were no financial incentives then, so it didn't take off as well as it could have. Now, people are able to pay today's rates to put into a funeral plan that helps save money in the long run.
I had heard mention of something called Green Burials.  I asked if Uht had dealt with any green burials.  They have not, although Howie thought there were some special burial grounds in the Metro-Detroit area.  He said caskets are biodegradable materials that go into the ground, there is no embalming and certain time frames are involved.
Changes in technology
Back in 1996 when Howie came back to the business, there was one computer in the office and it was used by the secretary.  Since 2001, everyone has a computer which are all networked.
The viewing rooms now have TV's in them. Pictures can be scanned into a special system Howie has and then continuously played on the TVs.
He used a special software from Kodak that can scan approximately 100 pictures in a minute to provide a slide show.
Keepsakes
Back in the old days, there was no memorabilia.
These days, there are all sorts of options one can consider to hold a loved one closer.  Howie says the most popular right now are Thumbies®. These are fingerprint keepsakes that are cast in precious metal. Other types of cremain jewelry are also popular.
The Rediske's long standing commitment to the community, valued traditions and reputation for compassionate care are just a few of the reasons local families have entrusted their loved ones to their care for decades.
If you or a loved one are looking into prearranging a funeral or have questions concerning funeral services, please contact Howie and he and his staff would be happy to assist you.