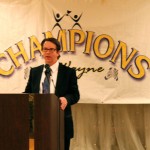 The Champions of Wayne program is changing lives. On Feb. 11 they hosted their winter awards banquet.
Students are paired with an adult mentor and given a customized academic goal.  If they achieve it, they earn a financial reward at the end of the semester. This past semester 139 students reached their goal.
Since 2009 the mentoring program has changed the lives of more than 2000 at-risk and high-achieving students at Wayne Memorial and Tinkham Alternative High Schools.
Congratulations to the First Semester Champions of Wayne Memorial High School.
Matthew Adams,
Cruz Alvarez,
Colleen Anderson,
Morris Arnwine,
Orion Askins,
Allison Baker,
Alexis Banks,
Rya Bark,
Nathan Barker,
Kayle Bazan,
Michael Becker,
Jewel Bennett,
Kylee Bray,
DuJon Brown-Deacon,
Demetrius Brown,
Joshua Brown,
Julia Bryant,
Dezmund Byrd,
Trevor Cargill,
DeAndre Carter,
Chelsey Chard,
Danielle Christensen,
Jacob Clark,
Darrick Craig,
Samantha Crawford,
Chantaniea Cuff,
Dennis Dean,
Jeff Decker,
Clinton Dildy,
Alexis Dunigan,
Haley Dunne,
Makia Edison,
Ehrin Ehrhart,
Abigale Fantuzzi,
Zachary Favazza,
Matthew Fischer,
Rebekah Fischer,
Crystal Fletcher,
Joseph Frazee,
Tiffany Frizzell,
Demetrius Fullilove,
Christian Gaines,
Hayley Gilbert,
Jaden Glover,
Paul Grauzer,
Justin Gross,
Samantha Haffner,
Kayla Haneckow,
Tyler Harnos,
Donnique Harris,  
EsiQuio Hernandez,
Marco Hernandez,
Alexia Hewett,
Alicia Highland,
Jacob Hill,
Chanelle Hinton,
Kayla Hood,
Molly Hooper,
Dashia James,
Deon James,
Michelle Janes, 
Taylore Johnson,
Danielle Jones,
Gabrielle Jones,
Charise Jutras,
Tiarra Kelly,
Kory Kerkhof,
Michael Kinsey,
Ron Knuckles,
Kayla Knuckles,
Crystal Lafontaine,
Mackenzie Lawson,
Mijai Lewis,
Brennan Lindemann,
Bethany Lowhorn,
Casimir Mann, Jr.,
Sarah Marshall,
Angel Matos,
Megan McCurry, 
Ashley McGeorge,
Myr'Esha McNac,
Natalie Meyers,
Shelby Montgomery,
Savanna Mowry,
Tristain Mullins,
Anthony Namo,
Timothy Nicholson,
Lavail Nolan,
Ledell  O'Bryant,
Abbie O'Kelly,
Eric Okunrounmu,
Morgan Oldham,
Jeremiah Palmer,
Gabby Parker,
Jaylin Patterson,
Brandy Pearson,
Alyssa Pitocco,
James Pomerico,
Raven Powe,
Danielle Prough,
Melissa Ramirez, 
Dustin Rehberg,
Shayler Ringholz,
Walter Rogers,
Jena Rupert,
Kassar Sauls,
Shiann Scalf,
Mary Schneider,
Emily Schultz,
Haley Scott,
Maia Scott,
Audeya Seaton,
Samaira Shanaz,
Jordin Sheffield-Sadler,
Maria Small,
Malteze Smith,
Savannah Smith,
Damon Stevens,
Kylie Strong,
Ariel Taylor,
Taleya Taylor,
Tiye Taylor,
Kayvon Teate,
Shaira Thomas,
Ana Uritu,
Hope Vail,
Joey Vandelinder,
Savanna Vlug,
Randy Voss,
Jocelyn Wagnitz,
Megan Watts,
Makari Whittaker,
Alexander Wilcox,
Alaiya Williams,
Leo Winbush,
Juan Wise,
Danielle Wood, and   
Karisa Wright