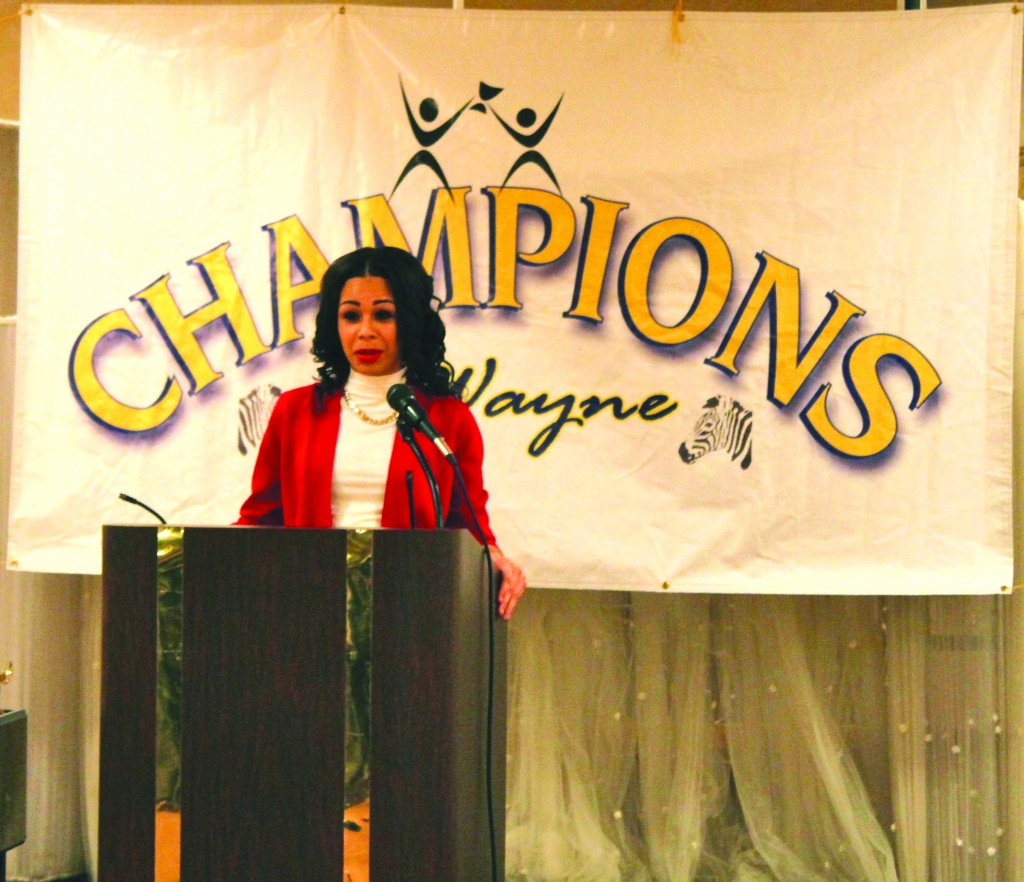 By Jenny Johnson –
There are 139 students at Wayne Memorial High School who are $200 richer. They are Champions' students who achieved their first semester goals. At the awards banquet several students shared their experience and how Champions did more than just help them raise their grades. The mentoring program is a positive and supportive influence in their lives.
Champions is an innovative and unique educational program for students that involves adult mentoring, customized academic goals and financial incentives. It was started in 2008 by WMHS staff and has been financially supported since 2009 by Richard Helppie, a 1974 WMHS graduate and a local entrepreneur and philanthropist.
More than 2,000 students have participated in the Champions program and nearly two-thirds of parti-cipating students have shown an increase in their academic achievement.
Recently 1984 WMHS graduate and local businessman Jeff Styers has offered financial support to the program too.
Most of the staff members at Wayne Memorial are mentors to two or more students. They are trying to make a positive difference in the lives of their students.
At the banquet student Champion Leo Winbush shared his story.
He started the school year by going to school 12 hours a day. After a full day at Wayne Memorial, including a seventh hour, he took night school classes at Tinkham.
"But I knew that if I was going to be able to reach my goal of graduating on time, the first semester was going to be very critical.  Make it or break it….all or nothing.
Of course, my long term goal is graduation…but in working towards that, I had to reach my short term goal," he said.  "My Champion, Mrs. Rose, really helped me get through the rough stretch, on those days when I felt like it was almost impossible to reach my goal.  My goal for the first semester was to pass seven classes, but with the help of my Champion and the strong support system around me, I was able to pass ten classes in one semester. "
He made up all of his necessary classes and was reclassified as a full senior.
"I feel that one of the reasons that I was chosen to get up and give a speech tonight was not because I was this all A student who never got into trouble.  Anyone who knows me knows that I've had my fair share of struggles," he said.   "But it's because despite what I went through, I've never given up.  I've always tried to put my best foot forward.
So to everyone out there:  Especially those still in school and struggling or going through a tough time and trying to reach a goal:  Yes, it isn't easy, but it is always attainable.  So know that you should never give up."
Danielle Jones is the oldest of six kids and born to a 17-year-old mother. In 2005 her baby sister Patience died. In middle school she ran into trouble.
"I was hanging out with the wrong crowd of people," she said. "The drinking, partying, smoking, disrespecting my parents, lying, stealing and skipping school continued."
By the end of 9th grade things got worse. Danielle was being bullied and school psychologist Bill Gray convinced her to join the Champions program.
"However the bullying never stopped, I had an altercation with some of the boys and got suspended from school for 180 days. I started to go to Inkster High School. When I got to Inkster, I continued to be wild and rebellious. As it came toward the middle of my 11th grade year, I started to go to school more and focus on getting an education for myself," she said.
It was April 24, 2013 when her life changed.
"As fast as you and I can blink our eyes I  was a victim of attempted murder. An automatic .38 behind the hands of a careless murderer had my life in their hands. I was shot three times that night, and didn't even shed a tear, once in  my chest, once in my right thigh and lastly in my left ankle," she said. "The fact that I am here today to share my experience with you is a true miracle. When the doctor came into my hospital room and explained to me that out of his 50 years of life and 23 years of being a top surgeon he has never seen such a miraculous outcome in my situation. He told me that with every wound I received I should be paralyzed, handicapped, or dead. That day I opened my eyes and realized there's a reason I'm here today and I'm going to do everything in my power to find my destiny."
Because of the Champions program she learned to not make excuses, set goals and do everything to reach them.
"In the end I have to look myself in the mirror and ask did I do my best , and with the help of the Champions program I have been successful this past semester in doing my absolute best," she said.
Today Danielle is a student at Tinkham. She is also attending classes for 12 hours a day just to graduate on time.
"I have managed to average an A- in every single class. Not only has my experience taught me a lesson but has also given me courage to believe I can do anything," she said.
"My goal, in this maybe short or possibly long life I look forward to living, is to try my hardest to make my peers, the young children of our community, my family, and as many other people as possible understand that anything can happen today and tomorrow is not promised. My dream is to change people's lives. You have to be able to accept your imperfections, learn from your lessons, guide yourself to the better, set goals and go get them to be a true champion."
List of all of the Champions students who made their first semester goal.
Matthew Adams,
Cruz Alvarez,
Colleen Anderson,
Morris Arnwine,
Orion Askins,
Allison Baker,
Alexis Banks,
Rya Bark,
Nathan Barker,
Kayle Bazan,
Michael Becker,
Jewel Bennett,
Kylee Bray,
DuJon Brown-Deacon,
Demetrius Brown,
Joshua Brown,
Julia Bryant,
Dezmund Byrd,
Trevor Cargill,
DeAndre Carter,
Chelsey Chard,
Danielle Christensen,
Jacob Clark,
Darrick Craig,
Samantha Crawford,
Chantaniea Cuff,
Dennis Dean,
Jeff Decker,
Clinton Dildy,
Alexis Dunigan,
Haley Dunne,
Makia Edison,
Ehrin Ehrhart,
Abigale Fantuzzi,
Zachary Favazza,
Matthew Fischer,
Rebekah Fischer,
Crystal Fletcher,
Joseph Frazee,
Tiffany Frizzell,
Demetrius Fullilove,
Christian Gaines,
Hayley Gilbert,
Jaden Glover,
Paul Grauzer,
Justin Gross,
Samantha Haffner,
Kayla Haneckow,
Tyler Harnos,
Donnique Harris,  
EsiQuio Hernandez,
Marco Hernandez,
Alexia Hewett,
Alicia Highland,
Jacob Hill,
Chanelle Hinton,
Kayla Hood,
Molly Hooper,
Dashia James,
Deon James,
Michelle Janes, 
Taylore Johnson,
Danielle Jones,
Gabrielle Jones,
Charise Jutras,
Tiarra Kelly,
Kory Kerkhof,
Michael Kinsey,
Ron Knuckles,
Kayla Knuckles,
Crystal Lafontaine,
Mackenzie Lawson,
Mijai Lewis,
Brennan Lindemann,
Bethany Lowhorn,
Casimir Mann, Jr.,
Sarah Marshall,
Angel Matos,
Megan McCurry, 
Ashley McGeorge,
Myr'Esha McNac,
Natalie Meyers,
Shelby Montgomery,
Savanna Mowry,
Tristain Mullins,
Anthony Namo,
Timothy Nicholson,
Lavail Nolan,
Ledell  O'Bryant,
Abbie O'Kelly,
Eric Okunrounmu,
Morgan Oldham,
Jeremiah Palmer,
Gabby Parker,
Jaylin Patterson,
Brandy Pearson,
Alyssa Pitocco,
James Pomerico,
Raven Powe,
Danielle Prough,
Melissa Ramirez, 
Dustin Rehberg,
Shayler Ringholz,
Walter Rogers,
Jena Rupert,
Kassar Sauls,
Shiann Scalf,
Mary Schneider,
Emily Schultz,
Haley Scott,
Maia Scott,
Audeya Seaton,
Samaira Shanaz,
Jordin Sheffield-Sadler,
Maria Small,
Malteze Smith,
Savannah Smith,
Damon Stevens,
Kylie Strong,
Ariel Taylor,
Taleya Taylor,
Tiye Taylor,
Kayvon Teate,
Shaira Thomas,
Ana Uritu,
Hope Vail,
Joey Vandelinder,
Savanna Vlug,
Randy Voss,
Jocelyn Wagnitz,
Megan Watts,
Makari Whittaker,
Alexander Wilcox,
Alaiya Williams,
Leo Winbush,
Juan Wise,
Danielle Wood, and   
Karisa Wright