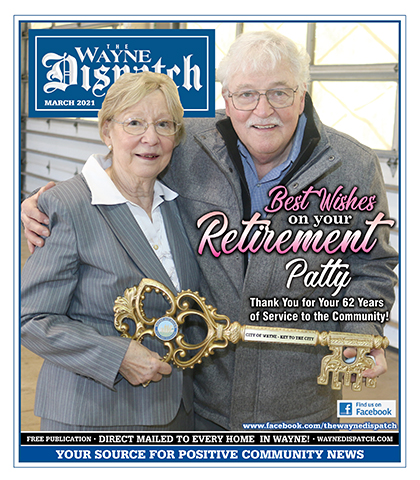 By Carolyn Marnon – Patty has left the building. After 62 years working for the City of Wayne, Patty Ditmore has officially retired. She was most recently the administrative assistant for DPW (Department of Public Works.)
When I interviewed Patty back in 2018, her plans were to keep working "as long as I have my health." When asked why she is retiring now, she said "I am 82, and I just thought it was time. I'm still in good health. It's time for someone else to take over the helm." Covid-19 did not play a part in her decision.
"It's bittersweet. It makes me sad one way, but oh well."
Patty started working for the City as a switchboard operator for the Finance Department. She stayed with the Finance Department for the next nine years before she came to DPW. With DPW, she spent 17 years at the office on Myrtle, another 17 years in the building next door to the current building and has been in the present office since 2003.
Having grown up in Norwayne and graduating from St. Mary's in Wayne, Patty has been a lifelong Wayne-o.
Back in 2018, Patty said if she retired, she couldn't sit still. What does she plan to do now that she is retired? "I don't know. I will go to the casino once in awhile with my husband. Work in the yard. Clean closets." She said she has two great-grandsons she'll help with schoolwork.
The DPW staff sent her off with a bang. There were decorations, good food and people came by the DPW offices to wish her well. Wayne Mayor John Rhaesa presented her with a key to the City, and she said there will be a presentation of some sort at the next City Council meeting.
The most memorable moment of the day was the DPW Vehicle Parade. Approximately 15 dumps, pick-ups, loaders and more drove by blowing their horns. "It's never been done for anyone at DPW before. Ed (Queen) got it all together. Ed is a real good boss," she praised. "I'm going to miss those guys terrible."
Patty has spent the last six months training the new administrative assistant, Barb.
When asked if she had anything to share about her lifetime working for the City, she struggled for something profound to say. All she could come up with was "It was great."