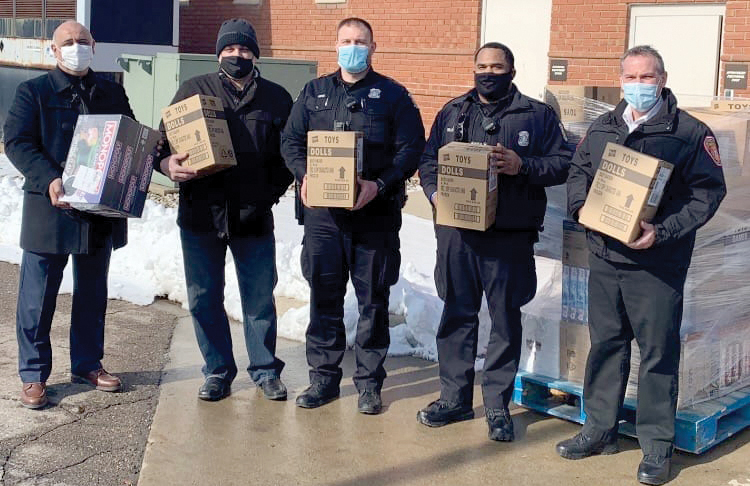 Dr. Chad Audi, President & CEO of the Detroit Rescue Mission, delivered 300 toys donated by the Hasbro Toy Company to Mayor John Rhaesa and the City of Wayne last month. The Wayne Police and Fire Departments will have the toys on hand when they are out in the public to distribute to local youth they come in contact with.
Calling all high school junior young women! The Distinguished Young Women Scholarship Program is looking for you. Girls can earn cash scholarships for college, learn valuable life skills and make new friends. An orientation for those interested will be held via Zoom on Monday, March 29, with two sessions available: 4:00 p.m. and 7:00 p.m. Any high school junior girl (Class of 2022) who resides in Wayne-Westland or lives in Wayne County, may register at any time.
Simply go to: www.waynewestland.mi.distinguishedyw.org or www.WayneCounty.DistinguishedYW.org and click on "Apply Now" or you can email the local program directors Lauren Reed and Jodi Berry at wayne-westland@distinguishedyw.org.
Cruisin' US 12 has announced that Saturday, July 10, 2021, will be the date of the next annual car cruise on Michigan Avenue in Wayne.
Plan to attend the Spring Vendor Show on Saturday, May 22, from 11:00 a.m.-4:00 p.m. at the Goudy Park Amphitheater, 3355 S. Wayne Rd. in Wayne. There will be crafts, vendors, raffles, food and fun. The event will be held rain or shine.
Juan Bradford, Wayne Main Street President, presented Mark Paladino a $30,000 Match on Main Grant last month as Paladino makes renovations on the old senior banquet center. The building will be a brewery!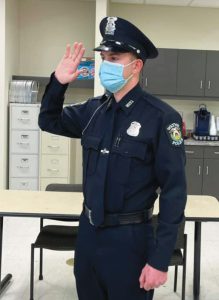 Congratulations to Officer Patrick Dervishi who was sworn in as a police officer at the Wayne Police Department at a recent City Council meeting. Officer Dervishi is a recent graduate of the Wayne County Regional Police Academy. The department is glad to have him aboard and wishes him a long and safe career. Officer Dervishi filled a vacant budgeted position.
Wayne Rotary is hosting a Rouge Clean-Up Day on Saturday, April 24, from 9:00 a.m.-5:00 p.m. All volunteers are welcome. The Wayne Rotary is celebrating Earth Day by cleaning up the Great Lakes Watershed. Volunteers are needed to walk along the trails and streets along the Rouge River in Wayne to pick up garbage.
Michigan State Representative Kevin Coleman presented Wayne Mayor John Rhaesa with a generous donation from AT&T in the amount of $2500.00 for the care and upkeep of the Wayne Veterans Memorial.
"As a State Representative," shared State Representative Kevin Coleman, "I deal with different businesses in the community and heard that AT&T has a philanthropic budget in order to make donations. After contacting their Director of External Affairs, Gavin Goetz, he shared with me that some funds were available for Wayne and Westland donations. Last year they donated to the Westland Veterans Association which I've been a member of, and I was very impressed with the City of Wayne Veterans Memorial when I attended the Dedication Ceremony last year. I informed Mayor Rhaesa that I would be looking for additional donors to help with the cost of the Memorial. I was very pleased when I received the check from AT&T and look forward to helping out in any other ways I can. I was also recently appointed to serve on the Veterans, Military and Homeland Security Committee in the Michigan House and will continue to champion Veterans' causes."
Community Development Director Lori Gouin has reported that The Village Bar has been sold and that Infinity Homes is on track to break ground in the spring.
New homes will be available in Wayne this spring! Infinity Homes is currently establishing a V.I.P. list of individuals looking to have a new home built this Spring at Kiwanis Park in the City of Wayne. Be sure to reach out to Mary Kelley at 646-627-9528 to place yourself on the list for a brand-new home in Wayne today.
The Wayne Bicycle Club is rolling on out in 2021. This group is for all who love to ride, build and/or customize their bicycles. All ages are welcome. Meet at the State Wayne Theatre at 7:00 p.m. on Thursday evenings. The group rolls out at 7:30 p.m. For more information, visit the group's Facebook page to see when the next ride will be.
The Wayne Historical Museum is open to the public. Feel free to visit during museum hours on Wednesdays and Thursdays, 10:00 a.m. to 6:00 p.m. Please be safe and wear a mask.
The Wayne Public Library is open to the public. You will need to enter through the doors by the Veterans Plaza. Browsing is limited to 30 minutes for grab and go service. Please do not visit if you are sick. The plaza pick-up service is still available if you wish to do no-contact pick up of materials. Call the library for more information.
The City of Wayne now has a Wayne County COVID-19 testing site. Two new, cost-free testing sites with reportedly shorter waiting times were opened in Wayne and Dearborn, both sites at HYPE locations. The sites are open 9:00 a.m.-7:00 p.m. Monday through Friday and 9:00 a.m.-3:00 p.m. on Saturday.
HYPE Athletics Center — Wayne, 4635 Howe Road, Wayne, MI 48184
HYPE Athletics Center — Dearborn Heights, 23302 W. Warren Avenue, Dearborn Heights, MI 48127