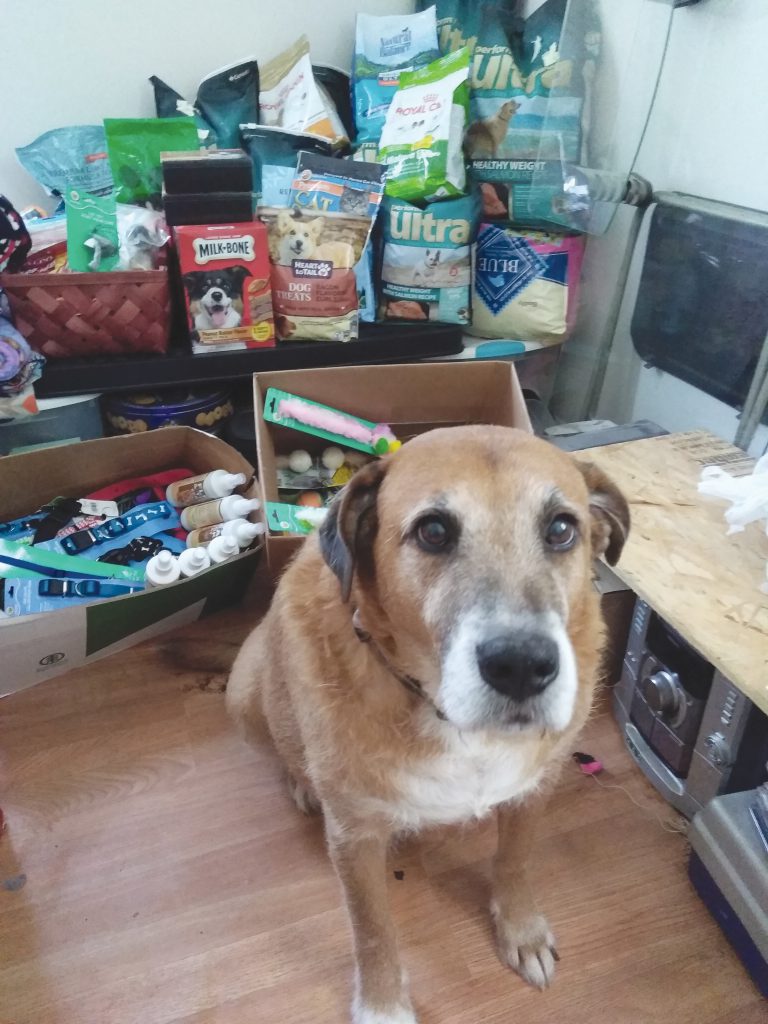 By Carolyn Marnon – Jackie Olweean (sounds like Halloween) noticed that a huge company in Arizona was asking for monetary donations to a program that would help senior citizens with the costs of caring for their pets, most notable of which was food. There are times when a senior will forego a meal just so they can provide food for their much-beloved pet. Jackie thought the idea of helping seniors take care of their pets was a good one, but she didn't want people's money. What she wants is donations.
Krissy's Pantry was the result of Jackie's endeavors to help seniors take care of their pets. A resident of Wayne for the last two years, Jackie grew up in Livonia. She has found that the Wayne community is very supportive when it comes to helping each other in times of need, no matter what the need is.
Since its start several months ago, Krissy's Pantry has taken off so much more than Jackie dreamed it would. The biggest problem she has run into is how to reach the seniors in Wayne about her program. Many are wary of strangers coming to their door, even if that stranger is bearing gifts. Jackie was scheduled to do a meet and greet with the residents of Wayne Towers last month to tell them about her program and how it can help them in caring for their pets.
Krissy's Pantry is named after a silky yorkie Jackie once had named Krissy. To help more seniors who might be wary of Jackie showing up on their doorstep with donations, Jackie is willing to meet at the police station, city hall, HYPE recreation center or other public space. She will also do porch drop-offs. She will drop items off whenever they are needed. There is no set time limit to receive help.
Jackie hopes her new passion will become an ongoing program within the community. Everyone is so giving during the holidays, but this program will need donations all year long. She is seeking donations of dog and cat food, dog and cat treats, leashes and collars. She is forming partnerships with other organizations like the TLC Animal Sanctuary who has already donated items to her. She has come home from work and found her porch filled with food and treats for the pets. With four dogs of her own, three of which are rescue dogs and one a foster dog, Jackie knows what it takes to care for household pets. She also knows how important pets become to people as they get older.
Jackie has found that older people tend to have older animals. Those older animals many times need canned and/or wet food. She would love to get more wet/canned food donated to Krissy's Pantry.
If you would like to donate to Krissy's Pantry, you can take items to a drop box that has been set up at ICON Computers (35858 W. Michigan) or get in touch with Jackie for information on how to do a porch drop off. Her phone number is (734) 516-3051. If you don't get an answer when you call, please leave a message. You can also message Jackie at the Facebook page for Krissy's Pantry. Suggested donations include: dog food – canned and dry, cat food – canned and dry, dog/cat toys, treats and chew bones. If you have old blankets or would like to donate small/medium sized fleece blankets, Jackie's helpers are making beds for as many fur babies as they can.
Having worked in nursing homes and senior assisted living centers, Jackie knows how important animals can be to their owners. Krissy's Pantry was started because Jackie thought there was a need and decided that if she could help those pets, that was one less thing an older person had to worry about.