By Dave Merchant – At different times in peoples' lives they may need help from the community in which they live. This is definitely the case with John VerHines and his son Bill VerHines when they were injured right after Easter of 2015.
They were stopped on a freeway and a drunk driver hit their delivery truck from behind going about 70 MPH. There was no sign the person even tried to stop. They both suffered traumatic brain injuries to their mental faculties.
Prior to the accident they both worked at Gramco Furniture Restoration on Michigan Ave. in Wayne. Both are longtime Wayne residents who recently moved to Westland.
Bill and his wife Erin have two kids, one is three and one is one and half. She recently had spinal surgery and is bedridden which makes it hard to watch the children.
John's daughter and Bill's sister Sarah Canfield has been very concerned about her relatives.
"They have both had to have lots of different therapists," Canfield said. "Bill is having vision therapy and my dad has trouble with the short term memory and remembering how much time has passed."
The different therapies with all the appointments and times has made it difficult to work. They are trying to continue keeping the store (which Bill's grandpa started) open.
According to her both have been able to get their driver's license back. She says it is a very stressful experience and it is going to take a long time and a lot of different therapies, which are not currently covered by insurance. This is why she is asking the community to come forward and help them in their greatest hour of need.
Several of the medical expenses are not paid through the insurance that they have. They are specialized and are being paid for at the VerHine's expense.
Canfield says she hopes people will look at the Go Fund Me Page with generous hearts to help her brother and father. The page went live about three weeks ago and has been having good success. John is the other brother in the family.
According to her to say things are difficult financially at home, is an understatement.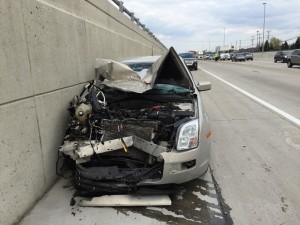 "The generosity from our closest friends has been an answer to prayer and a real life saver in keeping us going since April," she said. "Our needs at this time are long term, 36-48 months. Even though the diminished capacity will be life long, these next few months are critical in helping Bill to establish the business success again and for John to advise and support Bill as they rebuild what has weakened since the accident in April. We believe it will take three to four years to fill the gaps and get back on track.
The site has a lot of pictures and tells an amazing story. The family asks if you can read it and possibly donate. It would help them out tremendously. As of one month in, the family has raised $7,100 of their $172,000 goal.
To donate to the VerHines please go to https://www.gofundme.com/verhines to help them reach their goal.
People who would like to make donations outside of the Internet can donate at the family business Gramco Furniture Restoration (32220 Michigan). There is a box located inside the business that can take donations in the name of the VerHines family.