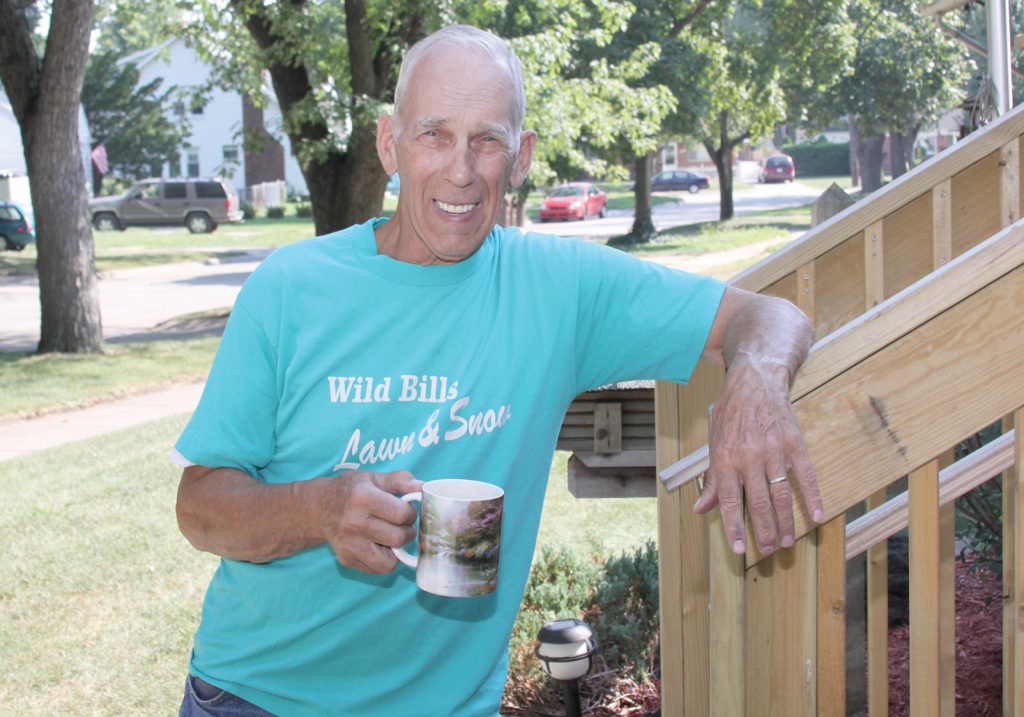 By Carolyn Marnon – An icon of the community has died. William "Wild Bill" Copland died June 18 after a fight with cancer. He was 81.
As "Taps" played into the sky outside the doors of St. John's Episcopal Church on a warm 81° summer morning, mourners packed the rows of pews, some having to sit in folding chairs, others having to stand at the back of the church. The parking lot was filled to capacity. Overflow parking spilled out onto the front and back lawns and into the school parking lot next door. All had come to pay their respects to Bill and his family and to share stories of how he had impacted their lives.
The Reverend Tom Wilson came from his home in Tennessee to lead the funeral celebration. Rev. Wilson was a former pastor at St. John's; he and his wife became great friends with Bill and Sharron. Sharron says that when Tom heard of Bill's death, he told her he would come to Michigan to officiate at the funeral.
In his homily, Rev. Wilson said he met Bill 47 years ago during the interview process to become the pastor at St. John's. Bill was on the vestry and was part of the process. He spoke of the many church activities Bill had been involved in over the years, including the church bowling league. He told the attendees that Bill had a great love of toys. Those toys just happened to be front-end loaders, snow plows, riding mowers, dump trucks and the like. He spoke about the business's Bill had in Wayne: the party store, the video store and the bike shop. He spoke about Bill's singing, especially during the winter. A favorite? "Every time it snows, it snows pennies from heaven." Yes, Wild Bill had a sense of humor. Unfortunately, the last few months had been hard on Bill. He became frustrated because he was not able to do all those things he'd once been able to do. Most in the community know that Bill seemed to be everywhere. Sharron later commented, "You know Bill. He never stops."
Young Bill started his "career" as a chip bagger at the party store when he was 14. The store was owned by someone else then. The store made their own chips, and Bill bagged them up. He later became a bottle-boy and kept working his way up through the positions until eventually, "He owned the whole thing!" exclaims Sharron.
Bill and Sharron were married for 58 years and have lived in the same house in Wayne those entire 58 years. They met while she worked at Leright's. She says he rented a room down the street.
Sometime in her 30s, Sharron had a pulmonary embolism in her leg. One thing after another seemed to plague her health, but she says through it all, "We had a very good marriage. Very compatible. We never fought. He always took such good care of me. You don't find men like Bill anymore."
While Bill was in the Army, Sharron stayed at their home in Wayne. She says he almost went to the Bay of Pigs (a failed military invasion of Cuba). When asked what he did in the Army, Sharron says he was on a boat where the end tips down and the men all run onto the ground.
"What you see is what you got," Sharron says about Bill. She mentions how he would come across a homeless person that he would then take care of-giving him food and shelter. That person would eventually die, and he would get a new homeless person to take care of. "He was such a good Christian. He did what Jesus told him to do," Sharron says. When he owned the party store and the Greyhound bus stopped there, he would take a passenger who had disembarked wherever they needed to go. Sharron says she didn't like Bill doing this since he didn't know the person, but Bill would do it anyway. It was the type of person he was.
Sharron was a stay-at-home mother to their three children. When the youngest, Linda, went off to college, Sharron had plans for what to do with her new "spare" time. Bill had other plans. He put her to work "for just an hour or two a day, a few days a week" Bill told her. That ended up being all day six days a week. Sharron would tell Bill she didn't know what she was doing, but he told her she would learn in time how to run the party store, the ice cream parlor inside and western union, among other duties.
Bill was a family man according to Sharron. He and his boys raced all-terrain vehicles in competitions. He coached hockey and baseball for the boys. They had horses, so he did things on the horse route.
He loved elephants. There are signs of this throughout his home. It might seem, however, that he might have had a secret way with cats. Sharron tells a tale about Tillie, a cat who lived down the street from the party store. She was constantly following Bill around and loved to get up on his shoulders and sleep on his neck. He would take Tillie home, and she'd come right back to the shop. Sharron says Bill never liked cats but after Tillie met an unfortunate demise, Bill had a portrait of her made that hung in the home.
Once Bill owned the party store, which consisted of two buildings on the block on Wayne Road between Ash and Elm streets, he went on to own the video store, and then two more buildings that made up the bike shop. He added a garage to the bike shop. He moved into the landscaping business. Bill's intention was to own the entire block. At his death, he still owned the building where Scooters-N-More is located. All the rest of the buildings had been sold.
Because of all his businesses, the Copland's didn't travel much. His favorite place was Alaska where they cruised the inland passage. He didn't like Hawaii. Once, on a Mississippi riverboat cruise at Mardi Gras time, the riverboat staff handed out crepe paper for passengers to make costumes for a party. Sharron and her friend's husband had hurt themselves and couldn't dress up, but her friend Betty was a carrot, while Wild Bill might have a been a stalk of celery. "It was something ridiculous," Sharron laughs. There was also a time when they travelled to the Upper Peninsula and after dinner at some greasy spoon in the middle of nowhere, Bill stood outside and did the Tarzan call.
Bill is survived by his wife Sharron, his children William and Linda, his sisters Sharon, Joni, Kathy and Susie, brothers Robert, Butch, John and David, six grandchildren, six great-grandchildren and one great-great-grandchild. He was preceded in death by his parents William and Margaret Copland, his sister Barbara and his son, Darrell.
The City Council issued a resolution in memorium of Wild Bill Copland at the July 2 meeting.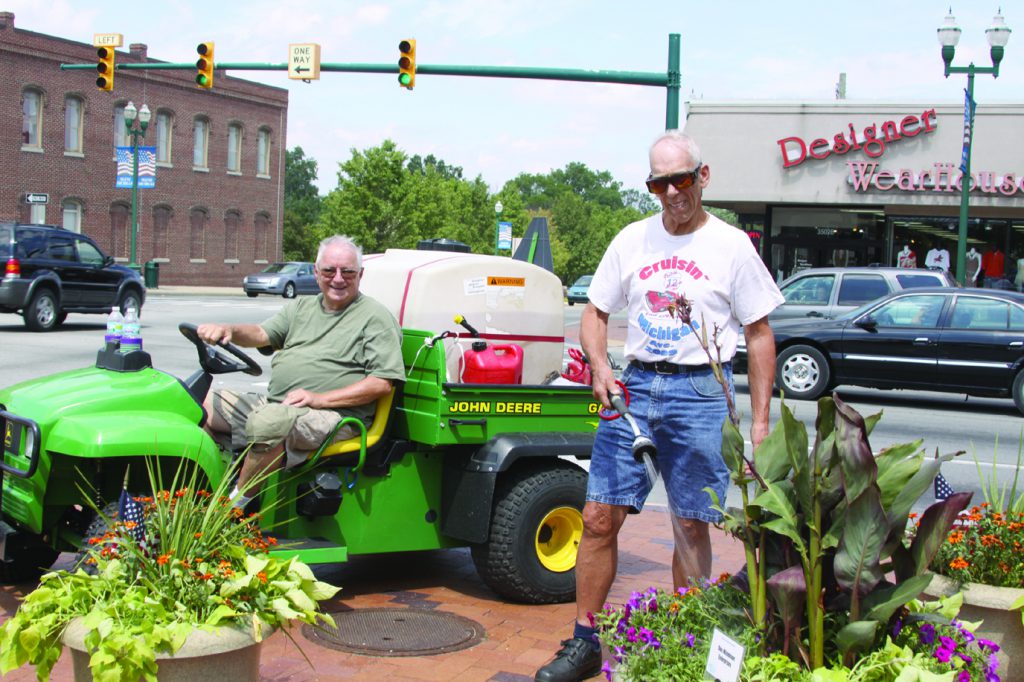 Community shares memories of "Wild Bill"
By Carolyn Marnon – Upon hearing the news of William "Wild Bill" Copland's death, members of the community shared their condolences and memories of Bill on The Wayne Dispatch's Facebook page.
He will be missed dearly by everybody that knew him. I was fortunate enough to have known him for almost 50 years. This awesome amazing man helped me out too many times to count with any bicycle part I ever needed and never asked me to pay for nothing when I was in need.
— Bob Sweet
Wild Bill was a great fixture in Wayne. He was always so friendly and about the hardest working man that I have known.
— Martha Pitsenbarger
Bill always had a smile for everyone.— Bertie Karll
A tremendous loss to his family, his friends, his community, and his church. I was honored to consider him my friend.— Daryl Royal
He used to come into Brownie's Diner when I was just a kid for breakfast. Always so upbeat and positive.— Kimberly Fick
A wonderful gentleman who was an amazing ambassador for our city.— Cindy Schofield
He made a lot of kids' dreams come true with his fantastic bike shop.— Michael Gotts
There's not one bad thing that one could ever say about this man! I grew up through the years walking with my mom to the party store or renting movies from Bill and his family. That last word is exactly how my family and I felt about Bill and his family; they were our family.
— Michelle Tackett-Braden
I will always remember Bill from high school as a very gentle, soft-spoken and happy boy.
— DeeAnn Ekman
A great supporter of community! Bill was a "doer," a working man who never quit helping people and causes. Bill cared! Bill loved to help others.— Sharon Arthur
Wild Bill was truly one of the nicest people in the world. Always kind, funny and generous. What a giant presence in our community as far back as I can remember.
— Regenia Higgs
He touched many lives.
— Carla Jo
Bought my first mini-bike from him. Everytime I've seen him, he's always had a kind word.
—Tom Cahill
We have lost many important things in the city of Wayne, however none can compare to this loss! I worked with Bill for several years as commissioners on the Wheelfest. There is nothing I can say that hasn't already been said.— Nancy Lambert
The best dad jokes. My business neighbor, a true gentleman, vigorous in his support for Wayne.
— Kim White-Jenkins
My first memory of "Wild Bill" Copland is as a little girl when my grandfather walked me up to his bike shop to get me a bike tire. Years later, I was blessed to get to know him through St. John's Episcopal Church. He was always busily involved with one church project or the other. He was always nice, funny and made you laugh.
— Margaret Zimmerman
I first met him while delivering the mail, and he would always give me a wink and a smile when I walked by.
— Marie Shannon
I remember Wild Bill when we moved to Elm Street in the mid-fifties. I think he was a stock boy at the party store that he eventually owned and added the bike shop to. He is definitely a true icon of Wayne. And he helped so many people over the years. He cut my mom's lawn.
— Beverly Fuller
He was such a nice man with big energy. — Matt Rochon
Bill was the most universally loved person I've ever known. He got joy from helping everyone he knew and those he'd just met.
— Kathy Darfler
Wayne will never be the same without him! — Rayma Hogan
He did so much for the community that people don't know about. A true lover of Wayne and its people.
— Ed McMurray
I saved up all my chore money when I was 8 to buy a BMX helmet at the bike shop. We used to ride up there and get our tires filled for free like family.
— Hannah Flores
He fought a good fight. He was a truly great person to everybody. He has earned his wings.
— May Williams
Wild Bill was Wayne. I think we should dedicate a bench or something in his honor.
— Sammy Willingham
Really touches my heart because when he ran Wild Bill's Bike Shop, I was always in there buying bike parts.
— John Davis
I absolutely loved him so much! He always kept an eye out for me when I was working at Kirby. When I left late at night when it was dark. I'd say don't worry about it, get in your car. I see you! Drive safe! Everywhere I seen him he always had a smile on his face and was always willing to help out. The world is definitely going to be missing this wonderful angel.
— Vivian Whisenand
Bill lived in my street growing up. Not a day went by that he didn't drive down the street and beep, smile and wave.
— Jennifer Roach
I grew up 3 doors from his party store. As a young teenager, I wanted a 10-speed bike. He allowed me to buy one and pay him $10 a week until it was paid for.
— Lee Miller
Wild Bill taught me how to change a bike tire tube when I was 7 years old at his bike shop. There was a pile of old bikes and parts outside that he didn't use and would let the kids go into and take parts. Some of us even built a bike with them.
— Robert Webb
Wild Bill was a neighbor who liked to have fun. He used to go trick or treat in costume with his kids. — Kathy Johnson
His parents lived down the street from me growing up in Wayne. All throughout my life I don't ever remember him being mean or hateful, always willing to help and always had a smile. Used to see him at the Dunkin' Donuts on Wayne Rd talking to his cronies. — Patrick Hill
He was always around and always helping the city. I can remember buying candy from his store and checking out bikes at the bike shop. I also remember chatting with him when I worked for the city.
— Aaron Masters
Bill and I were doing clean up in Wayne, and he was my partner. As we came upon the cemetery he said don't go in yet. He placed 3 pennies on the step and said no worries now because this will keep evil spirits away. — Trish Hampton
I lived on Chestnut street and went to Wild Bill's Party Store all the time as a child. One day, a friend dared me to take a red penny candy. I was about 7. At the time, they cost 2 for a penny. I was scared and probably really obvious. Bill watched me from behind the counter and gave me a look as if to say you better not be thinking of taking that candy. Well, thanks to Bill, I never did take the candy. I did go home and get some money. I came back and bought the candy. I'm sure he chuckled and probably told my dad.
— Liz Arthur-Meyes
He loved everyone he encountered and truly believed in helping everyone he could, and if he could sing a song or say or do something goofy and get a laugh, it made the experience that much better.
— Alex Copland