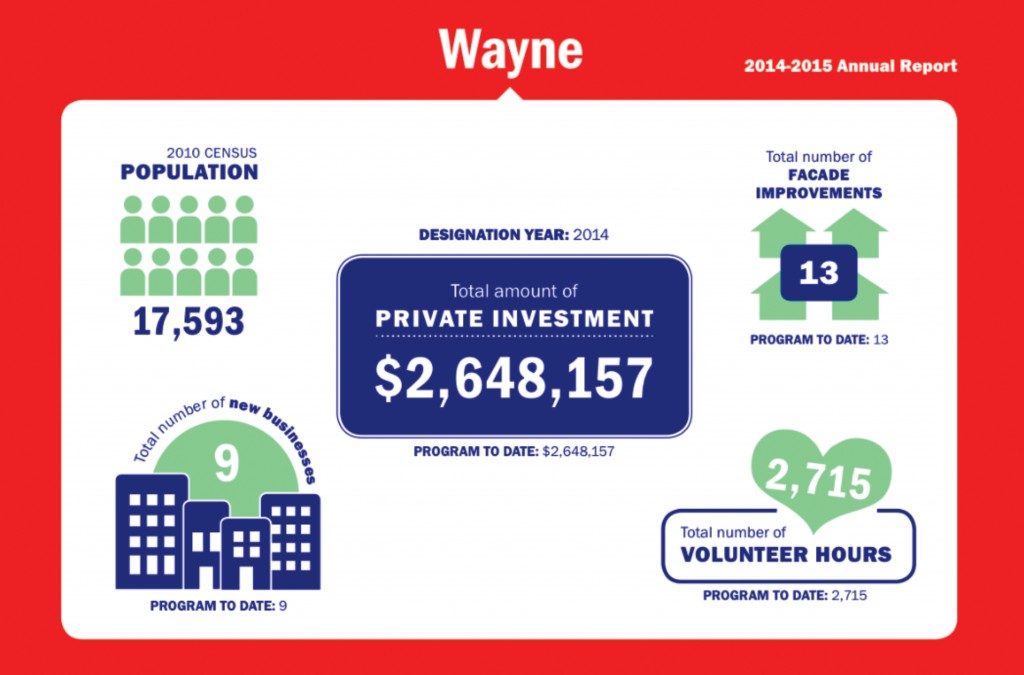 By Lindsey Wooten – Wayne Main Street and the City of Wayne has seen incredible progress during our first year of being a Select Level Michigan Main Street community and we are confident that our second year will be even more exciting. Overall, our program has brought in over $90,000 worth of resources to aid in the revitalization of our downtown thanks to our relationship with the Michigan Main Street Center and our dedicated volunteer base. Our collective actions are creating a ripple effect with far reaching impacts to touch the lives of all who have a stake in downtown Wayne today, and for generations to come.
• McDonald's
• Trendsetter's Boutique
• Gents on the Ave Barbershop
• Wayne Urgent Care
• Mr. Keith's Designer Fragrances
• Daniel Halaberda Chiropractor
• MHP Pharmacy
• Biggby Coffee
• Helium Studio
To read the complete report, please visit http://downtownwayne-.org/2014-2015-annual-report/ or call us at (734) 629-6822 to set up an appointment.
Social Media Marketing
Workshop – RESCHEDULED
This workshop has been rescheduled to be a part of our National Small Business Week Celebration. Please stay tuned about more details about things that will be happening that week.
Monday, May 2nd, 6:00 p.m.
Presenter: Kristi Trevarrow from Downtown Rochester & Main Street Nation
How are you leveraging social media platforms to help drive traffic to your business? There are a lot of social media options, and you need to choose carefully where to invest your time and dollars. Through this session, you'll learn about small business marketing trends and tips, and how to incorporate the best social media practices for your business into an overall marketing strategy.  $25 each – Register for the workshop by visiting www.downtownwayne.org/events/calendar/workshop. Refreshments included.
Please bring your laptop computer to get the most out of this workshop! Interested in a one-on-one consultation IN your business? Only TWO available! Call (734) 629-6822 for information.
Historical Museum to open gift shop on March 10th
The Wayne Historical Society has been busy preparing a brand-new gift shop that will open on Thursday, March 10th, to kick off their spring speaker series. The gift shop will sell museum t-shirts, Wayne history books, cross-stitch patterns, and more! Be sure to stop in on Thursday, March 10th, between the hours of 4-7 p.m. to check it out and stick around for the first program of the season starting at 7:30 p.m. For more information about the Wayne Historical Museum please call (734) 722-0113 or visit us on Wednesdays from 12-3 p.m. and Thursdays from 4-7 p.m.!