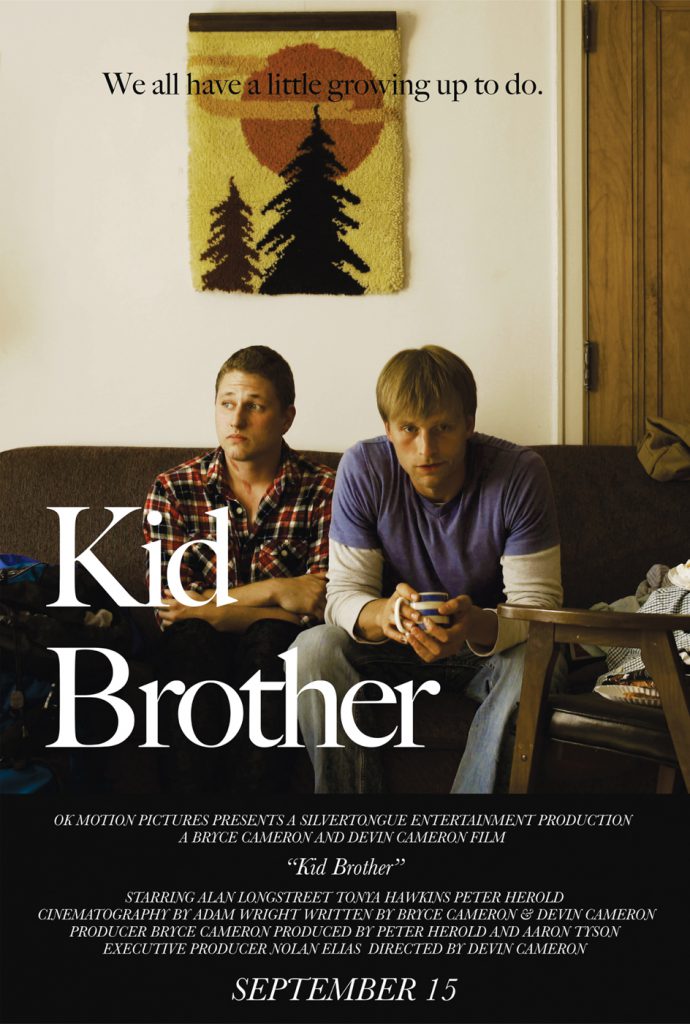 For brothers Bryce and Devin Cameron, it has been a wild year that will peak in mid-September at the premiere of their locally-produced feature film "Kid Brother."
What began as an idea and a dream has blossomed into a reality bigger than the Dearborn brothers could have ever hoped for: the chance to release their movie in theaters. The Camerons began writing the dramatic comedy early last year with a kind of creative pragmatism that has served them well in the past.
Bryce and Devin developed "Kid Brother" with every intention of keeping the project centered in Michigan. The film's three talented leads, Tonya Hawkins, Peter Hérold and Fox 2 Detroit's Alan Longstreet, all hail from the Great Lakes State and metro Detroit.
"The goal was simple: make a great movie, make it on a small budget, and make it at home," said Devin Cameron, co-writer, director and younger of the two siblings.
National Premiere,
Local Charity to Benefit:
The national premiere will take place Wednesday, September 13th, at 7:30 p.m. at the Phoenix Theatres State Wayne location on Michigan Avenue in Wayne, the same location several scenes were filmed.  Cast members and crew will be onsite to welcome the public and be available for photographs at a meet-and-greet beginning at 6:00 p.m. before the film plays on all four screens at State Wayne.
Champions of Wayne, an innovative and unique educational program for students that involves adult mentoring, customized academic goals and financial incentives at Wayne Memorial High School, will be the charity benefactor of the premiere.
Additional multiple showings of "Kid Brother" will begin September 15 at the Phoenix Theatres Laurel Park in Livonia, and at the end of the month at Phoenix Theatres Mall of Monroe.
Locally Grown Film:
Bryce Cameron, who co-wrote and worked as creative producer on the movie, said: "Though the film incentive program isn't what it used to be, movies are still being made right here by Michigan natives. It's still a great place to collaborate and create."
The intense shooting schedule took the crew all around the Metro area, including the cities of Detroit, Wayne, Livonia, Ann Arbor and Dearborn. Featuring local landmarks like the Wayne History Mural and the Detroit cityscape are ways the Camerons use the film to pay homage to their home. Local artists have also contributed two original songs.
That's how "Kid Brother" came to be; a story about how our past can shape our present, the lingering effects of unresolved grief and the strength found in relationships. The character Aaron (played by Longstreet) is a sullen night janitor whose lonesome life gets shaken up when little brother, Jared (Hérold), turns up at his door hoping he will help reconnect with their estranged father. Aaron's mundane life gets even more complicated when a chance encounter with a woman named Amanda (Hawkins) and a dropped phone number sets in motion the makings of a hilariously awkward relationship.
"We were very fortunate to surround ourselves with talented, determined people based right here in Michigan excited to help bring this movie to life," Bryce said.
Filmmaker Robert Dyke (Moontrap, 1989; Moontrap: Target Earth, 2017) said that when he met Bryce and Devin, "I was impressed by their passion for filmmaking. "Kid Brother" confirms to me that they are true talents, with the abilities to create meaningful movies."
The Camerons placed a premium on rehearsing and planning to ensure that actual shooting days went as smoothly as possible.
"When the budget is this small, it's really a delicate balance where people are wearing many hats, but if you can frontload the project with a lot of prep, you can minimize the margin of error and set yourself up for success," Devin said.
"This film tells a very human story with depth and thought about two brothers getting in touch with their unfinished hurt," said Cory Jacobson, owner of Phoenix Theatres. "There is something very gripping about people facing the pain left of a relationship with the father that wasn't there. We thought it's an important film presenting a realization in many lives, thoughtfully expressed and rarely discussed in real and passionate terms."
Tickets are available for purchase at phoenixmovies.net.