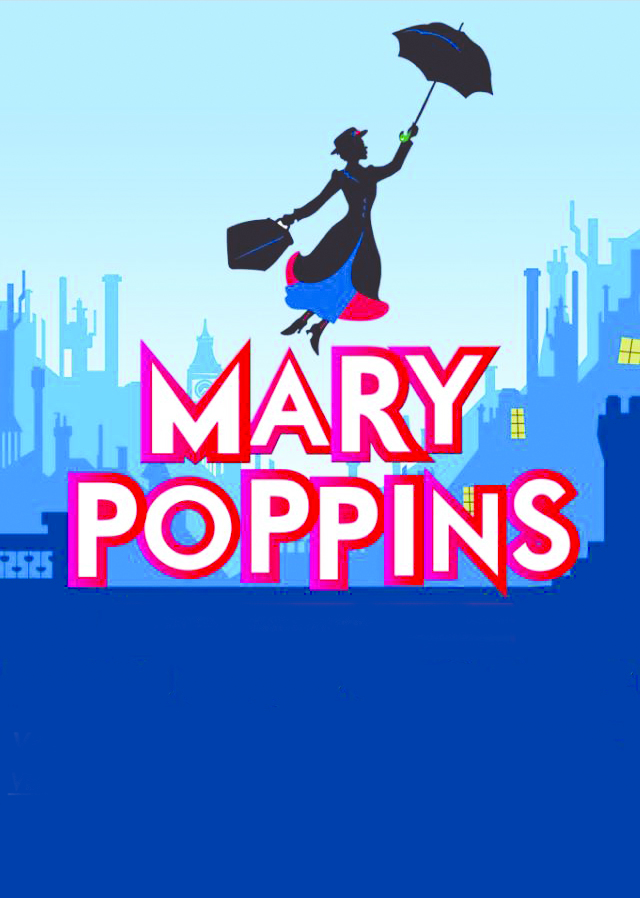 By Carolyn Marnon – This year the Wayne Memorial Theatrical Guild is presenting Disney and Cameron MacKintosh's Mary Poppins! The show centers around the troubled Banks family and their experiences with the Practically Perfect nanny, Mary Poppins. According to Drama Director Katie Sullivan, "We have almost 60 students involved through the cast and crew. Cast members play a variety of roles, including the well-known George Banks and his wife Winifred, their children (Jane and Michael), Bert – the Jack of all trades, Mary Poppins – the magical nanny, chimney sweeps, bankers, toys, and many more!"
"The crew members have been hard at work building the many sets needed for this full-scale Broadway-style production. Crew members also control the lights, sound effects, microphones, backstage scene transitions and so much more. Our show season this year also included Pollyanna last November. Both are family-friendly Disney productions set in the 1910s with strong female leads. I was intrigued by Mary Poppins when I was a little girl and saw Julie Andrews and Dick Van Dyke perform in the classic Disney film. I was later thrilled to meet Julie Andrews while attending a conference for theatre professionals during my masters program. I hope that we are able to bring the magic of Disney and charm of Julie Andrews to our community through our production."
"Students auditioned for this show at the beginning of February by completing acting, singing, and dancing auditions. After casting was decided, students immediately began rehearsing. The cast and crew work for four to six days a week learning choreography, vocals, and blocking the show or building and painting set pieces. Our students dedicate many hours to bringing the best possible theatrical experience to our audiences. Students will have logged almost 170 hours of rehearsal by the time the show opens!"
Sullivan continues, "Hailey Hayward is an Assistant Director for this production, but also plays the title role of Mary Poppins. She is a junior who loves singing, dancing, and acting. Hailey began acting at the age of six and has always had a deep interest in theatre, but especially musical theatre. Hailey has studied theatre and musical theatre at multiple Fine Arts camps, even working with Broadway professionals. She began performing at Wayne Memorial as an eighth grader in the school's production of Shrek the Musical. After graduating next year, Hailey plans to major in theatre at Carnegie Mellon University, Baldwin Wallace University, or Elon University. She is a driven performer who fully commits to every role she plays. She can't wait to soar through the air as one of the most iconic female characters of all time in Wayne Memorial's production of Mary Poppins!
"This is my twelfth year directing shows at Wayne Memorial High School. I am a graduate of the Wayne-Westland district and was involved in theatre when I was in high school."
Mary Poppins is being presented May 4, 5, and 6 at 7:00 p.m. each evening in Wayne Memorial High School's Stockmeyer Auditorium located at 3001 Fourth Street. Reserved seating and all tickets are $12.00. Tickets can be purchased online through showtix4u.com or one hour before each show at the box office in Stockmeyer Auditorium.