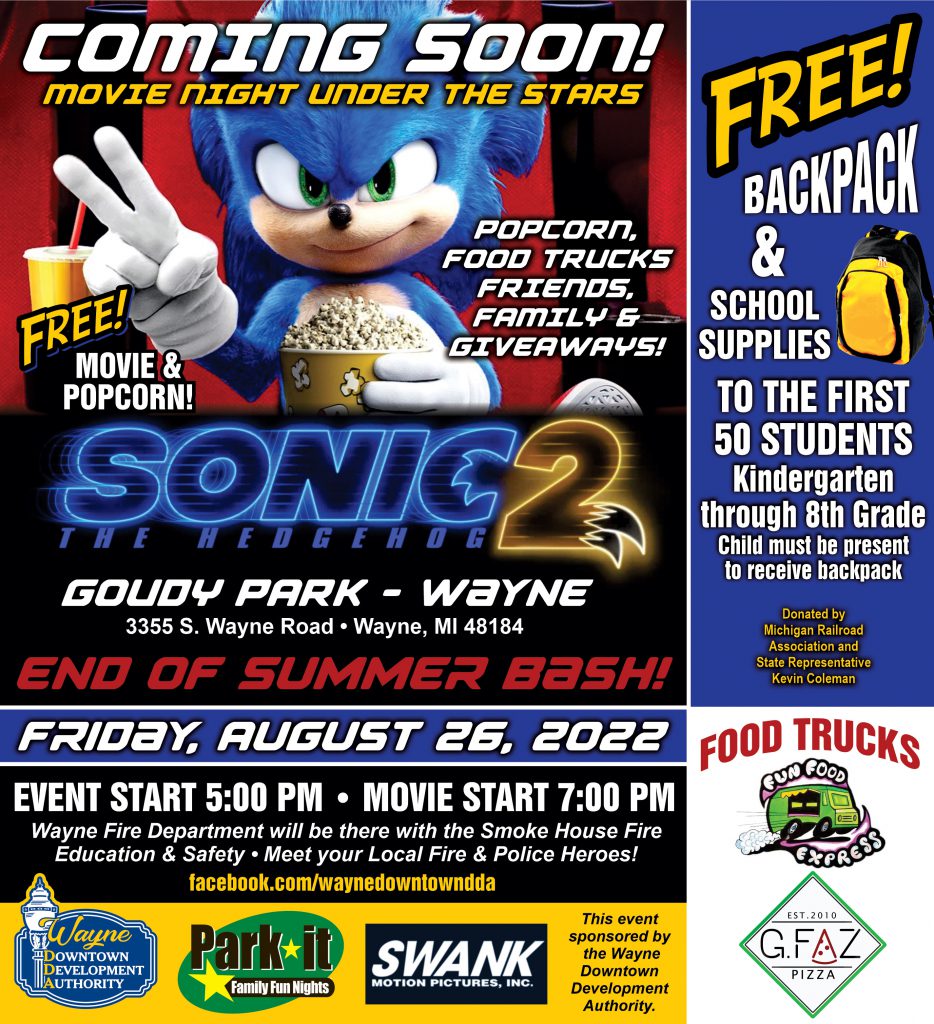 By Sarah Shurge – If you're looking for a fun end-of-the-summer event, be sure to come to the Movie Night Under the Stars in Goudy Park!
The movie night will be held Friday night, August 26th, in Goudy Park, located at 3355 S. Wayne Rd. The event will start at 5 p.m. The movie, Sonic the Hedgehog 2, will begin playing at 7 p.m.
The event is free to the public and family-friendly.
There will be a free backpack giveaway to the first 50 students (ranging in ages from kindergarten through 8th grade) to arrive at the event. The child must be present to receive a backpack.
Backpacks were donated by Michigan Railroad Association and State Representative Kevin Coleman.
You will be able to meet local fire and police heroes at the event. Smoke House Fire Trailer will be on site from 5-7 p.m. offering fire safety and training. Kids can go through the trailer and get a fire badge. Once the movie begins, the trailer will leave the park.
Two food trucks will be at the event. Fun Food Express will be serving smash burgers, cheese steak hoagies, corn dogs, and deep fried desserts. Along with G.Faz Pizza Truck that will be serving different pizzas and cheese bread.
There will also be free popcorn at the event, but everyone is welcome to bring their own snacks or dinner from home if they would like. Picnics are welcome. Alcoholic beverages are not welcome. No alcoholic beverages on site, please.
The Wayne Downtown Development Authority (DDA) is hosting and providing the event. The movie is provided by Swank Motion Pictures and Park it Family Fun Night.
"We want to bring new events to the City of Wayne. We're really excited to bring this to our community," said Lisa Kubany, DDA Events and Marketing Director.
Be sure to come out Friday night and enjoy the movie in the park!